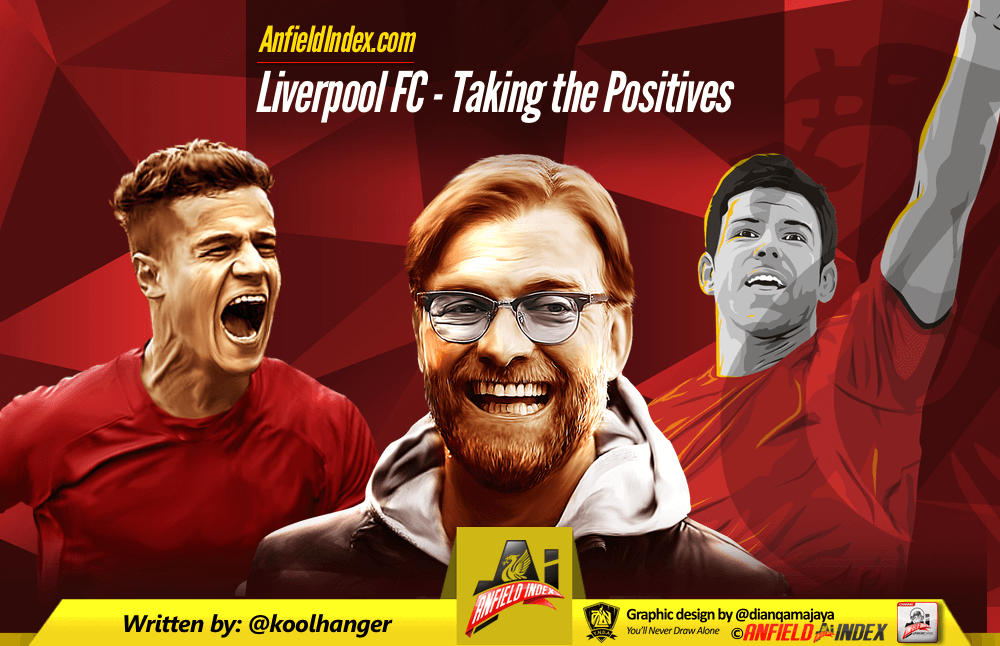 Liverpool FC - Taking the Positives
Support is needed now more than ever
This past weekend showed the best and the worst from our players on the pitch.  It also showed the positives and negatives of our own fan-behaviour off it.  
At this stage I'm tired of hearing about Alberto Moreno's shortcomings.  I was guilty of voicing these concerns myself on Sunday, in the heat of the moment.  Both after Moreno's wayward header to the Arsenal attack in our box, and then the brainfart of a challenge that gifted Arsenal their first-half penalty.  
But having taken a step-back, and let the adrenaline of the game dissipate, I feel we need to get behind our man.
And he is our man.  Moreno may be rash at times (okay, a lot of the time) but he is not as bad as people are currently making out.  A few months back there was an article on AI (or podcast?) regarding Confirmation Bias.  We are all guilty of this at times.
In a nutshell, we form an opinion about a player's ability and then we only concentrate or accept anything we see on the pitch that confirms our beliefs.
Moreno was probably our worst player on Sunday but he was not at fault for everything that went wrong. Lallana screwed up for the first goal – Moreno was breaking on the counter, as he's obviously encouraged to do by his manager, and Lallana lost the ball in a dangerous area.  I'm not going to get bogged down as I did not want to write about what went wrong on Sunday.  There are plenty of tactical analysis videos on twitter that you can look at with some very good insight into what is going on for each goal.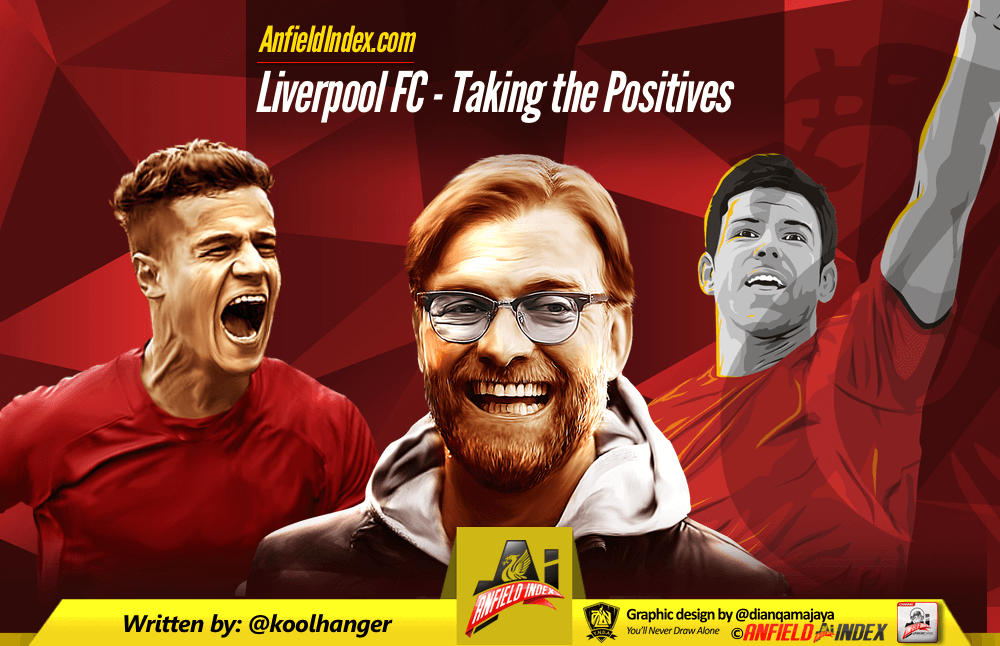 Scapegoats
Is there not one player on every team that a large portion of the club's fanbase would like to see replaced?  For now, Moreno is that guy.  This can't be easy, not for anyone, regardless of what money he earns.  Confidence plays an enormous part in anyone's current performance levels.  Moreno's has got to be at rock-bottom right now.  He would need to be an extraordinary individual to be able to ignore what has happened and keep his self-belief at the level it needs to be at.  We need to help him on that road. He may well be dropped for the Burnley game, but when he's back let's get behind him.  We are not fans if we are waiting for his next mistake, just so we can say I told you so.  
Moreno needs support and he needs a solid defensive line-up beside him.  He is evidently better with Sakho playing as a left-sided CB (although I have been really impressed with Klavan so far).  Sakho has the athleticism to cover Moreno when he breaks forward.  Moreno's strong points are his pace and offensive-mindedness.  Let's not nullify those.  Klopp doesn't want to.  Why should we?
Almost every player is replaceable, and upgradeable.  We went in for Ben Chilwell, but he would've been an understudy to Moreno, he's only 19.  Maybe Klopp explored other LB options that didn't come to fruition and we just never heard about them, like the way Klavan arrived without any rumours beforehand?  It just doesn't seem like Klopp believes this LB "conundrum" is as serious as most of our fanbase do.
If Jurgen Klopp feels that a pacy attacker (Mane), a goalkeeper (Karius) and some central defenders (Matip and Klavan) were a higher priority than replacing Moreno, then that should tell us something.
The Rest
On Sunday, we took three points from Arsenal at the Emirates, a ground where we have generally not been able to buy a win in recent years.  Also, we went behind and showed great character (I know, I know) to come back and get the win.  
Our second-choice keeper was decent and made a good penalty save (making it 5 from 11 PL penalties he's saved now for Liverpool).  We hit one of our purple-patches in the second-half and destroyed the Gunners on their own patch during that spell.  Our debutants really impressed – Klavan was solid, Wijnaldum had a good second-half and Mane was really, really (really) good.
Lallana actually delivered a goal, and it was a tidy, composed finish too.  Coutinho was there when we needed him.  Even after being pretty anonymous in the first-half he managed to hit an absolutely perfect free-kick.  He imposed himself on the game more after the break, getting into the box for the finish for his second goal.  Thankfully, his injury was only due to cramp and it's nothing to worry about.
Henderson wasn't at his best but he wasn't poor either.  He may well have his injury woes put behind him.  If he gets time he could find his place as a cog in the machine of this new-look Liverpool team.
Squad Depth
The most important fact is we got our three points, and we did that in style, without what could be considered our first-team spine of Karius, Sakho, Can and Sturridge.  That is an excellent thought to take away from this.
Oh yeah, we have Jurgen Klopp at the helm.  He knows his stuff.  He's creating a team with a bond, with a spirit.  This was already evident last season.  We'll see more of it this season.
My brain says we're going to be a force in 2-3 years, but my heart says 'fuck it, let's show them all this season'.
Good times are on the way.  It's just a question of how soon.