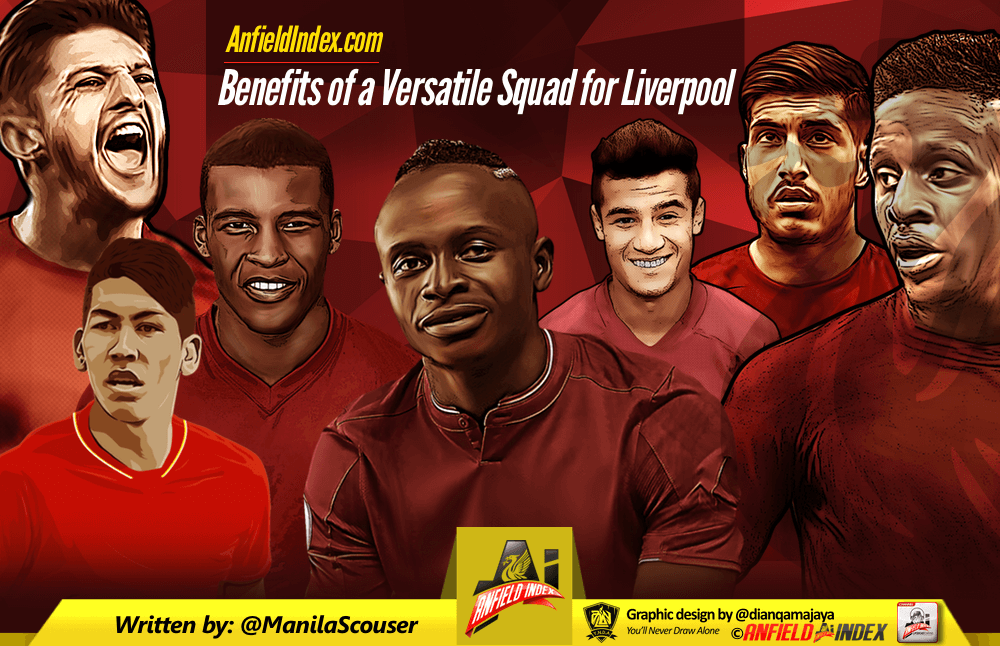 Benefits of a Versatile Squad for Liverpool

Upon the announcement of Georginio Wijnaldum from Newcastle United last month, Jurgen Klopp has praised the Dutchman's ability to play in a number of positions on the pitch. Taking a step back and looking at our squad, you can just see exactly how any player within the team could easily move to a different position and put in a very good shift.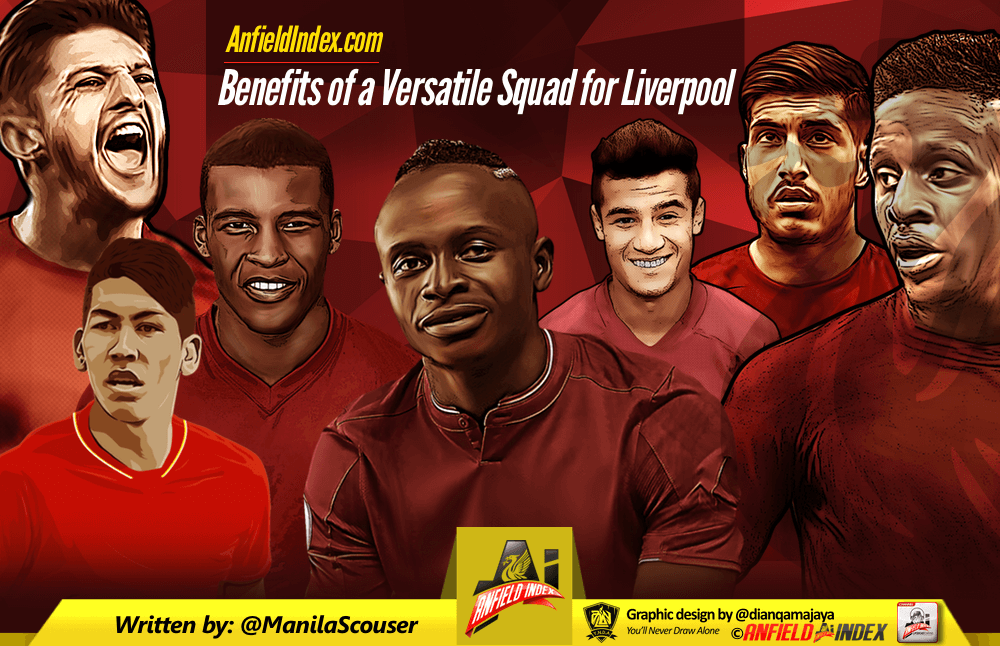 Divock Origi
Divock Origi has excelled exceptionally in his first season at Liverpool, especially under Jurgen Klopp. His frame makes him the perfect #9, he holds the ball well and since he's bulked up, he's now physically strong enough to cope with the physicality of the Premier League. But with speed also amongst his qualities, you could easily move him in those wide positions to make way for players like Daniel Sturridge without sacrificing an excellent attacker in the team.
Adam Lallana
We've seen Lallana play various positions and roles during his first two seasons at the club, from a central attacking midfielder to someone playing on the right of a midfield three who initiates the press. The match against Arsenal saw him once again playing in a different, much deeper position than we usually see him play in. Lallana was one of the most efficient players we had last season with his work off the ball, and should he play more regularly in this position, his stats may significantly drop, but the ability to just slot in virtually anywhere on the pitch is something.
Sadio Mane
Before we signed Sadio Mane, there were plenty of arguments floating about regarding where he really plays. Truth is, Sadio Mane can be utilised in any position in that front four without sacrificing any of his abilities. He's a constant threat wherever he plays because of his blistering pace and low level of gravity, and we've seen him stand out on his official league debut for Liverpool against Arsenal over the opening weekend, then again at Burton, and his willingness to track back and defend makes him a perfect player for our manager.
Philippe Coutinho
Coutinho, like everyone else has played various positions for Liverpool, from the left of a 4-4-2 diamond in 13/14, to playing on the left of a 4-2-3-1 last season. In that title challenging season, his main responsibility was to spray passes all over the pitch to initiate a swift counter-attack for the infamous SAS, but last season, he started to contribute more to goals, providing runs inside the box, or his trademark 30-40 yard shots. His original role was a central attacking midfielder, but today he's taken on that role on the left and has excelled quite well.
Georginio Wijnaldum
Similar to our little magician, Gini is primarily an attacking midfielder. But it seems as if he'll be developed further by Jurgen into a deeper role to accommodate all of our attacking options we have (sounds great that we have this now, doesn't it?). That doesn't mean he won't be playing there, I'm sure there will be instances where he'll have to take on his old role more than once or twice this season, but again, the way Klopp can manipulate and interchange the roles of his team even during the game is an incredible asset to have.
Emre Can
I've said this before, Emre Can was our own Dora the Explorer in his first season at Liverpool under Brendan Rodgers. He's played as a full back, a centre half, a central midfielder and a defensive midfielder. Despite staking his claim as one of our best midfielders, he could easily take on any role on the pitch when we're faced with certain circumstances.
Roberto Firmino & James Milner
We've seen Bobby play either as a false 9 or as a #10, and he's put up numbers for Liverpool in either position he played in, so it's great to have someone who can move up the pitch should Sturridge or Origi suffer an unfortunate injury during the game.
James Milner is probably one of those players who can just play any role on the pitch and give you a 7/10 on a consistent basis. He can play in at least four different positions and would just buckle down and do the work he's asked to do. With reports coming in that it's unlikely Klopp will return to the market for a full back, James Milner would be tasked to play in either side throughout this campaign.
With the versatility of these players, there's so much things Klopp can tinker with. Whether its fielding a starting eleven, or changing tactics on the sidelines during the game, having players who can play numerous positions on the field will always remain an asset to any football club, and apart from the goalkeeper, I don't' see a single outfield player playing only one role throughout the season.