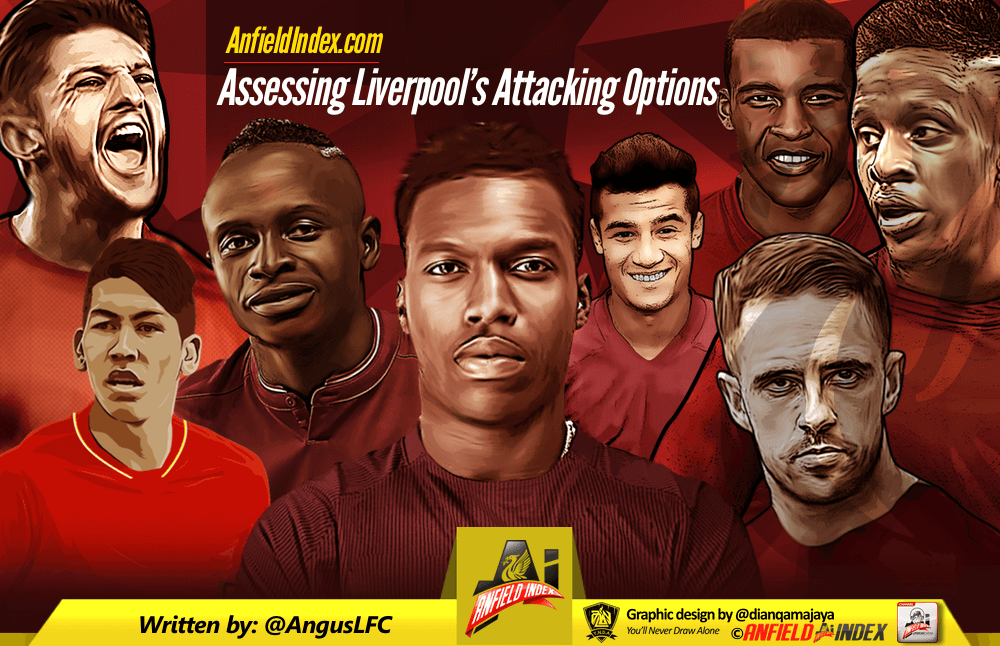 Assessing Liverpool's Attacking Options
Liverpool go into the 2016/17 season with the best attack that they have had in a number of years, with a number of genuine high quality options across all positions.
Although there is much more to any attacking player than two stats, ultimately they are judged on two things: goals and assists. Therefore to gage a better idea of Liverpool's options this season particular attention has been paid to these figures. To calculate each player's effectiveness per game a "CpG" (Contribution Per Game) figure has been produced. Valuing each goal as 1.2 points and each assist at 0.8, the sum of these figures was divided by the player's appearances.
Only Premier League appearances have been included but the way in which these were selected varies. For example only Adam Lallana's Liverpool appearances have been considered whereas all of Danny Ings' are used (given the fact he has only made 8 PL appearances for Liverpool.) Substitute appearances are inclusive in the figures.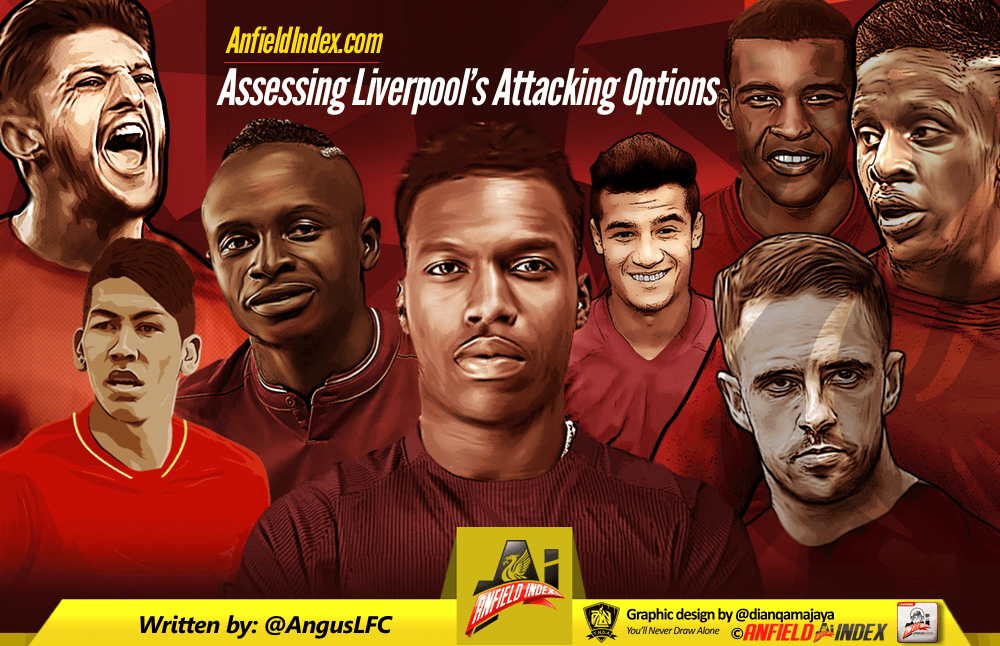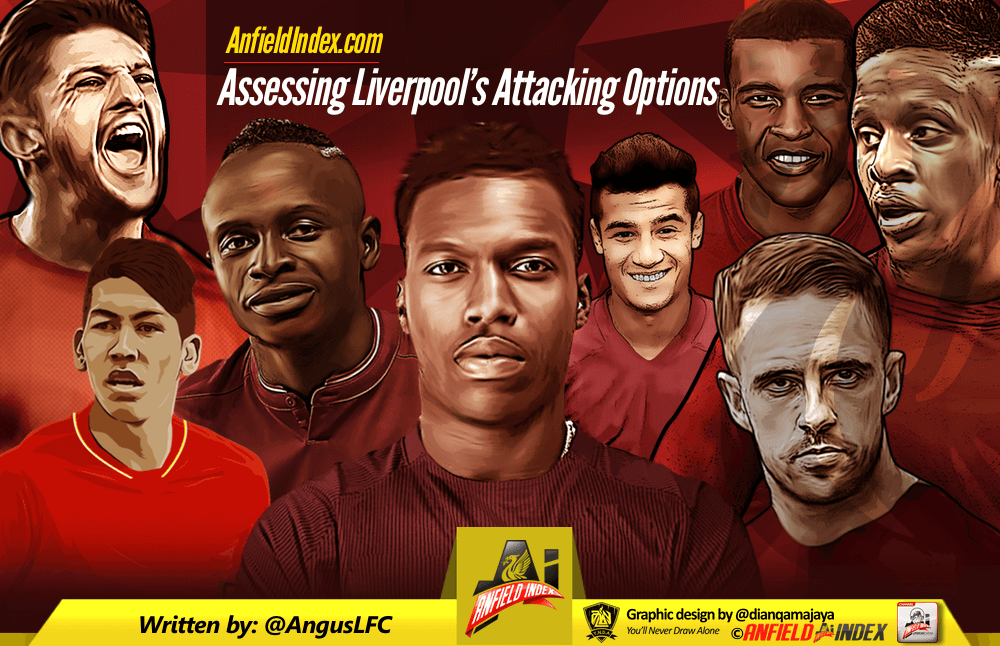 Below is the full table for Liverpool's forward players.


To give some context to these figures last seasons PFA Player of the year Riyad Mahrez scored a CpG value of 0.79 with 17 goals and 11 assists in 37 appearances.
Individual Analysis
Roberto Firmino – 0.57
Performance wise the Brazilian had a mixed first season in the Premier League. Even so he achieved an impressive 0.57 CpG rating, which shows why he was so highly rated when he arrived from Hoffenheim in the summer of 2015.
The hope for Liverpool fans will be that a full season of good performances could see a repeat of his 2012/13 season in Germany where he bagged 16 goals and 11 assists.
Adam Lallana – 0.32
With the worst CpG rating of all Liverpool's attacking options this season, its no surprise that Lallana comes under sustained criticism. In contract to Firmino, Lallana is seemingly able to produce consistently good performances, but without any end product.
Now 28 and theoretically in his prime years he has the technique and intensity to be a success under Klopp but must become more productive, otherwise he could find his game time become increasingly limited.
Phillipe Coutinho – 0.40
Since signing from Inter Milan three years ago Coutinho regularly threatened to become a world class attacking midfielder. Moments of brilliance in big games are now almost to be expected. However it's perhaps telling that no approaches were made for the Brazilian this summer, as he struggles to contribute on a regular basis.
Last season was his most productive year with 8 goals and 5 assists but he will need to see double figures in at least one of those areas this year if he is to start really fulfilling his potential; something he is clearly aware of. His double against Arsenal on the opening day bodes well.
Georginio Wjnaldum – 0.45
Even as a central midfielder Wjnaldum is attacking minded which is why he has been included in this article. Hitting 11 goals for a relegated Newcastle was impressive and adding 5 assists puts the Dutchman's first season record right up there with Liverpool's more attacking options.
It can be expected that he will become less productive this season as Liverpool's superior attacking options mean there will be less reliance on this aspect of his game. Doing half as well as his did in his first Premier League season would represent a useful contribution.
Daniel Sturridge – 0.89
By far Liverpool's highest CpG rating, Sturridge is a world-class performer. When fit he scores well over a goal every second game.
His fitness will always restrict his influence but if Liverpool can have him for just 20 games this season he could make a telling difference.
Divick Origi – 0.43
At 21 the Belgian is still a work in progress, which is reflected in the fact that his highest scoring league season is just 8 goals.
Still, the clear progress that has been made over the past year suggests that if Sturridge can't stay fit he has a realistic chance of displacing both him and Firmino for the CF spot.
Danny Ings – 0.46
As is the case with Liverpool's other two central striker options Ings' Liverpool career has been stifled by injury just as he appeared to really start hitting form. Although it's unlikely that Liverpool have another Sturridge's on their hands after Ings completed 75 league games in 2 seasons for Burnley.
He probably remains 3rd, maybe even 4th (Firmino included) choice striker but could well still find himself making a number of League starts, particularly towards the end of the season.
Sadio Mane – 0.48
In his two seasons at Southampton Mane proved himself to be a considerable threat, hitting double goal scoring figures in both seasons is a considerable achievement for a wide forward.
Still, a CpG rating of 0.48 appears rather average for a player who cost £32-36m, however early season signs suggest that he will justify this fee and potentially go on to better previous years achievements.
Bonus: Liverpool's departing players

Klopp's decision to get rid of Liverpool's four out going attackers seems to be well justified by a quick look at their statistics. Lazar Markovic struggled in his first season in the Premier League and having being left out of the squad on the opening weekend looks likely that he will depart.
The sale of Balotelli is a no-brainer and at face value it also seems the case for Benteke. However only Daniel Sturridge achieves a better CpG rating of all Liverpool's forwards, than the Belgian. Benteke doesn't fit into Klopp's style of play so Liverpool are right to sell, but shouldn't accept any less than the £32.5m they paid Aston Villa a year ago. Nine goals in 14 starts and a ballooning transfer market means that the 25 year olds value hasn't depreciated.
All of Jordan Ibe's 39 premier league appearances have come at a young age but regardless, 1 goal and 2 assists in that time is a poor return. The Englishman has showed great promise but with £12m in the bank and a buy-back clause Liverpool are guaranteed winners.