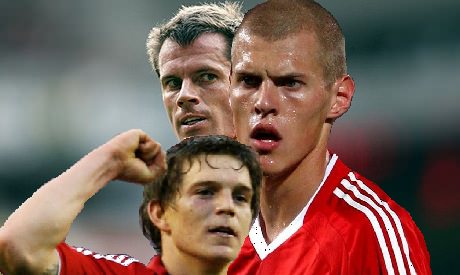 Partners At The Back (Carragher, Agger & Skrtel)

For a number of years now there has been much debate about who exactly makes up our best central defensive partnership. The 3 main players in this debate are the long serving Jamie Carragher, the misunderstood Martin Skrtel and the mostly injured Daniel Agger.
Since 2007 Liverpool's central defence has consisted primarily of Jamie Carragher, partnered by Daniel Agger (when fit) or Martin Skrtel (in the absence of Agger). Using statistics from 2007 onwards it is possible to evaluate how the 3 have performed and see which 2 players should make up our partnership at the back.
Now there are other factors at play such as age and injury, and other things that can be contributed to the team that statistics can not measure – these will be discussed later.
Just to note that these stats concern PREMIER LEAGUE games only.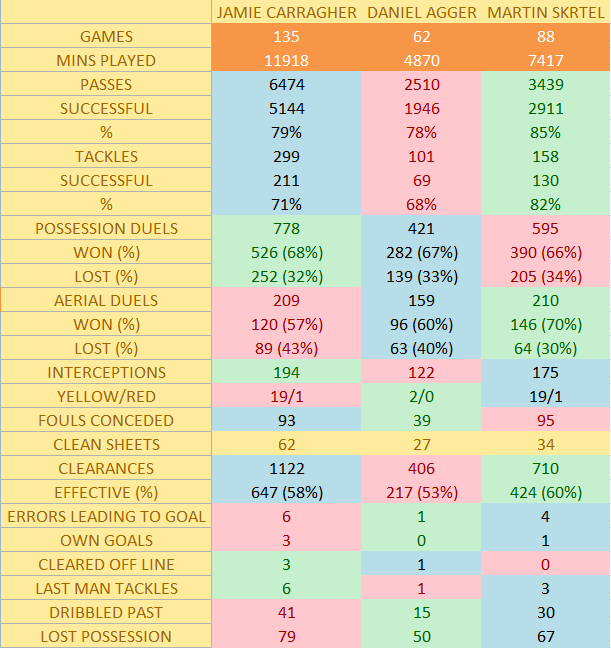 For the section labelled 'CLEAN SHEETS' this stat is not compared as there are other factors at play other than the individual performances of the three players, for example goal keeping errors, and also the keeping of a clean sheet is ultimately down to the goalkeeper, the defenders merely assist – so this stat just shows the number of time each player has been part of the team when a clean sheet has been kept.
For the section labelled 'DRIBBLED PAST' this stat shows how many times the players have been beaten by an opponent in possession of the ball.
Much has been said about Agger being the best defender at Liverpool but the statistics tell a different story, it is in fact arguably Martin Skrtel who is the best Liverpool defender, with his passing and tackling clearly setting him apart from his team mates at the back.
As far as possession duels go, the three are quite closely grouped with only a 2% difference between Carra an Skrtel with Agger in the middle – the reality being that all pretty much perform the same in this regard on a game by game basis.
Aerial duels are a different story – the three are no longer closely grouped, Carra is by a distance the worst in the air at a 57% success rate with Agger not too far ahead on 60% but Skrtel is by far the best in the air with a 70% success rate, height wise, both Agger and Skrtel stand at 6′ 3″ and Carra at 6′ 1″ – looks like those extra 2 inches make a big difference.
Carra is often praised for his ability to read the game so it can be no surprise that he comes out winner in the 'INTERCEPTIONS' stat, although, Skrtel is not too far behind.
Despite playing almost 50 games less than Carra, Skrtel has (only just) committed the most fouls whilst Agger commits very few.
In terms of clearances, Carra and Skrtel are quite closely matched in terms of successful clearances with Agger lagging behind.
This next area is probably where Agger gets his reputation as being our best defender – he has by far the coolest head when under pressure in the box, Carra has made 6 mistakes that ultimately led to a goal, with Skrtel guilty of 4 mistakes, whilst Agger has committed just one solitary mistake over the last 4 seasons and is guilty of no own goals compared to Skrtels 1 and Carra's 3.
Something else that Carra is praised for is his last ditch tackles – tackles which if not made, would more often than not have led to goals, 6 last ditch tackles and 3 goal line clearances – it is fair to say that he has potentially saved us a fair few points – his two partners are somewhat lacking in these areas but i suppose when Carra is there to do it….
Another reason why Agger is regarded as our best defender is his ability on the ball, he is excellent at carrying the ball forward, and also it seems great at dealing with players who try to dribble past him, and he has also lost possession less times than his two team mates. Carra comes off the worst in this respect but that you could put that down to age and a loss of pace – pace he never really had to begin with.
As i said earlier there are other factors, factors that have already been touched on a bit. Age is the main one – these statistics cover Agger and Skrtel from the age of 22-26 – during this period they will have been still learning the game and the traits necessary to be a first choice defender at one of Europe's top clubs – Skrtel of late has started to become a more prominent and more effective defender, comes with the experience gained over the years, him and Agger still only 26. Carra on the other hand was 29 when these stats started being recorded – he's now 33 and he isn't getting any younger, he has played through his prime and is still an effective defender but i cant see that these stats will improve greatly over the coming years and they may in fact worsen.
Fitness is another factor – Agger has spent large portions of this period on the treatment table, this will have affected his development and his performances – being unable to perform to a consistently high standard and the time needed to re-adjust after coming back from injury will have had a significant affect on the recorded stats.
Agger is, on his day, our best ball playing centre back, he is the opposite of Carra an Skrtel who predominantly stay back an keep a tight line, Agger likes to roam forward and he has a decent left foot on him as well – fans love defenders who play that way, and that is why he is probably regarded as our best.
Carra brings more to the team than what the statistics show, his ability to read the game and organise the defence is crucial at times and the other defenders have a way to go in order to match this – it is hard to tell how much longer he can be a permanent fixture in the first 11 though.
Skrtel is a defender who has long been criticised, he isn't Agger off on roving runs and he isn't Carra making last ditch tackles and bossing the defence – he is quite understated and simply goes about his business which as the stats show he does quite well and has become a competent defender worthy of a starting place.
But who should be in the back 2?
Well for me, when Agger is fit, i would have to say the first choice 2 should be Agger and Skrtel, but given the circumstances Carra and Skrtel at the back is (for now) our best pairing.