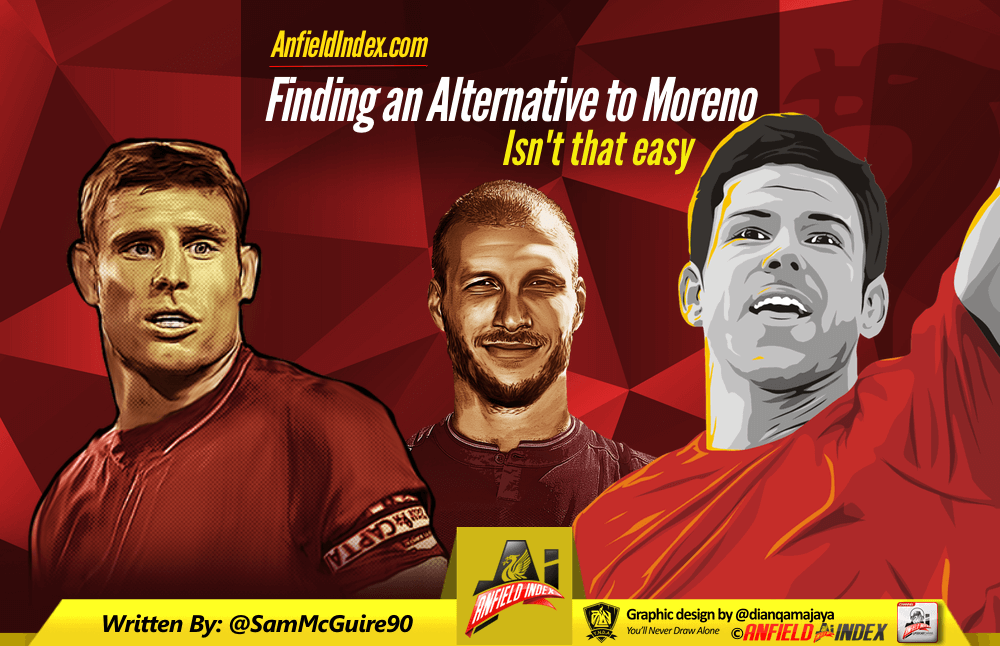 Finding an Alternative to Moreno Isn't that Easy

Odds are if you ask a random Liverpool fan what part of their squad needs an upgrade they'll say the left-back position. Alberto Moreno is the current incumbent of the role and despite being at the club for two seasons he's still yet to really nail the position down as his own. A series of questionable performances has done nothing to endear himself to the Liverpool faithful and after an arse clenching opening 45 minutes against Arsenal it appears as though many fans have given up on the Spanish full-back.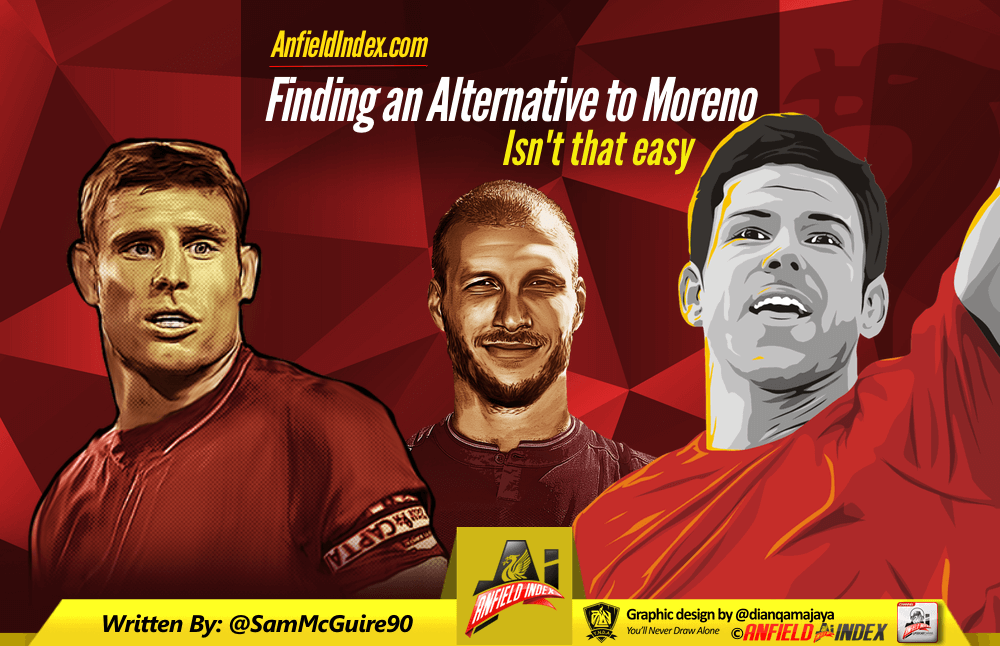 For the entirety of the summer transfer window Liverpool fans have been reeling off names of left-backs who could come in and replace/challenge Moreno for the starting position in the Liverpool XI. Ricardo Rodriguez and Jonas Hector have been the go-to names for the majority of fans with many claiming those two as the perfect full-backs for Liverpool. There were links to Ben Chilwell and Aaron Cresswell but to date nothing has come to fruition.
In the media there's been a lot of talk about Klopp wanting any incoming left-back to fit a profile. Given how Klopp used his full-backs during his time as Borussia Dortmund manager as well as how Liverpool have lined up throughout pre-season and against Arsenal you can kind of make an educated guess with regards to what a player would have to offer to suit this profile.
Pace. To really succeed in a Klopp system the full-back will need pace. They'll need it to break quickly when Liverpool transition from defence to attack and vice versa. They're going to need recovery pace, much like both Moreno and Clyne have, when Liverpool appear to be a little bit stretched when the opposition turn defence into attack.
Comfortable on the ball. At times the Liverpool full-backs are almost acting like a wide midfielder. Their starting position is a lot more advanced than how other teams position their own full-backs so by default they're involved with play in areas of the pitch that will have more opposition bodies. They've got to be comfortable when faced with multiple players. More often than not the Liverpool full-backs act as the third man to make up a passing triangle between midfielder and attacking midfielder. They can't be limited or overly safe on the ball.
Attacking instincts. Although Klopp will encourage the full-back to attack with how he positions them, instructs them and trains them it needs to be almost natural if it's to work as effectively and efficiently as planned.
Switched on. With Liverpool playing such a proactive game it's imperative the full-backs are on their toes and able to intercept the ball and get the team moving as quickly as possible. Klopp needs front foot defenders who are prepared to gamble.
Whereas Pep Guardiola is using his full-backs centrally to overload the midfield that way Klopp uses his full-backs to offer the width and open up space centrally for his narrow midfield to really dominate. Full-backs are just as important to Klopp's system as they are to Guardiola's, just without the fanfare.
With this in mind It's obvious to see why Klopp loaned out Jon Flanagan. While he may be comfortable on the ball his lack of pace really hinders him. You aren't really going to be seeing Flanagan finishing off a sweeping counter attacking move are you?
Twitter has created a stubborn fan base. Once a person nails their colours to a mast it's near impossible for them to change that. People may not acknowledge it but a lot of it comes down to pride. If you vehemently dislike a player and you openly criticise him it's hard to admit that maybe, just maybe, you were wrong down the line. So instead they dig their heels in and bury their heads. They end up criticising them for the sake of it, even when there's nothing to moan about. That's what happened for the opener against Arsenal. Moreno, like Klopp full-backs are instructed to do, pushed up during the attacking transition but when Liverpool lost possession it was clear nobody had covered him and Walcott was in acres of space.
Many Moreno detractors say they want a full-back who defends first. In an ideal world Liverpool would sign a left-back who is just as comfortable defending as he is attacking but if they existed they'd be out of Liverpool's price bracket. It's safe to say, if Liverpool keep their current tactics that is, if Liverpool bring in any full-backs they're going to tick the boxes above meaning they'll attack and there will be gaps in behind them if the rest of the team don't cover as expected. So that part of Moreno's game which infuriates people is there to stay, Clyne does the exact same thing. It really is difficult to find a full-back that's perfect for Liverpool.
Do the club have players within the squad already capable of playing that role?
James Milner. The versatile Englishman was used there in pre-season and was rumoured to be starting there against Arsenal had it not been for injury. He's been vocal in the press about not liking it in that role but being prepared to play there to help the team. The Echo, Chris Bascombe and Paul Joyce have all mentioned the fact Klopp thinks Milner can do a job there and that may be his role this season.
When he played there in pre-season he didn't do a bad job. The reservations about him playing there as first choice arises from the fact he isn't as quick as Moreno and he favours his right foot. Meaning Liverpool automatically lose their momentum when attacking if Milner is having to cut back inside onto his right foot to put the ball into the box. His left foot is by no means just for show but teams will know to push Milner onto the outside. He's also rash and his tackles are brainless as well as a walking yellow card.
Sheyi Ojo. I know what you're thinking; Brendan Rodgers isn't Liverpool manager so what are you talking about? Putting the talented attacking midfielder in a left-back role may seem odd and detrimental to his development, however, given the Liverpool full-backs play as wide midfielders Ojo would spend a lot of his time in or around the same areas as Phil Coutinho. When Phil drifts inside Ojo, on his stronger left foot, could go on the outside. He'd be able to pick runners out from deep and he has a burst of acceleration which would mean Liverpool won't lose that with no Moreno.
Joe Gomez. By all accounts the club have high hopes for Gomez but if he's to develop as expected he's going to need minutes under his belt, especially after losing an entire season to injury. The minutes would aid his development but playing out of position may have an adverse effect. Just look at the likes of Phil Jones and Martin Kelly. Although Gomez played the left-back role under Rodgers his limitations then were clear. His lack of explosive pace and his over reliance on his right foot meant he was restricted when going forward and easy to read. Like Milner he'd be able to do a job but it's far from ideal.
Ragnar Klavan. The Estonian has played left-back at times in his career and he's fairly confident on the ball but his lack of pace and attacking intent means he has short comings in a Klopp system in that role. He'd arguably be ideal as a left sided centre-back in a defensive three but as an attacking left-back? It's stretching it at best.
One player the club could sign. 
Andrew Robertson. The 22 year-old Scottish full-back ticks all the boxes. He's quick, comfortable on the ball having played left-midfield at times for Hull, he supports the attack and offers width down the left as well as being switched on. In the opening game of the season for Hull against Leicester he made 4 tackles and 3 interceptions and he was up against last seasons player of the year Riyad Mahrez. He may not be the most flashy of names but he'd rival Moreno for that left-back spot and Liverpool wouldn't lose anything from their game.
Finding an alternative to Moreno isn't as easy as many make out simply because Moreno isn't as bad as people imply. If the full-back role is as important to Klopp's system as it looks then Liverpool won't have Milner as the back-up option when the transfer window closes at the end of August.