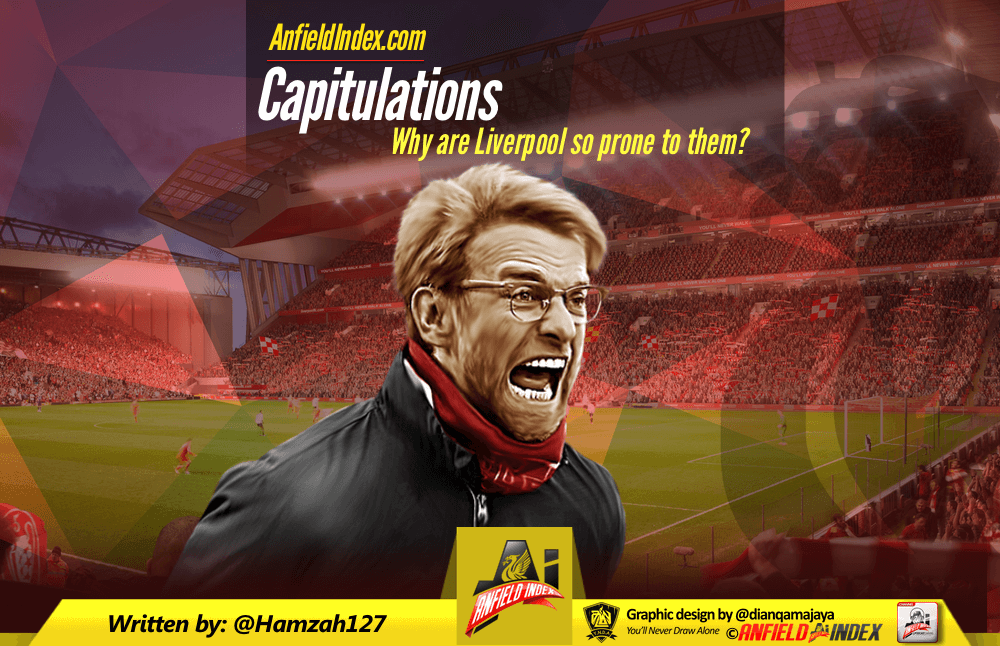 Capitulations - Why are Liverpool so prone to them?

Sixty-three minutes into the game, and Liverpool were 4-1 up at the Emirates having just blitzed the Arsenal defence to pieces in a typical high octane, all guns blazing, Jürgen Klopp manner. Yet less than a minute later, Arsenal had grabbed a goal back and were suddenly back in contention. Whilst this could be attributed to a moment of individual brilliance by Oxlade-Chamberlain, or perhaps a lucky deflection, or even poor defending; it seems far too similar of a story to Liverpool's past experiences over the past two seasons, where the team somehow manage to consistently hand opposition teams a hand back into the game. Again, in the following Premier League fixture against Burnley, Liverpool just could not replicate the best aspect of that performance, and fell to an embarrassing 2-0 defeat.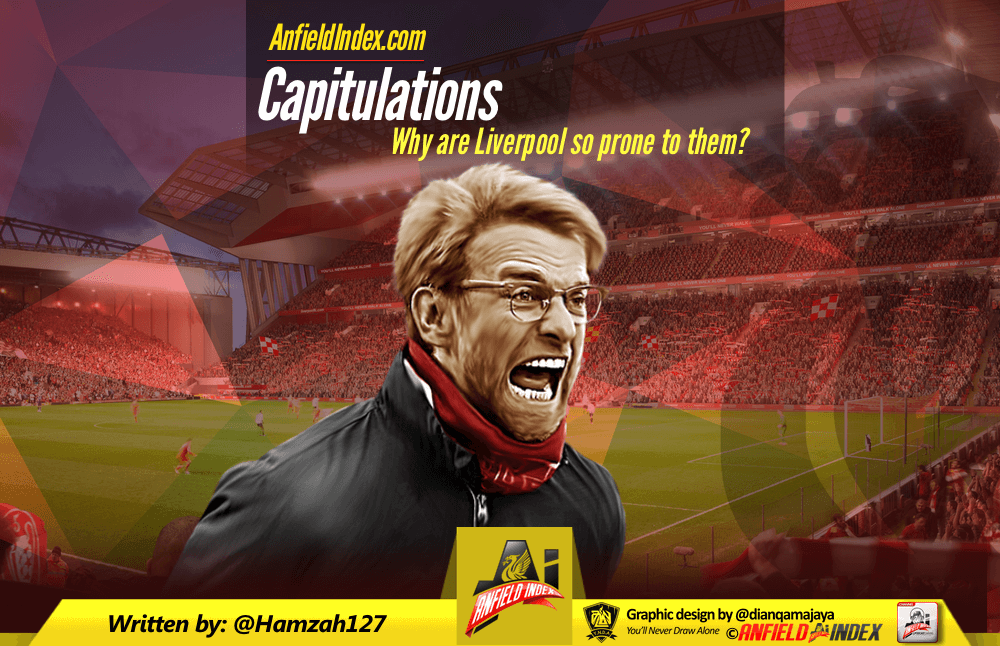 Lapses of concentration are commonplace for Liverpool, and far too often are purple patches in matches, or stellar performances, not backed up by a robust defence or a similarly consistent performance in the following match – we only need to look at the Europa League final last season, where a strong first half was seconded by a disgraceful second half performance; or for instance, the 2-1 defeat to Crystal Palace as a follow-up to the 3-1 victory over Chelsea, or even the 3-0 capitulation against Watford. There are many more in-game examples too, but it is pointless citing them and just pointing out that Liverpool are inconsistent.
What conclusion can we actually draw from these performances though, and why are these collapses in performance levels such a frequent occurrence, even under the Klopp regime?
One particular argument that has a large degree of credence is that the mentality of the players is extremely weak. There are two examples that stand out head and shoulders above any other instances. The Europa League final defeat to Sevilla and the 6-1 drubbing handed out by Stoke two seasons ago; the attitude of those players in those game can only be described as spineless and disgraceful, with the players effectively curling up when the going got tough. Now whilst Klopp has brought in many new faces and tried to remould his team, the weak mentality of the players remains. When conceding, the team goes into panic mode, attempting to force the play, and unsure whether to try to attempt to respond quickly with a goal, or to slow the game down, and shift the momentum back in their favour in a more measured way.
When under pressure, the defence appears to crumble, or be opened up with ease – inexcusable for players of the technical quality that Liverpool possesses. Now whilst some of the blame for this can be attributed to the lack of a high quality defensive midfielder, some of it can at least be attributed to the uneasy relationship between the defenders and the goalkeeper.
Simon Mignolet has been criticised a great deal over the past few seasons for his perceived technical flaws, but arguably the biggest of his flaws is actually his poor communication with his defenders, specifically his centre-backs. There is often at least some degree of confusion when balls are crossed into the box, and the centre-back expects Mignolet to claim it, whilst Mignolet expects the centre-back to clear it. This lack of confidence between the defenders and the goalkeeper is detrimental to both groups of players, as neither can fully concentrate on their specific tasks, as they feel as if they have to be aware of their counterpart's actions. This unease spreads throughout the team, and even the fans can sense it too, building up pressure too great for a group of players that are accustomed to throwing the towel in relatively early.
One aspect mentioned earlier was that after conceding the Liverpool team is unsure what approach to take to respond, and attempt to force the play, and this can be explained through a lack of control in centre-midfield, due to the absence of a genuine playmaker. In some games, Coutinho does fill this role, and dictates play beautifully, setting the tempo and deciding when to initiate attacking moves. The Arsenal game proves his vast influence on the game too – with Liverpool losing their sense of direction as soon as he left the field, injured. The current centre-midfielders Klopp elects to use, Wijnaldum, Henderson and Can, are all box-to-box midfielders, non of whom are really suited to playing a holding role and orchestrating the play. They all prefer to get forward, and drive the play, yet in games where the team is under pressure, what Liverpool really require is a holding midfielder who can keep the ball and not overplay, as players such as Henderson do, when they try to force attacks to happen. But this again reflects a weak mentality, where the players feel if they do not score quickly, the game will be lost for them. Liverpool's record when conceding first is fairly poor, showing the resilience of players, and the 'character' which Brendan Rodgers effused about, is actually lacking.
It is worth noting though, that the Liverpool squad is still relatively young, especially when compared to the teams of Liverpool's rivals. The Reds' senior players are fairly consistent, such as Milner, but there aren't actually that many senior players – and in fact the players in the squad are often looking to young players, such as Coutinho for leadership. Thus the point could be made that the squad is composed of players not experienced enough to cope with pressure – but then the onus is on the manager to fill that gap within the squad through his own experience and to guide the players through tough times, but also develop them into players that can make their own independent decisions on the pitch without his guidance. As at times, it appears that the team is too deferential and looks elsewhere for leadership, rather than them using their own impetus on the field.
Perhaps these capitulations Liverpool display so often are not due to the factors above, but rather a busy fixture list, injuries, or even the players simply adapting to Klopp's system – or perhaps it even is an amalgamation of all the factors above. Yet only a few things can be certain – this is an issue that will still take time to be ironed out, and it will certainly be intriguing to see how Klopp approaches this particular challenge.