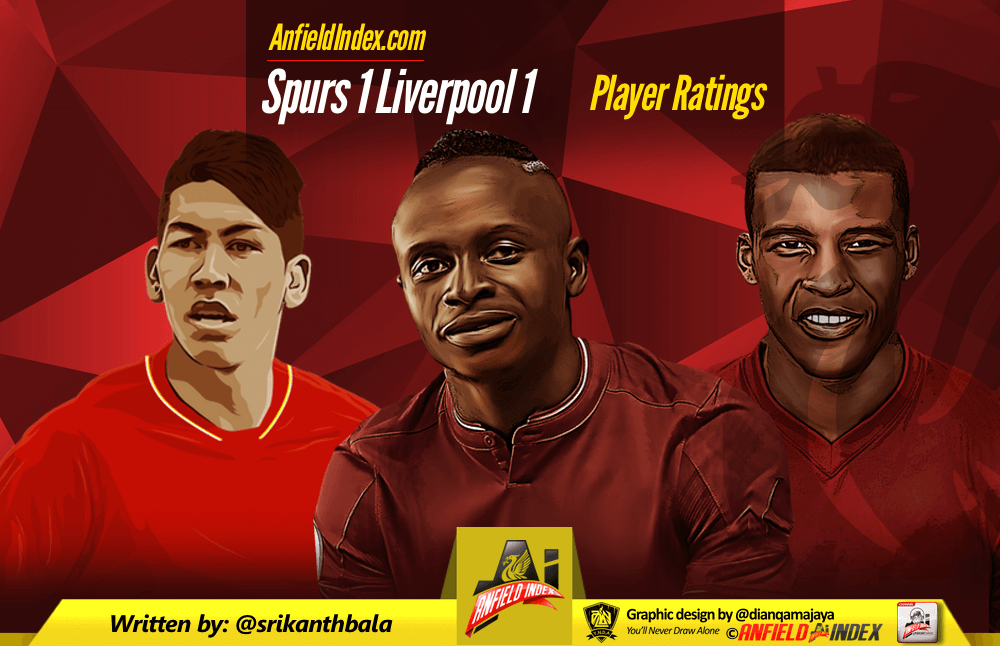 Spurs 1 Liverpool 1: Player Ratings
The pre-game predictions of a lot of fans came true as Spurs and Liverpool played out yet another draw, the third in a row. Liverpool could have won the game, but for a tight call from the linesman ruling out a goal.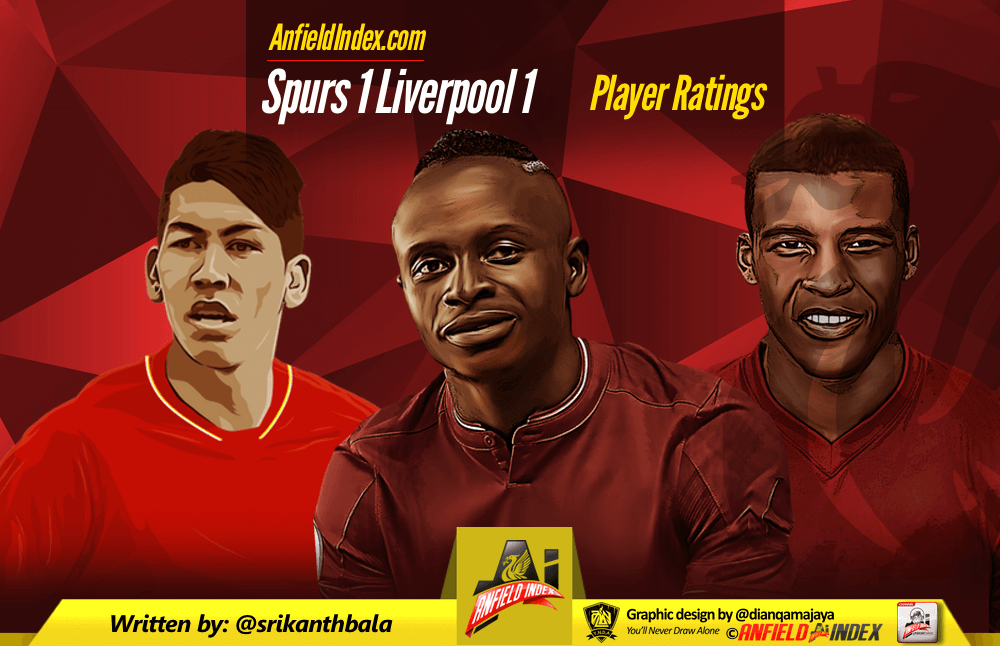 This is how the Reds fared.

Simon Mignolet (7) – Made a couple of wonderful saves in the second half, with the save from Alderweireld being a stand-out. Was more comfortable when passing the ball than usual.

Nathaniel Clyne (6) – A steady performance from the right-back. He was available as a passing option in attack often but his final delivery was lacking. He was good with his defending mostly and closed down his man on the right. He was caught napping for the goal as Rose sneaked in and scored from that side. His final ball delivery was also below expected levels.

Joel Matip (7) – A very impressive Premier League debut from Matip. He was a commanding presence in the air and was excellent on the ball, often starting moves from the back. He was regularly spotted making charging runs into the attack during the game. Could have easily scored on debut, with his header skimming the bar.

Dejan Lovren (6) – A decent game from the centre-back who showed his usual zest in winning the ball whichever way possible, not all of which were deemed legal. Earned a yellow card due to his sheer stupidity of kicking the ball away.

James Milner (6) – Had a very good first half, being his usual solid, dependable self which was the need of the day at left back. Scored a very calm penalty. He was caught in no-man's land leading up to the goal,  allowing Dier to easily get in a cross, something which should have been cut off in the first place.

Jordan Henderson (7) – A far improved performance from the skipper. He was very aware of his surroundings and quickly passed the ball which enabled him to escape from tight spots on a couple of occasions.

Adam Lallana (6.5) – A very workmanlike performance from Lallana as his pressing opened up a couple of opportunities for Liverpool in the first-half. Held on to the ball a bit more longer than desired. Was unlucky to have been adjudged offside in the build up to the goal scored by Mane which might have eventually been the winner.

Giorginio Wijnaldum (5.5) – Poorest performer on the day, was inconspicuous by his absence more often than not. Wijnaldum easily gave the ball away, and did not do enough to win the ball back on more than one occassion. The only times he was involved in the game was further upfield where his movement off the ball was notable. The position in the midfield does not seem to be anywhere close to his best position.

Roberto Firmino (7) – An improved performance from that against Burnley as there were moments of promising link up play with Sadio Mane as they kept switching positions. His movement to drop deep was often compensated by the attacking run from Mane. His run to get on the right side of Lamela enabled him to win the penalty.

Sadio Mane (7.5) – Was an attacking threat through-out the game with his blistering pace. His pace often created doubt in the Spurs defense with respect to setting up their offside trap. His surging runs almost created a couple of chances, only to be saved by the very alert Vorm. Had a goal turned down due to a very tight offside call.

Philippe Coutinho (6.5) – Phil missed one of the easiest chances one could hope for very early in the game and that set the tone for his performance. Took a couple of his now traditional shots cutting in on his right foot. Was taken off for Origi in the second half.

Substitutes
Divock Origi, Daniel Sturridge, Kevin Stewart – (N/A)