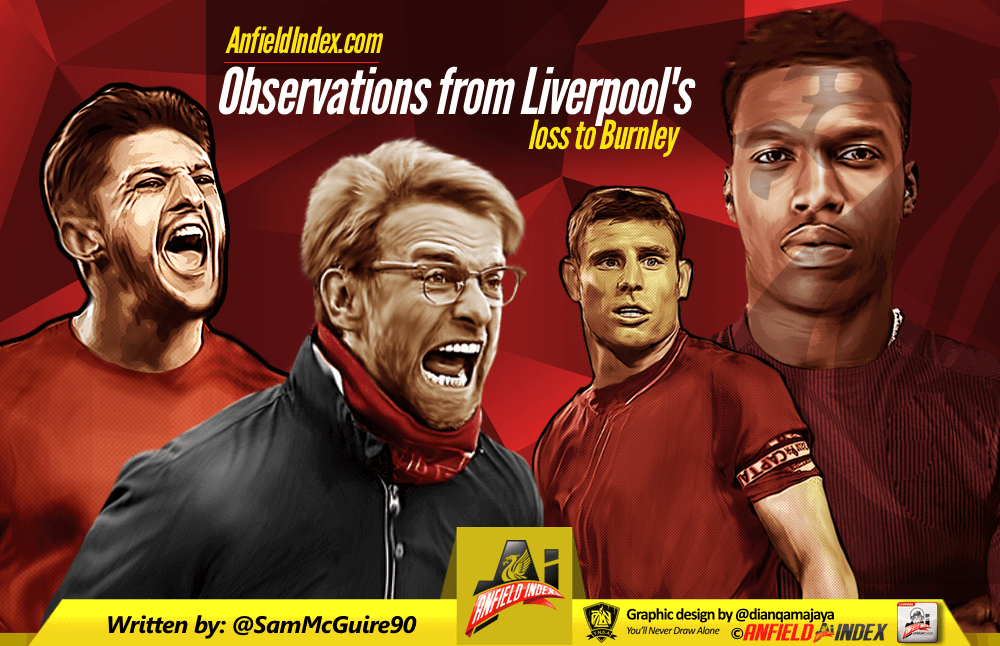 Observations from Liverpool's loss to Burnley

Same shit different season. It wasn't supposed to be like this, a full Jurgen Klopp pre-season was supposed to get the Reds in the right frame of mind to blitz the Premier League. No European distractions and reinforcements arrived in the summer. If there were any positions / areas Klopp wasn't happy with he's had ample time to address them. So a 2-0 defeat away to Burnley just isn't acceptable.
It's scary that a side tipped for relegation, no matter how well structured and set up they are, were able to keep a clean sheet against us. It's not like they had many attacks to repel either, that's the worrying part. There was zero creativity from the midfield, the attack looked blunt and there was a strong sense of deja-vu as Liverpool had 81% of the possession and 26 shots to Burnley's 3 yet failed to work the 'keeper. It was a systematic failure and, as much as every single player let themselves down, fingers should be pointed at the manager.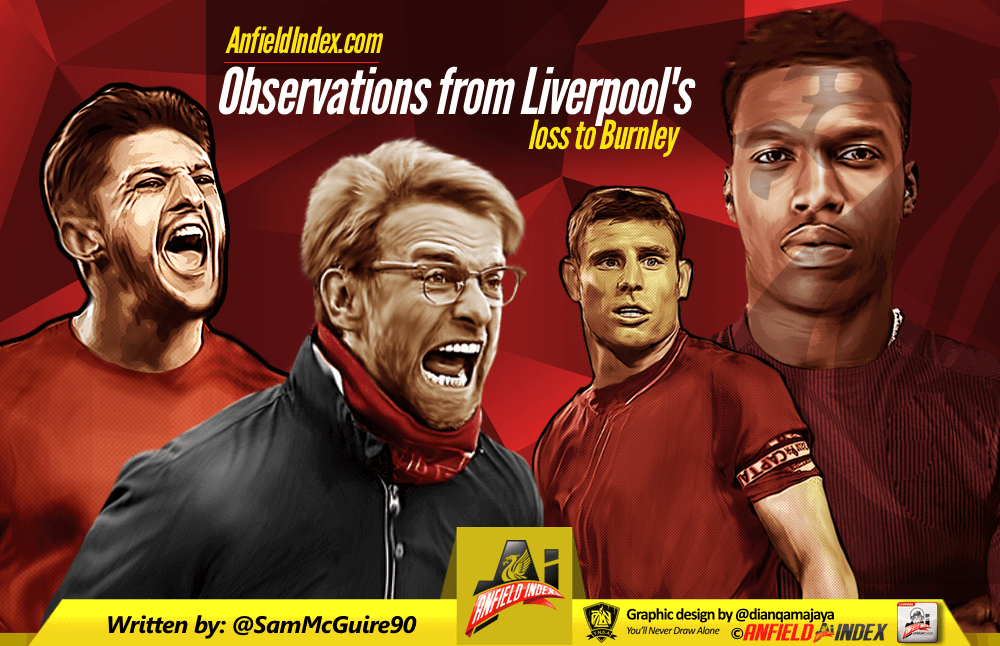 Jurgen Klopp's tactics 
He's rightfully lauded as a genius when he gets it right so it's only fair to question Klopp when he gets it wrong. In the opening 45 minutes against Arsenal he got it wrong but the spell after half-time made many forget that. Today he wasn't so lucky. Burnley played exactly how every man and their dog expected them to play yet Liverpool seemed rattled and bereft of ideas. Mane's injury may have disrupted the original game plan but It's no excuse not to be better prepared.
Burnley were always going to be compact and narrow so playing Sturridge on the right, who will always drift inside and look for pockets of space, is effectively playing into their hands and there was just an abundance of players centrally with very little room to do anything. Why not use Lazar Markovic, Divock Origi, Adam Lallana or even James Milner? The former two offer pace in behind which Liverpool desperately lacked whereas the latter two played there at times last season so can do a job there.
While Sturridge playing that withdrawn role would work against teams looking to play football, against Burnley it was a poor fit.
Then there was the issue at left-back. Against a deep-sitting side you need your ball movement to be quick but having a right-footer playing at left-back is the opposite of that. Milner often cut back onto his right foot and it allowed Burnley to prepare for the cross. Much like Sturridge playing on the right, Milner playing on the left meant he was always looking to cut inside where all the bodies seemed to be. Alberto Moreno may not be flavour of the month but somebody like him would've made more sense today against a deep, compact side.
You can't help but feel he waited too long to make the subs. It was often a criticism aimed at Klopp last season. When Liverpool were losing he seemed to wait 10 minutes too long to make the changes.
Mane already influential
The Liverpool attack looked dynamite against both Barcelona and Arsenal. Firmino's movement, Coutinho's creativity and Mane's pace coupled with the goal threat and the off-the-ball work all three put in meant it was the perfect blend for a Klopp attack. The only one missing today was Sadio Mane yet Liverpool's attack looked like a ghost of what it was last week.
There was no pace and no incisiveness. In truth it was pretty easy for Burnley and they rarely looked troubled. Granted, the fact they scored so early on made it easier but even so, it was like a training session for them.
There can't already be an over reliance on Mane, can there?
Not much creativity in midfield against a compact Burnley side
It's been the elephant in the room all summer. The Liverpool midfield basically hinges on Emre Can being fit, when he's not they're in trouble. When teams press Can he has the composure and the calmness to play through it. Whether it be with a single pass forward or a dribble he gets Liverpool forward and it takes opposition players out of the game. Without him Liverpool are pretty easy to press. Against both Arsenal and Burnley chances have come from Liverpool not being able to play out from the back. Lovren to Klavan, Klavan to Henderson, Henderson to Lovren, Lovren to Mignolet and then the ball goes long. That passing sequence is to tease the opposition into pressing us to open up the space in advanced positions but what use is it if the ball never gets there?
Henderson looks fairly limited in that role, it doesn't really play to his strengths, yet Liverpool will continually toil until Emre Can is fit unless they bring a new player in.
Defensive issues 
Much to the delight of many, Alberto Moreno didn't start. No more brainless, rash, individual errors eh? Fast forward 90 minutes and Liverpool conceded two goals after mistakes from the defence. Burnley capitalised on Clyne's poor touch and pass for their first before Klavan's indecisiveness was punished for the second. The game highlighted that the defensive mistakes aren't exclusive to Moreno and it (the defence) still needs to be addressed.