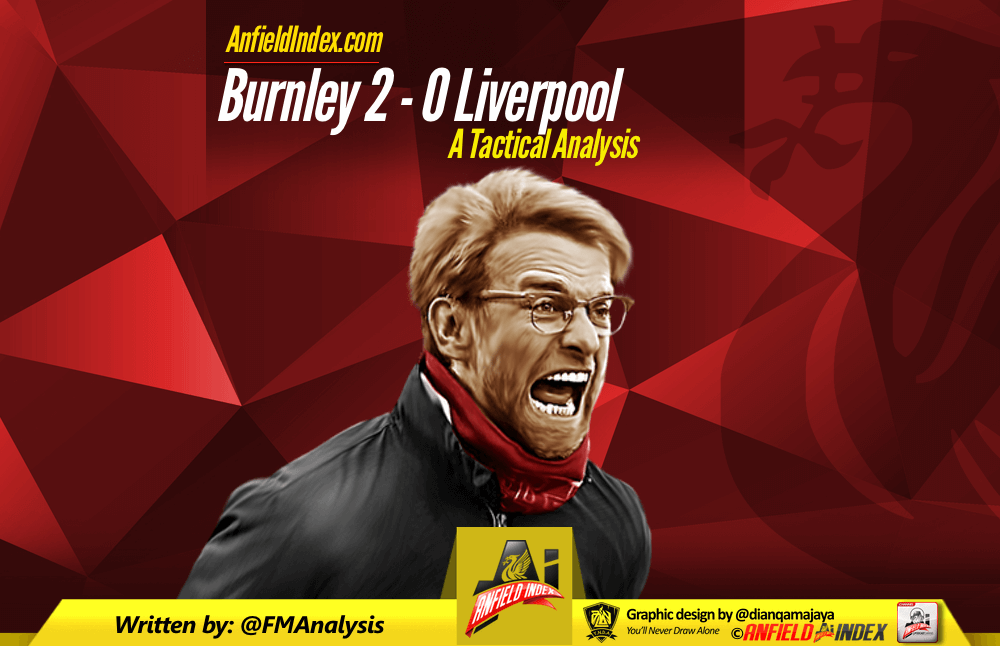 Burnley 2 - 0 Liverpool | A Tactical Analysis

The early stages of any football season are difficult to assess accurately. Teams are all coming off of pre season schedules with different demands in terms of travel and commitments to various sponsors. Star players are also often behind their colleagues in terms of preparation time following international matches or competitions.
In matchday one Liverpool won what was a game of individual moments against a weak Arsenal side. There was little to speak of in terms of attacking or defensive structure but Liverpool had the superior individual talent in the final third to win what was an open game.
Matchday two however would be an entirely different proposition. Burnley had spent the pre season preparing for the rigours of the Premier League and had not spent any time playing friendly tournaments on different continents.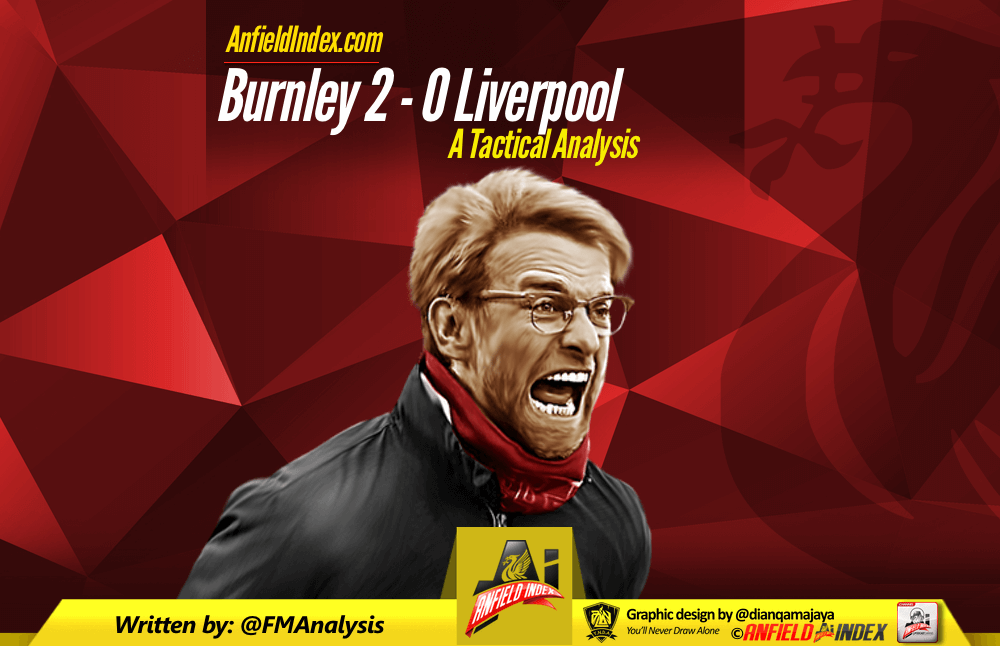 Liverpool coach Jurgen Klopp would have an idea as to the general strategy preferred by Shaun Dyche and his staff. Burnley would sit even at home in a low block organisation and invite Liverpool to try to break them down and play through. They would be physical in transition and look to hit Liverpool with vertical passes to counter attack when Liverpool were off balance. They would pack the centre of the pitch and keep their lines extremely close together forcing Liverpool to try to penetrate out wide.
In short Burnley set up in a manner not dissimilar to many lower table Bundesliga sides so Klopp should know what to expect.
All the prior knowledge and planning before kick off however can be for nothing however if players are not on top of their game from the start of the match.
While there is no doubt that the loss of Senegalese winger Sadio Mane to a training ground injury was a blow to the pre game plans Liverpool should still have had more than enough quality to overcome this Burnley side.
In the end the problems were clear for all to see. There was little in terms of connectivity and understanding between the defensive players, midfielders and forwards. Supporting runs in the attacking phase were missing or ill judged and Liverpool appeared incapable of playing around and through the Burnley defensive structure.
Individually both Jordan Henderson and Daniel Sturridge struggled to adapt to their role within the overall structure with neither seeming to have a full understanding of their expected movements in various phases of the game.
In this article we will look at a selection of the issues faced by Liverpool in this match in more depth.
A Midfield without Emre Can
Over the last 12 months Liverpool fans, along with coaching staff, seem to have come to the realisation that despite his relatively slow start at the club Emre Can is a key figure moving forward. He is arguably the only central midfielder at the club who can fill all three midfield roles under Klopp and do them all well.
In traditional terms a three man midfield will consist of three specialist roles: the organiser, the creator and the runner. We saw these three roles fulfilled in the match against Burnley but not well. Jordan Henderson was the organiser tasked with sitting deepest of the three and linking the defensive unit to the midfield. Georginio Wijnaldum was the creator looking to take the ball and move forward in to the final third and Adam Lallana was the runner that would look to move in to advanced positions to break the oppositions defensive structure.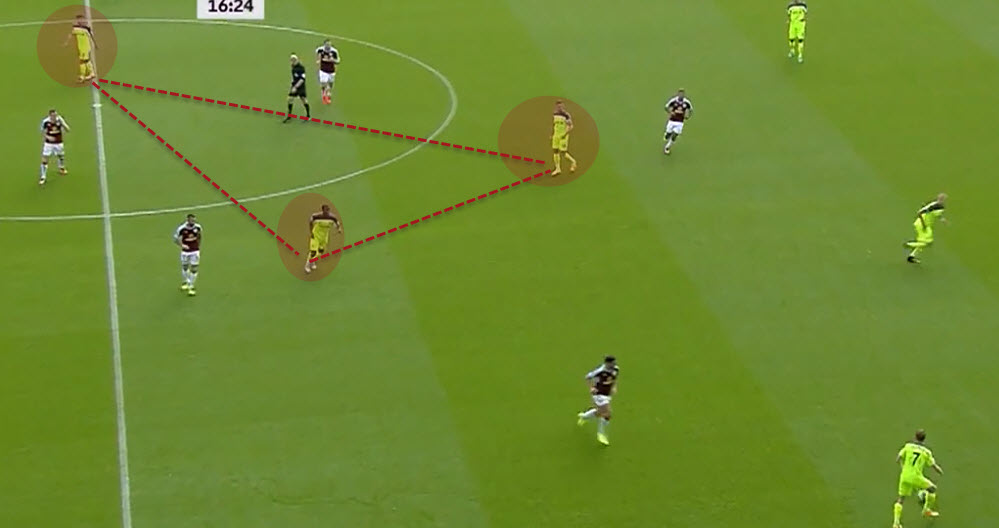 Here you can see the various levels or lines taken up by the three midfield players. In this instance with the ball out wide and the man in possession being pressed we should see the controlling player (Henderson) look to make an angle to receive the ball and make a vertical pass.
This vertical pass would generally be to either of his two central midfield colleagues and would allow Liverpool to bypass the Burnley press and move in to the final third with a potential overload. Instead Henderson held his central position and failed to show the necessary game intelligence to perform the role properly.

Unfortunately this is another example of poor decision making on the part of Jordan Henderson. One of the keys to penetrating a team that play in a low block is to play in front of them in order to provoke a defensive player to move out to apply pressure. As soon as a defensive player, especially a central player, moves out of the block he leaves a pocket of space that can be exploited in the attacking phase.
In this example with the ball breaking to Henderson all that he needs to do is fulfil his role and connect easily with Lallana in a more advanced line. This could be all that it takes to have a Burnley player break structure. Instead Henderson launches a much more difficult long pass looking to penetrate a deep defensive line over the top.
Henderson was far too passive
By this point I am aware that this analysis is starting to sound like a constant criticism of Jordan Henderson. This is not deliberate and in a more advanced and natural role I actually really like Henderson as a player. Unfortunately in this role he failed to understand the basic principles that he needed to.

This is the moment of transition before the first goal. I do think that you could argue that it is too early in the game to fully expect a player to be 'switched on' properly but on the flip side Henderson is a seasoned professional and an international player so he should be mentally prepared before the game even starts.
The issue with this goal is the lack of understanding shown by Henderson of body shape and covering the vertical pass. Henderson is positioned facing the man in possession and is therefore covering the horizontal pass with his body shape.
A controlling midfielder however needs to have as least basic understanding of areas of danger. A slight change in position and a change to body shape would have prevented the easy vertical pass in to the striker for the first goal.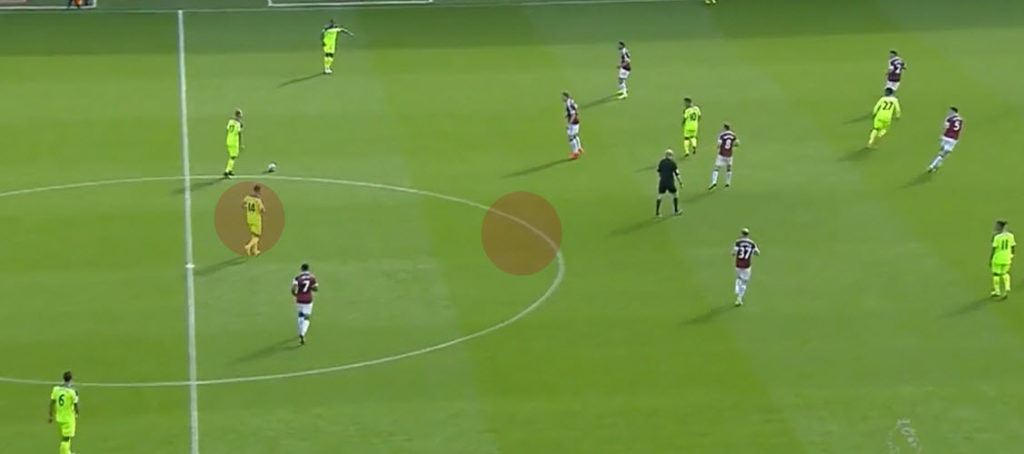 This is an image captured following a series of play in which Henderson was all but useless. He has taken up a position splitting the two centre-backs to allow them to move in to more wide areas. This is of course a technique which has been extremely popular of late.
His team mates however are shifting the ball horizontally across the field and all but playing through him as they shift the angle back and forth looking for an angle to play forward.
In this instance Henderson needs to be ten yards further forward, as shown. This slight positional change would allow the centre-backs to play forward in to him. This ball would potentially be enough to provoke a reaction in the defensive structure of Burnley and open space. If not then at least Henderson would be in a position to easily assess the space and options ahead of him.
Burnley low block and Liverpool central orientation
Liverpool struggled for the whole match to find a way to play wide and around the Burnley defensive block. Both 'wide' attacking players were more comfortable taking possession and turning back in field to areas of the pitch in which they felt more comfortable.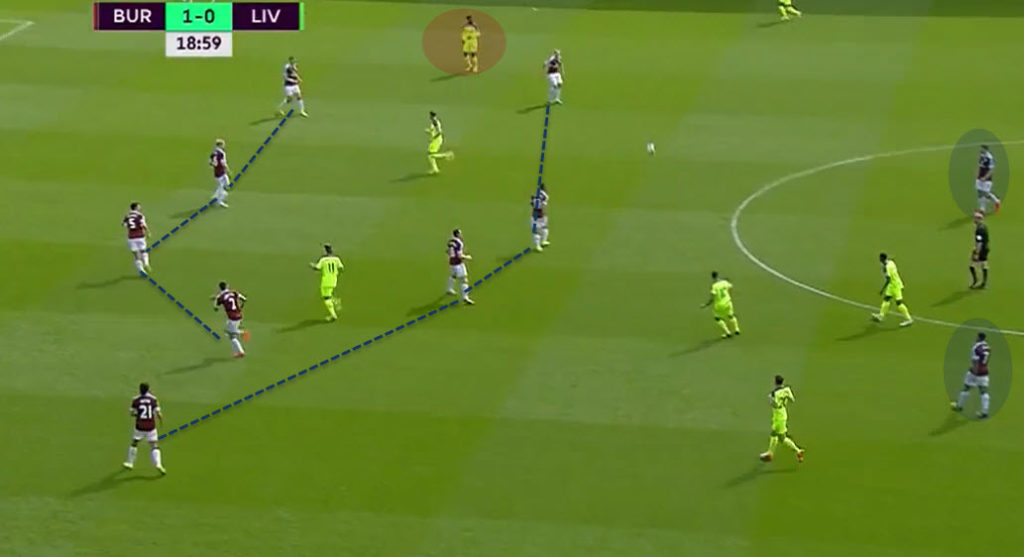 Here you can see the low block of Burnley. The defensive and midfield unit are closely connected making it difficult for Liverpool to find effective pockets of space in which they can receive the ball and threaten the defensive line.
Daniel Sturridge is highlighted in a wide area but he has already drifted in to an interior channel as opposed to holding the wide line. If he receives the ball in this area of the pitch he is effectively playing in to the hands of the Burnley defensive unit.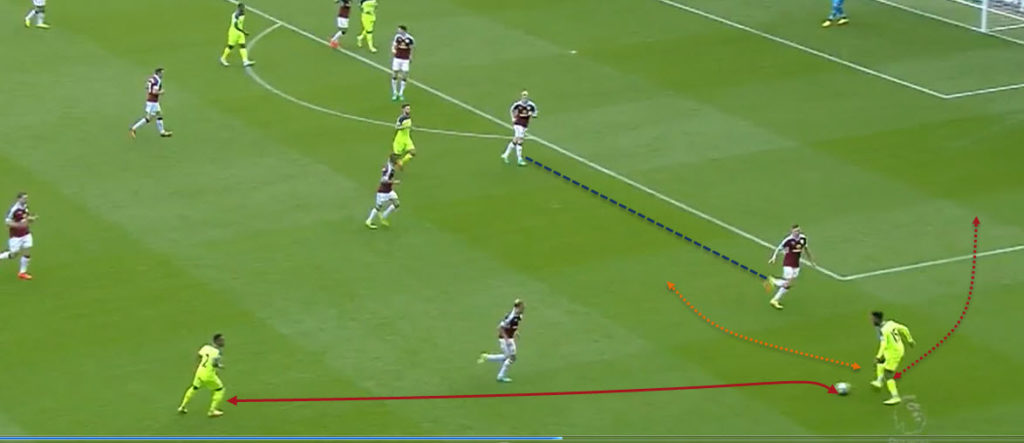 Here we see an example of Daniel Sturridge taking possession of the ball in the wide area. Last week we would have seen Sadio Mane attack the defensive structure down the line before cutting back across the defender and entering the wide area of the penalty area.
Time and time again though we saw particularly Sturridge take possession and then slowly move back infield either running or passing the ball back across the front of the defensive unit. It's difficult for us to blame Sturridge for this movement given that his natural position is as a central striker.
Conclusion
A 2-0 loss to Burnley at this early stage of the season does not plunge the club in to immediate crisis. There is still more than enough time in the season to go for this to be nothing but a distant memory.
The game does however bring in to question the balance of the side with Sadio Mane arguably the only true wide player in the squad. There will be more games this season against teams with a similar mentality and strategy. The key will be for Liverpool and Klopp to prepare more thoroughly to ensure that all players know their roles within the tactical structure.