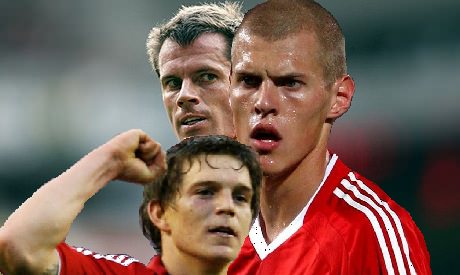 The statistical best and the worst: Defenders
In this three part series of articles I will be looking at the statistics behind Liverpool's best and worst players in each position.
After already conceding four more goals than last season, with three games still to be played, Liverpool's defenders have no doubt come under questioning this season.
By starting to look at our defenders' tackling, this category came up with some strange results.

Our two worst tackling full-backs so far this season have been Young Jack Robinson, only winning 25% of his tackles and another starlet, 18 year old, John Flanagan who has won 40% of his tackles.
This may come as a surprise to you after their impressive introductions to the first team, but there are a few things to remember; they both have many years ahead of them and it is not only tackling that makes a full-back.
The two worst tackling centre-halves over the course of this season, another young player Danny Wilson winning only 60% of his tackles and then the big surprise, Jamie Carragher who has won only 64% of his tackles.
But where there is a worst there must be a best and again a big surprise is brought to the table; Paul Konchesky, takes one of the two full-back spots for best tackler, winning 75% of his tackles, but led by another young player to be introduced this season, Martin Kelly who has won 76% of his tackles this year.
Our two central defensive rocks Kyrgiakos, 80% won and Skrtel, 78% won complete the pack of best tacklers.
But as I said before, tackling is not the only skill needed by a modern day defender in order to be the best.
Not only must defenders be able to tackle, they need to be able to compete with other players for the ball.
From bottom of the pile to the top Jack Robinson, has won 62% of his possession duals, while Glen Johnson takes the other full-back spot with 61% of his duals won.
The big Greek, Kyrgiakos again stakes his claim amongst the centre-halves winning 65% of his duals, but he was narrowly edged by Agger, who has won 66% of his possession duals.
But again where there is a best, there must be a worst with a tight set of results Full-backs Konchesky, Aurellio and Flanagan all level, each losing 50% of their duals.
Young Danny Wilson again fails to make the grade, only managing to win 55% of his duals, while regular starters Carragher and Skrtel fall short of their fellow centre-halves only winning 64% of their possession duals.
Another shock inclusion amongst the worst for Vice-captain, Jamie Carragher, while left-back Jack Robinson proves that one statistic does not define a defender.
A now more than frequent tactic being used in the Premier League, is the long ball, which means only one thing; defenders must be able to put in a aerial challenge.
19 year old centre back Danny Wilson, again has failed to impress, winning only 36% of his aerial duals. Again falling into the bottom 2 centre-halves Jamie Carragher who has only managed to win 57% of his aerial battles.
Aurellio, 20% and Kelly, 48%, make up the full-backs who have failed to impress in the air this season.
Another youthful fightback, sees John Flanagan taking the crown of second best full-back in the air, winning 75% of his aerial battles, with only Johnson topping Flanagan, winning 81% of his duals in the air.
Skrtel, 74%, and Agger, 71% win rates makes them the most successful centre-halves in the air, which will probably come as a surprise as well with Greek Giant Kyrgiakos in the squad.
It would be stating the obvious to say that defenders, only need to be able to defend, but in order to keep themselves linked with the rest of the team they do need to be able to be good passers.
Now this was a tight round as well, with some more shocks. Paul Konchesky managed to complete 78% of his passes successfully before leaving in the January transfer window , but he and every other defender have been eclipsed by Jack Robinson who has managed to find the target with 84%.
The centre-halve category was also a tight affair with only 16% separating the best from the worst.
Martin Skrtel, currently holds the best passing recording amongst the central defenders, completing 81% of his passes successfully,  Agger takes second place, with a 74% record.
Martin Kelly comes in with the worst passing recording of the full-backs completing on 68% of his passes, Johnson, Flanagan and Aurellio all join him completing 75% of their passes in a hotly contested category.
Danny Wilson, sits lowest in the passing table between the centre-halves only managing to complete 65% of his passes, while Carragher and Kyrgiakos join him at the bottom both with a 73% pass completion rate.
So as it stands statistically Liverpool's best defensive line is: Robinson,Kyrgiakos, Skrtel, Johnson
And the worst: Aurellio,Wilson,Carragher,Kelly.