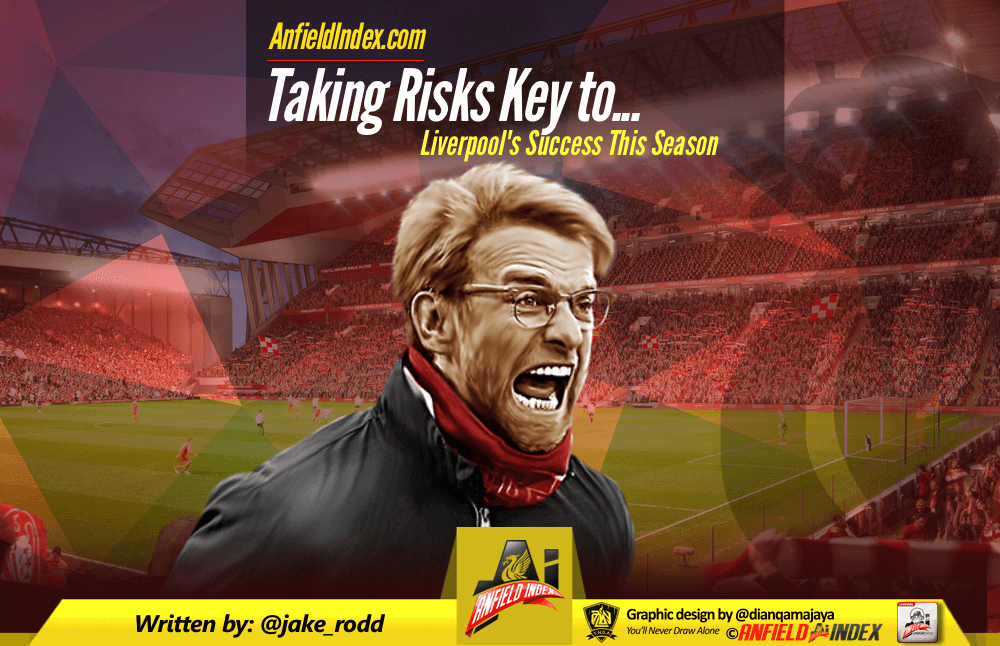 Taking Risks Key to Liverpool's Success This Season

Liverpool's start to their 2016/17 Premier League campaign has, with pinpoint accuracy, summed up what fans have come to expect from Jurgen Klopp's reds – inconsistency. A breath-taking attacking performance that was enough to see off top four rivals Arsenal was followed by a toothless display away at Burley and, unfortunately, it is from the latter fixture that most lessons can be learnt.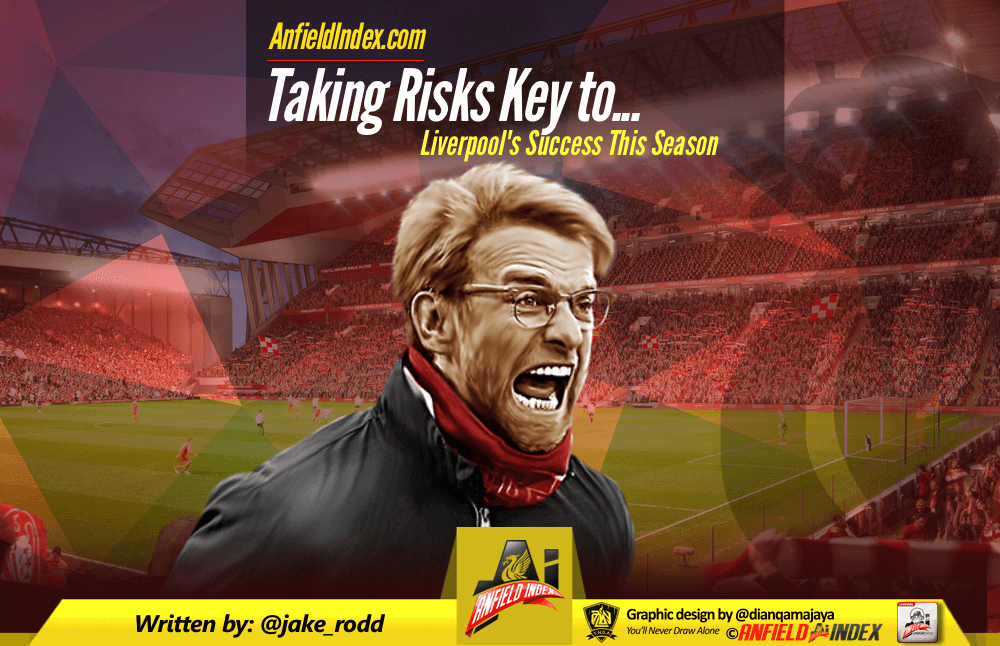 Liverpool's defeat at Turf Moor highlighted the importance of a back-up strategy. Against Arsenal, Klopp's favoured gegen-pressing was tremendously effective, in large due to the large numbers of men the Gunners sent forward in search of goals. Ultimately, this led to gaps in the Arsenal backline that allowed quick counter attacks when possession turned over and, as away victories against Manchester City, Dortmund and Chelsea have shown, Liverpool's attacking players thrive on such opportunities. In short, Liverpool have regularly demonstrated competence in dealing with teams that attack them – their struggles arise against teams that do not.
It has been well documented that Liverpool dominated possession against Burnley – the ball was with a Liverpool player as much as 80% of the time. However, as demonstrated by Claudio Ranieri and his Leicester City outfit, possession does not win games. Liverpool struggle when teams sit back and try and frustrate them, and opposition teams are well aware of this. By sitting back, teams rid Liverpool of the chance to press, thus nullifying their key strength (against Liverpool, Burnley avoided Liverpool's press by choosing to simply clear the ball -rather than pass out from the back- 32 times, 20 times more than Arsenal). Furthermore, even if Liverpool did win the ball back in Burnley's half (in what is often termed a counter of a counter-attack), Burnley would still have at least six men between the ball and their goal.
Unfortunately, Liverpool's opposition in the Premier League will be more likely to adopt Burnley's strategy than Arsenal's – teams such as Watford, Sunderland, Bournemouth, Crystal Palace, West Brom, Hull City, Stoke City and Middlesbrough are all likely to sit back and hope for a goal from a set-piece or rare break-away – those fixtures will amount to 18 of Liverpool's 38 Premier League games, 18 games where Liverpool will have to find different tactical approach.
So, what can Klopp do differently? In many games, Liverpool will be afforded much of the ball. However, Liverpool must create chances – against the reds did not create one chance of note – and they can do this by taking opposition players on. Phillipe Coutinho, Adam Lallana, Roberto Firmino in addition to whoever fills the right wing spot will, due to the compactness of opposition defences, have little room in which to beat players. Therefore, the task of beating an opposition player to stretch the defence would be more effective elsewhere – with Gini Wijnaldum and Adam Lallana. The former, perhaps unexpectedly played in a number 8, box to box role was likely bought for this purpose. The Dutch midfielder boasts pace, power and awareness, and must find the initiative to take risks for the benefit of the team, his failure to make any take-ons against Burnley must be addressed for the next game. By taking one player on successfully, another player must be dragged out of position to compensate, resulting in a free man elsewhere and, if there's one thing Liverpool's attacking players do very well, it is exploiting little pockets of space.
Furthermore, games against teams such as Burnley seem tailor-made for Liverpool's most adored left back, Alberto Moreno. The Spaniard, although tactically atrocious, may be of use against compact teams where defensive responsibilities are limited and license to attack is the order of the day. His replacement for the day, James Milner, was often prohibited by his preference to cross with his dominant right foot and, against defensively strong sides, speed in attack is imperative. With this in mind, Moreno may find his niche against teams happy to take a draw from fixtures against Liverpool.
To cover for the prospect of Liverpool's left-back, right-back and two central midfielders taking risks, Liverpool will need their defensive screen, Emre Can. Fit enough only for the bench but likely to return next week, the German is key. Jordan Henderson suits a box to box role well, but lacks the defensive discipline to carry out a screening role to full effect. Can offers this defensive solidity, and a passing range satisfactory to break the first line of opposition defence.
The final detail involves Liverpool's two centre-backs. Often, Liverpool play from the back, looking to advance down the right of left wing. Although effective at times, Liverpool's centre pairing must, at times, find more direct passes. By firing the ball into the opposition's final third (to feet), Liverpool can use the ball control of Liverpool's attacking players to break opposition teams down immediately, rather than playing the ball in front of the opposition. Although Dejan Lovren looks to do this at times, Liverpool's most effective, and direct, passer of the ball is Mamadou Sakho. The Frenchman, although appearing panicked on the ball, is always willing to try one of Liverpool's attacking players from the get-go, bypassing Liverpool's midfield entirely. In compact games, this willingness to take the initiative can make the difference.
Liverpool are not in crisis. Jurgen Klopp has a wealth of options at his disposal and a plethora of players from which to choose. A little more willingness to take risks from the midfield and stretch teams could make the difference for the reds – it is games against the likes of Burnley that will have a deciding role in Liverpool's league position come May.