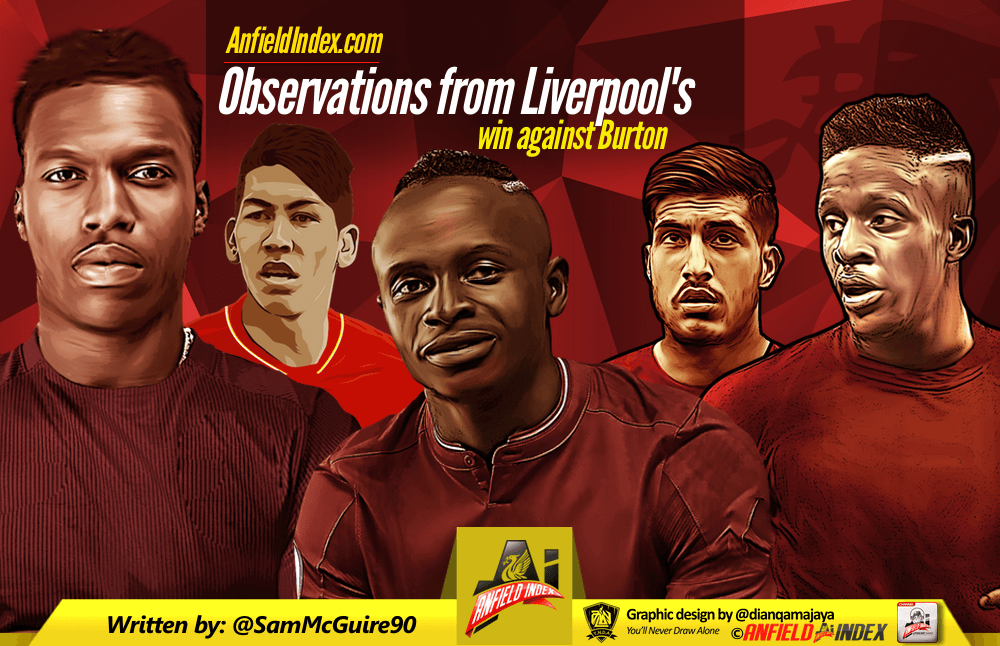 Observations from Liverpool's win against Burton

Jurgen Klopp named an almost first-choice Liverpool XI for the trip to Burton. After the defeat to Burnley it was a chance for the Reds to boost their confidence, build up fitness, familiarise themselves with Klopp's demands and score a few goals ahead of the big game away to Spurs this weekend. It was almost perfect.
A comfortable 5-0 win, plenty of encouraging signs all around as Liverpool got back on track but knocks to Roberto Firmino and Emre Can put a dampener on the mood.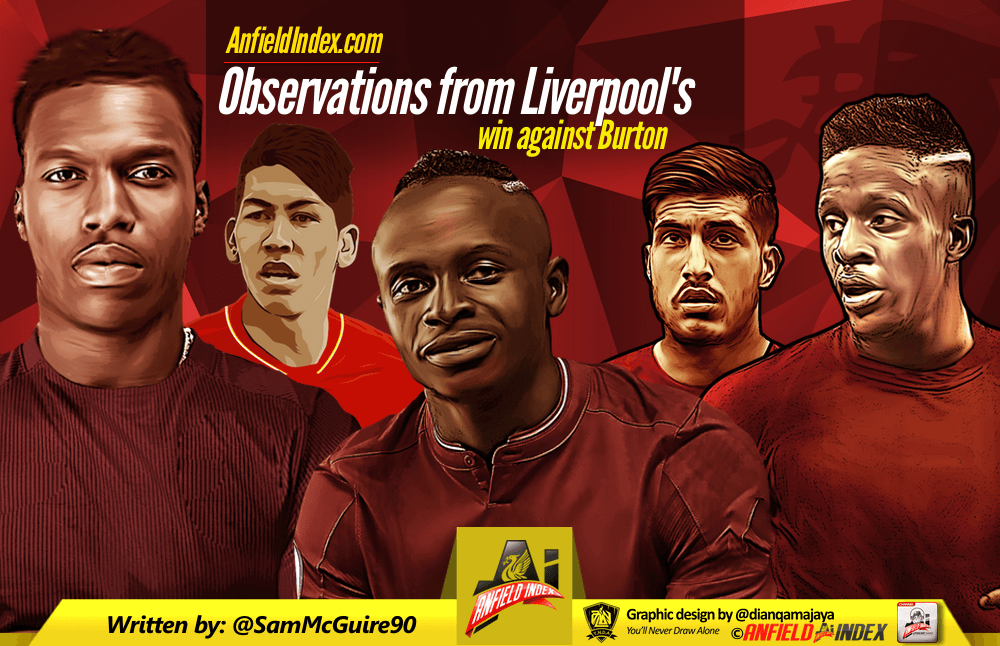 The Difference Emre Can makes
The German is simultaneously both overrated and underrated. It's a perpetual cycle of one set of fans overcompensating  for the other groups extreme views on the player. Regardless of your thoughts on him It's clear to see he adds something to this Liverpool side. In the opening two games of the season Liverpool haven't looked fluid when building from the back. Not to read into tonight too much given the inferior opposition and just how easy it was for the Reds but Emre Can showed exactly what's been missing. Proactive and direct on the ball in the deeper role. He was carrying the ball forward, driving past players and just getting the team going.
There was one moment in the first half in particular when he picked the ball up deep, dribbled forward and played a delightful chipped pass to Firmino. Unfortunately the Brazilian couldn't bring the ball down but it was nice to see that sort of pass from deep after witnessing slow, safe passing in the previous two games. Hopefully the injury he sustained isn't serious.
Mane's Importance to the attack 
He's frighteningly good.
I'm not sure whether to be impressed or alarmed at just how important Sadio Mane seems to be to this Liverpool side. You wouldn't know he missed the Burnley game because of injury. He started tonight's match as he finished the Arsenal one and it's encouraging to know he's the sort of player who doesn't need weeks to play his way into form. He was instrumental in both first-half goals and seemed to be the adrenaline shot in attack that Liverpool desperately lacked at the weekend. His penetrating runs caused Burton all kinds of trouble and the fluidity between him, Origi and Firmino looked effortless and natural.
Dynamic attacking trio
Liverpool lined up with a 433 template but with the ball it was just a blur of red. It was exciting to watch but what was really encouraging in the first half was the attacking trio of Divock Origi, Sadio Mane and Roberto Firmino. The three caused the three Burton centre-backs so much trouble due to the fact they were all central when Liverpool attacked. With both Nathaniel Clyne and James Milner pushing on in wide areas it allowed Mane and Firmino to drift in field and become almost a forward three. All three were in the box and all three were interchangeable. A completely different dynamic to when Phil Coutinho plays on that left hand side. It gives Klopp something to think about.
Joel Matip
Matip made his professional debut and although he wasn't really tested he showed some glimpses of what he is all about. He was confident and composed on the ball, positive in possession and looked to help Liverpool build from the back. Something they've lacked in Mamadou Sakho's absence.He even appeared in the Burton's penalty area at times which was reminiscent of Daniel Agger. A clean sheet too, that's always nice.