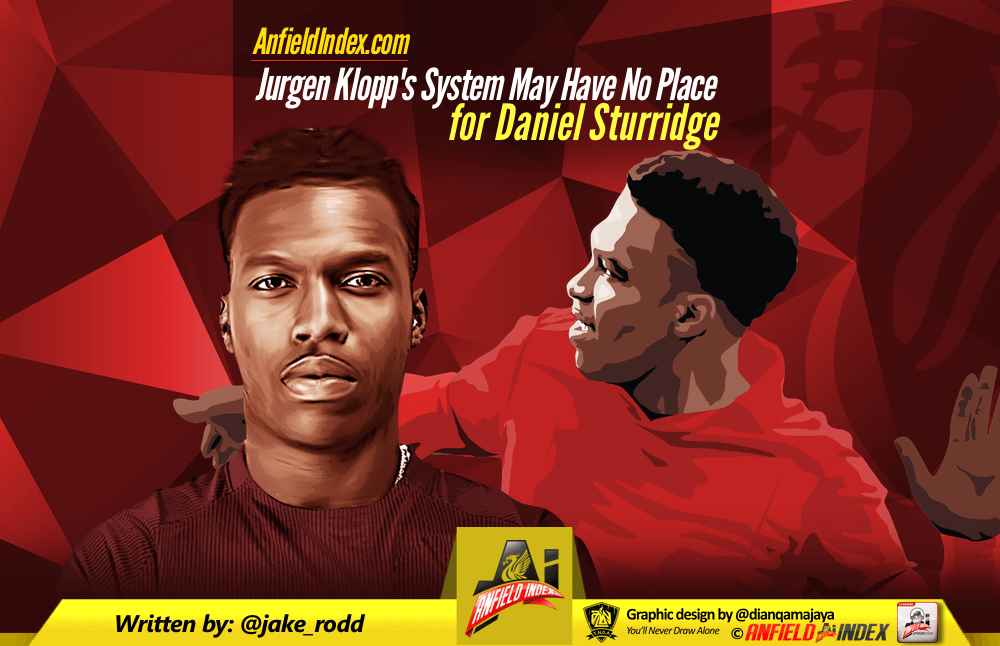 Jurgen Klopp's System May Have No Place for Daniel Sturridge
For the first time in over a decade, Liverpool boast a vast array of striking options.   Gone are the days where the likes of David N'gog, Iago Aspas or Andriy Voronin would be forced to deputise in the absence of Liverpool's first choice striker – currently, Liverpool have four strikers capable of leading the attacking line, and doing it well.
Roberto Firmino, Divock Origi, Danny Ings and Daniel Sturridge have all been used to spearhead Jurgen Klopp's 4-3-3 and, in a fashion not dissimilar to that of Euro 2016, the wealth of attacking options has seen Liverpool's most prolific striker, Daniel Sturridge, shunted out-wide.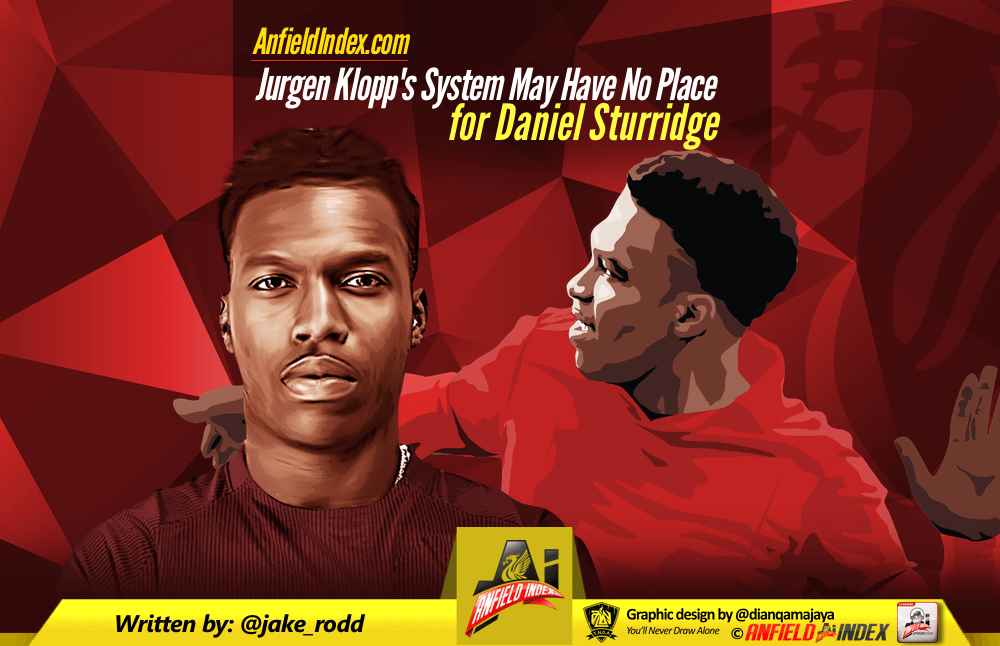 The question, therefore, is why? Previously, Daniel Sturridge was seen as one of the Premier League's, not just Liverpool's, most effective strikers in front of goal. Recently, however, with the introduction and development of Divock Origi, the dynamic has changed. Sturridge nets a goal, on average, every 122 minutes he is on the pitch – a better return than his Belgian counterpart, who converts every 135 (as a reference point, Origi's goal per minute score equals Harry Kane's). However, when Origi shoots, there is a 70% chance he is going to work the goalkeeper; for Sturridge, there is a 46% chance the shot is going wide.
Moreover, playing a strikers' role in a formation as fluid as Liverpool's requires more than a decent conversion rate. Liverpool's system is based on a system of interchangeable attacking positions and defensive contributions and, unfortunately for Sturridge, Origi's statistics indicate that it is the 21 year old who plays the system more effectively. The Belgian created more chances (nine to seven), had a significantly higher tackle success rate (80% to 33%) and won more aerial duels (29 to 24) – despite being on the pitch for only 2/3 of the time Sturridge was.
Furthermore, Klopp places faith in his ability to develop players and, at 21 years of age, Divock Origi has all the attributes to become the German's next development project. Preferred to Sturridge in pivotal games, such as the away leg at Borussia Dortmund, all the signs point towards Origi becoming Liverpool's first choice striker.
Currently, however, that role is reserved for Roberto Firmino. The Brazilian would be better described as a centre-forward – a player who drifts deep, creating chances for overlapping wingers and occasionally scoring himself. A statistical comparison between him and Sturridge makes bad reading for the Englishman.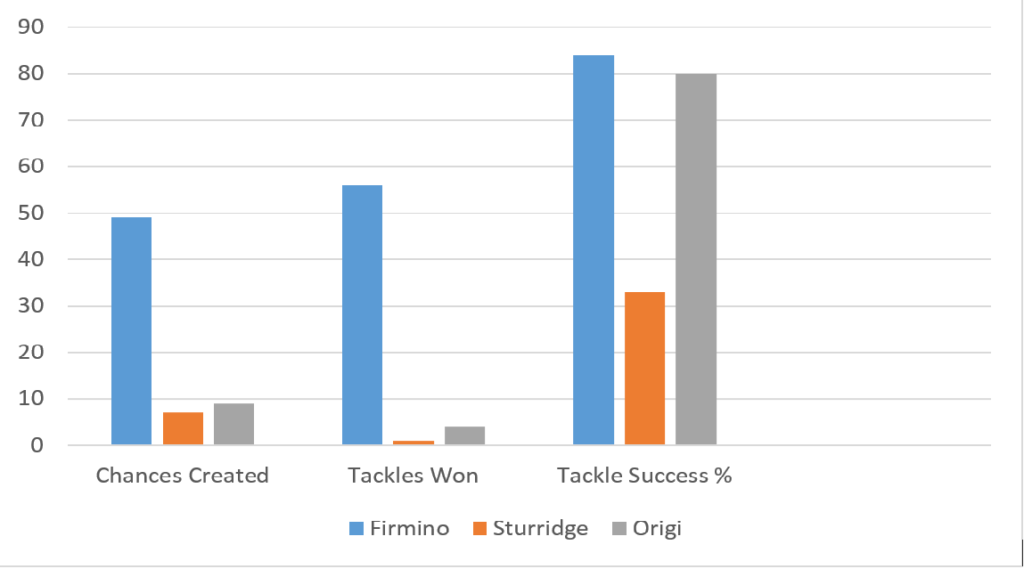 Although Sturridge boasts the highest number of goal contributions per game, Origi and Firmino excel in other areas – the former wins the ball more, offers aerial strength and has time for development, the latter is used as a trigger for pressing and is often a key component in chance creation.
However, Daniel Sturridge remains a key part of Liverpool's squad. His goal scoring record is fantastic and his ability to move with the ball at pace is rivalled perhaps only by Phillipe Coutinho – however his place as a starter for Liverpool is uncertain.
Against Arsenal, Sturridge did not feature as Klopp did not wish to risk his fitness. Against Burnley, Sturridge was employed on the right of a 4-3-3, in order to fill in for the injured Mane. Against Burton Albion, Sturridge was introduced in the second half, employed again as a right winger/forward. Given Klopp's desire to play 4-3-3 this year, Sturridge could be used as a right winger however, given Mane's emphatic start, the 26 year old could, for the moment, find himself on the bench.
Sturridge is by no means out of the picture. England fans will recall Sturridge's introduction from the bench and subsequent winner against Wales at Euro 2016 – after all, the goal was a rare highlight for the national side. Moreover, Sturridge started for England against Iceland on the right – it was his lofted through-ball that found Raheem Sterling and won England their penalty – thus demonstrating his effectiveness from wider areas as well as down the middle. Although vocal with his opinion he performs better when starting down the middle, Sturridge could find himself playing the role he played for England at Euro 2016 for the Reds, too.
The pecking order at Anfield could be shifting. With the rise of Origi and Firmino's ability to play Klopp's desired system to perfection, we must wait and see exactly what part Daniel Sturridge will play. Essentially, the question is this: will Klopp sacrifice Origi or Firmino's abilities in defence and chance creation for a marginally more effective striker in front of goal?