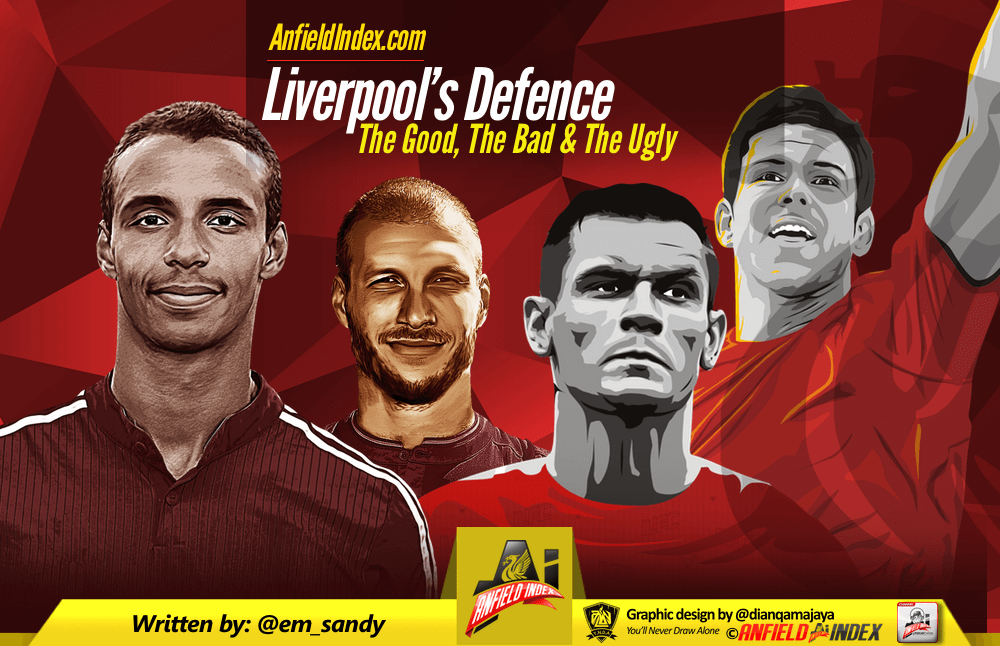 Liverpool's Defence: The Good, The Bad & The Ugly

When the 2015-16 season came to an end, there was disappointment for Liverpool fans as the Reds failed to make it into European competition for the following season but it was shadowed by an anticipation for what the summer would bring. Jurgen Klopp is renowned for bringing exciting talent for very little money and when he dug his heels into the Bundesliga this summer, it did raise some excitement around Anfield. Joel Matip, Lloris Karius and Ragnar Klavan have all headed across Europe to join Klopp in his development of Liverpool and each brings strengths of their own. The arrival of the new defensive players meant there were certainly going to be changes to the Reds' set-up this season. But how have those changes impacted the side? What are the good, bad and ugly parts of Liverpool's defence?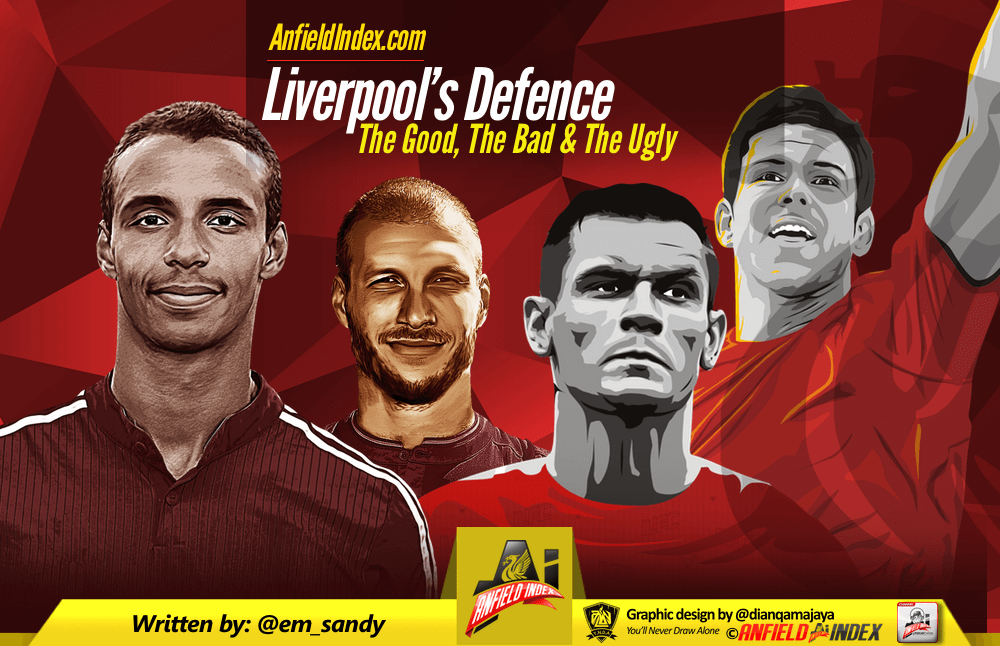 Background
As well as the three new arrivals, there are last season's regulars of course. Dejan Lovren had a terrible beginning to his Liverpool career, but he seemed to improve on his ugly start and looked a much more composing figure towards the latter part of the season. His centre-back partner, Mamadou Sakho, has become a fan-favourite and though he missed the end of last season due to a drugs misuse case, he is back and waiting for action. There have been worrying reports the defender may be allowed to go out on loan this season though and that won't be comforting for most Reds fans.
Nathaniel Clyne and Alberto Moreno remain in the squad, as the only two out-right full-backs considered capable of playing regular first team football. They've come under criticism already this season but with only youngsters Trent Alexander-Arnold and Conor Randall and 'utility man' James Milner as back-ups, they will definitely still play a key role in Liverpool's campaign unless somebody else is brought in before the end of the transfer window. Joe Gomez can play at full-back but the youngster, who missed last season due to a serious ACL injury, is considered a centre-back and that's the position in which he'll hope to progress in.
There were also returns for Andre Wisdom and Tiago Ilori this summer as the pair came back to Anfield following a series of loan spells. They're unlikely to feature much this year though and many expected Ilori to be leaving this summer though it seems he'll stay.
The Good
Although Liverpool have only played four competitive games, there's been a few positives from the displays and they were also evident during the pre-season campaign.
In Joel Matip, Liverpool have found an imposing centre-back and the tall defender showed his qualities in the Reds' 5-0 thrashing against Burton Albion in the EFL cup as well as against Spurs. In addition to the obvious aerial advantage, Matip is also very controlled on the ball. The centre-back likes to look forward and is a ball-carrying defender. He's perhaps the first centre-back since Sami Hyypia who has demonstrated this skill with as much ease and he wasn't afraid to carry the ball forward into midfield during his competitive debut. He should be a certain starter for Liverpool and although he developed a partnership with Lovren during the pre-season campaign, should Sakho stay, it's likely the Frenchman will challenge for a starting place alongside Matip.
Another positive which came out of the pre-season campaign and continues to be a promising prospect this season, is the rise of Trent Alexander-Arnold from the Liverpool academy. The young right-back is capable of playing almost anywhere across the defence and midfield and demonstrated this during the summer friendlies when he advanced as a central and a holding midfielder. Alexander-Arnold is another tall figure but has shown strength on the ball when driving forward. His positional play looked comfortable and although he still has some developing to do, he makes a solid back-up for Clyne. His lack of first team experience is his only disadvantage but it wouldn't be a surprise to see him feature in a few cup games this season ahead of Randall and Clyne.
The Bad
It's not hard to identify where Liverpool's weaknesses lie as a team and clearly there are serious faults with the defence as a whole. Whether it's the full-backs who are out of position, the centre-backs who are giving the ball away cheaply or Mignolet not being able to deal with set-pieces, there's a lot that needs to be improved in Liverpool's back-line.
In their opening two league fixtures, Liverpool have already let in five goals and are seriously susceptible to conceding on the counter-attack.  Burnley showed how easy it was to catch Liverpool out and the Reds look to be uncertain at times when they lose possession higher up the field. Klopp likes his team to be attacking-minded and demands his players press the opponents high up the pitch. This is a useful strategy should it be executed correctly but when Liverpool lose the ball, the full-backs are often too high and the midfield are out of position, leaving too much space in behind.
With Matip and Sakho missing due to injury, Lovren and Klavan have been in the centre of the defence but neither look particularly comfortable in the Liverpool back four. Lovren is strong in the air but he's caught out of position on too many occasions and isn't quick enough or smart enough to recover from his mistakes. Klavan, though highly experienced, doesn't have the pace to keep up with attackers on the break and when tested, seems to have struggled so far.
The defence has been inconsistent and there's been little stability at the back for some time for Liverpool. The new signings will take time to settle and although Karius and Matip are yet to feature in the league, their addition should strengthen the defence slightly.
It's also worth noting the apparent need for a defensive midfielder has yet to be addressed and if Klopp continues to adopt the high-pressing strategy, the role would seem a necessity in order to provide protection for the back four. Although Emre Can can provide some stability, the German midfielder's strengths would be limited and Lucas hasn't done enough in recent seasons to demonstrate he'd be a regular in that role.
The Ugly
Moreno's time at Liverpool has been full of ups and downs. The young left-back has demonstrated confidence and attacking intent on a number of occasions and uses his pace well to provide an overlap on the wing. However, despite his qualities going forward, the full-back has a number of flaws in defence and he's been under huge criticism already this season. In his early performances, Moreno has been caught out of position on too many occasions and was to blame (though not solely) for his role in allowing Arsenal to score during the 4-3 victory.
The young defender often gets himself on the wrong side of the player and the ball and doesn't seem strong enough to come through tackles. He struggles against smart opponents and doesn't defend well when attackers exploit the space in behind him. For all his faults though, he's still a young player and has a lot of developing to do but as Liverpool's first choice left-back he is a big worry.
James Milner has been preferred in the Reds' last two fixtures but the midfielder-turned-defender isn't a natural left footer and the limitations to that have been apparent in his early performances. The former England international is always looking to cut in on his right foot but without much pace, he's not able to shift the ball quick enough and as a result, often stifles Liverpool's attack. He can defend fairly well but here's a midfielder by trade and therefore has his limitations when going back towards his own goal. The left-back position has become a real cause for concern and with just days until the transfer window closes, Liverpool fans fear Klopp is almost out of time to bring in a replacement.
To make matters worse, it appears Sakho has done enough to get on the wrong side of Klopp after a few months to forget for the Frenchman. The centre-back was caught up in a drugs scandal, and though he's been proven innocent since, it wasn't a great period for Sakho and the club. He was recently sent home early from the pre-season tour of the US after behaving in a manner Klopp deemed unacceptable and he's yet to feature this season. Although the club are claiming they're happy to let Sakho go out on loan to recover his full match fitness, it's more likely they're making a statement about his behaviour and hopes to teach the defender some discipline.
All-in-all, it's not been a great start to the season for Liverpool's defence but hopefully Matip and Karius' inclusion will lead to improvement for the rest of the campaign.