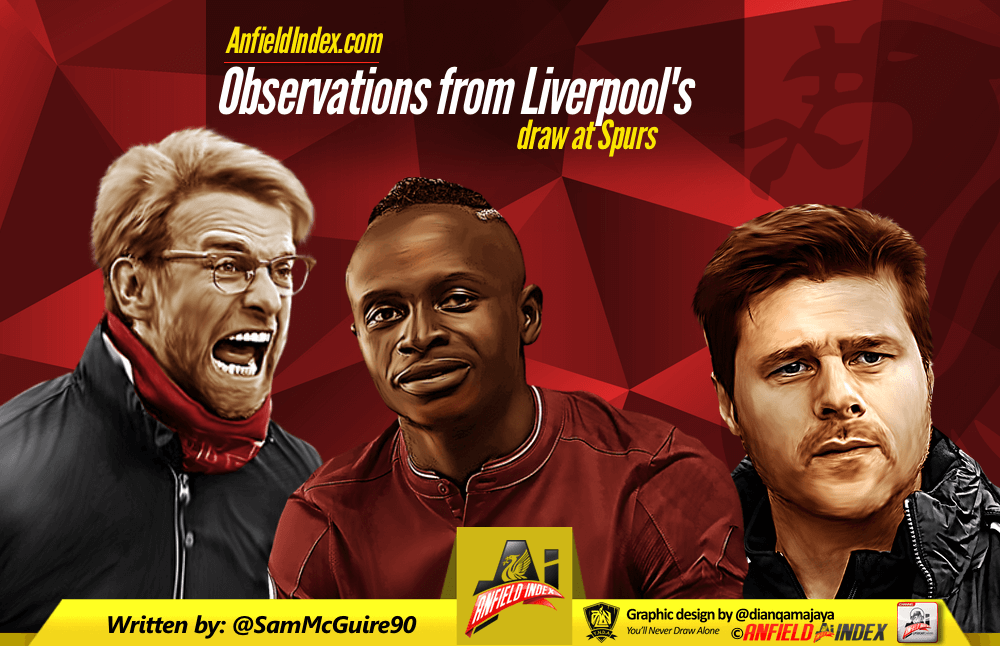 Observations from Liverpool's draw at Spurs

Three Premier League games now with three different results and three contrasting performances. Liverpool go into the international break with 4 points after a win at Arsenal, a loss at Burnley and a draw at Spurs. Unlike the two previous games Liverpool controlled the tempo of the match and looked dominant. Spurs boss Mauricio Pochettino looked like he was at a loss with how to deal with the rampaging Reds. Then the inconsistency reared its ugly head and Liverpool conceded a soft goal. To put it politely it's all a little boring now. The brittle defence is still there. Like a Creme Egg with a soft gooey middle. Klopp needs to use this break to look at the defensive structure because conceding 6 goals in 3 games just isn't acceptable.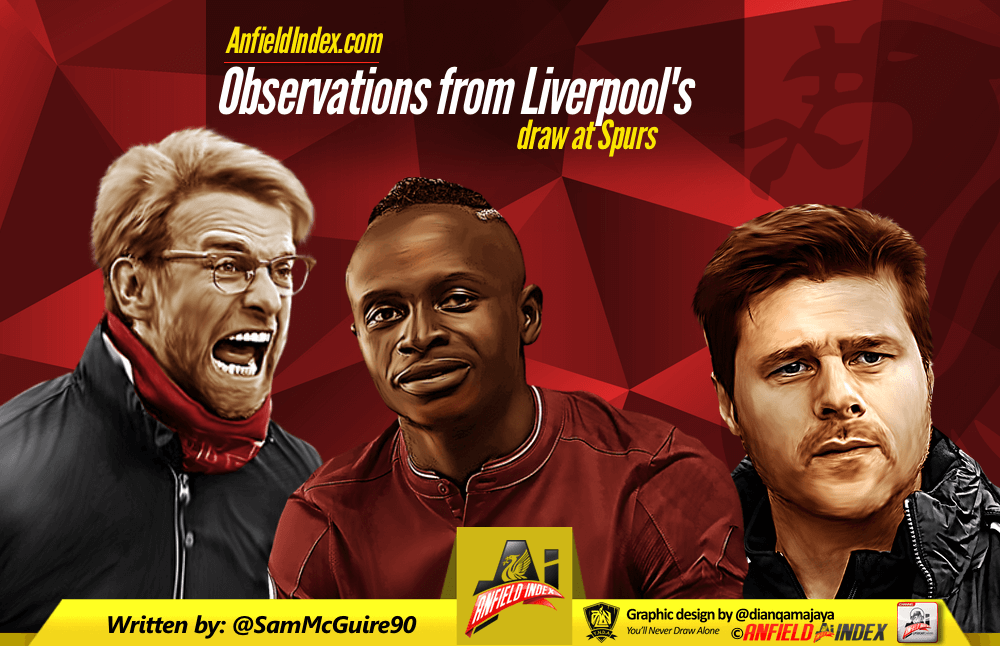 However, there are positives to be taken from the result:-
Sadio Mane. Can you imagine Liverpool without him? The Senegalese attacker has settled into life at Liverpool with relative ease. In the three games he's featured in this season Liverpool have looked noticeably better. Not only do they look more of a threat with him playing, but they also look more fluid and natural.
He had what would've been the perfect counter-attacking goal debatably ruled offside. He was a creative force at times and it's not something you associate with him but the chipped pass to Coutinho was delightful. This follows on nicely to..
Creating chances. The Reds looked out of sorts against Burnley and bereft of ideas. They didn't have the same problem today and worked some brilliant chances. On another day Liverpool could've been 3 or 4 up but Vorm pulled off a worldie of a save, Coutinho didn't have his shooting boots on, Matip clipped the bar and then there was the dodgy offside call.
It was good to see Liverpool had the keys to unlock the Spurs defence practically on command.
Henderson better in the deeper midfield role. The captain has taken a lot of stick lately for his performances but against Spurs he at least showed some confidence and ability in that unnatural withdrawn role. He wasn't simply playing the ball backwards but looking to get the team onto the attack. Not everything came off but it was encouraging to an extent.
Then the negatives –
Teams don't actually have to create good chances to score goals against us. When was the last time Liverpool conceded a goal that you've looked at and went "yeah, fair enough that"? It just doesn't happen. Teams don't break down the stubborn defence, we do it to ourselves and in all three games this season the goals have been soft and preventable. Of course mistakes will happen, players aren't robots and they will switch off but why does it rarely happen to the opposition?
No Killer instinct in attack. It's all well and good creating chances but if there's no killer in attack there's less chance of the team putting them away. It's understandably as to why Klopp favours Firmino there, because of his off the ball work and how it helps defensively, but does it also not show he's not convinced with the defence because he feels the need to effectively overcompensate in midfield with that extra man meaning a striker is sacrificed? Why is he so reluctant to play a midfield two?