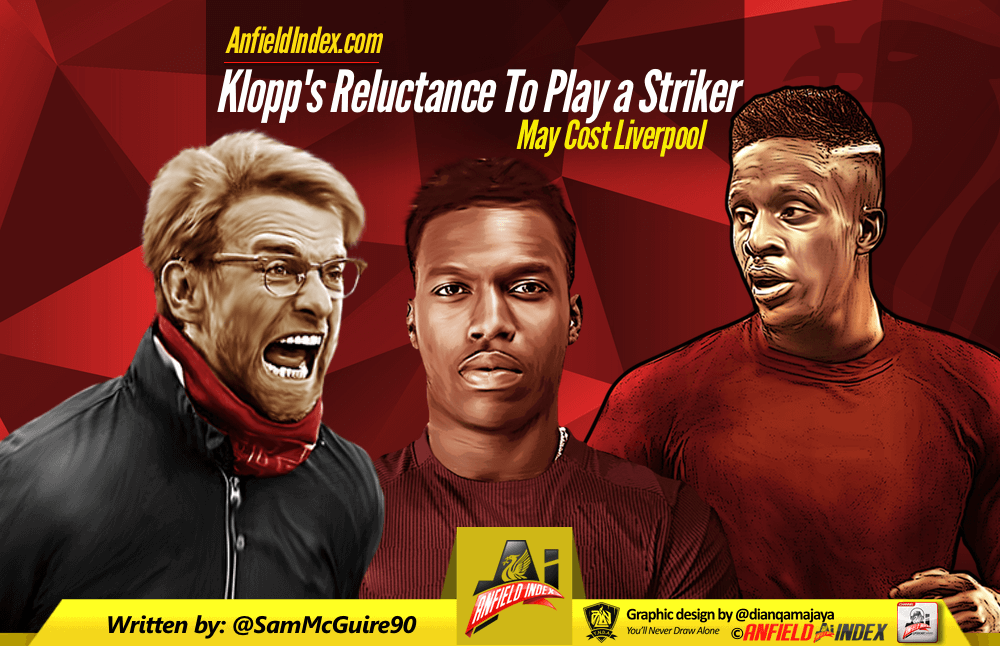 Klopp's Reluctance To Play a Striker May Cost Liverpool
The Reds have now played their three Premier League games before the International break. It's been a mixed bag. In the opening game against Arsenal they put on a 20 minute second half masterclass which completely blew the home side away as Klopp's side won a seven goal thriller. Next up was the trip to Turf Moor which saw a Liverpool side without the energetic Sadio Mane put in a lacklustre performance in a 2-0 defeat. Then the trip to White Hart Lane saw Liverpool dominate the home side for large spells but ultimately fall short in a 1-1 draw.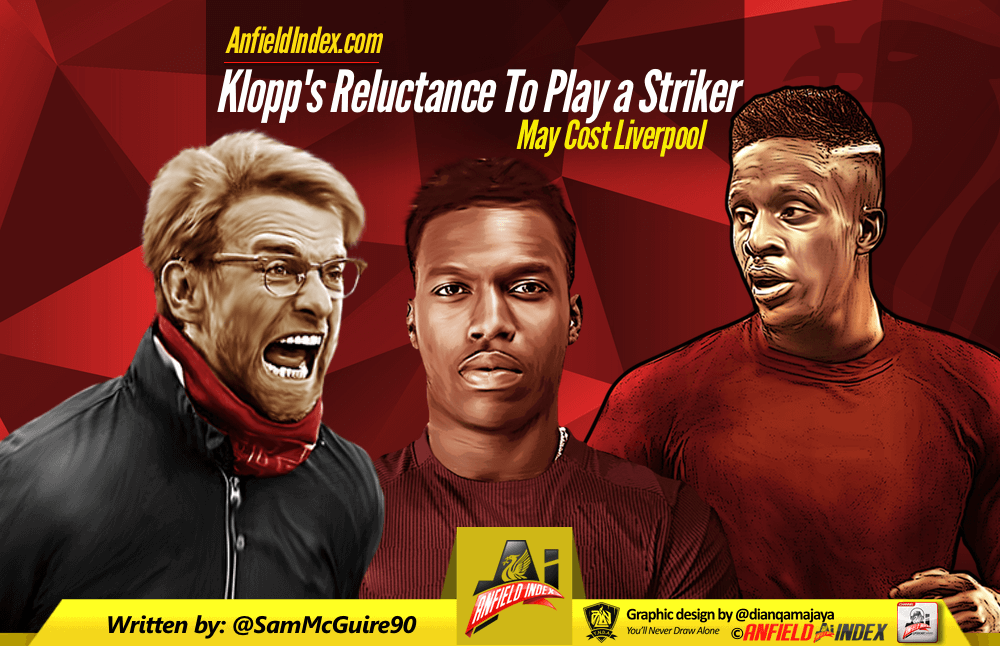 Liverpool failed to build on an encouraging opening game to the season but on paper four points from those three away games isn't the end of the world, is it?
Two things to note however are the fact Liverpool are still seemingly consistently inconsistent and they lack the killer instinct to really put teams to bed when they're ahead. It's something that really haunted the team last season as they dropped 19 points from winning positions.
There are a few ways to address these problems. One being Liverpool could buy players who know how to grind out results, the sort who have the experience of winning ugly. This may not be the way for the football purists out there but it's effective. Alternatively you could go down the route of bulking up the attack in an attempt to simply blow the opposition away a la Liverpool in 2013/2014. Just paper over the cracks. Liverpool have the fire power within their squad to go with option B but Klopp seems to be reluctant to really let his side off the leash.
It may sound weird, what with Klopp being famous for his all action, heavy metal, blitzkrieg approach when attacking, but there's an argument to be made that it's his reservations that may have hindered Liverpool in the opening three matches this season.
His reluctance to play one of Origi or Sturridge ahead of Sadio Mane, Philippe Coutinho and Roberto Firmino suggests despite his claims he's happy with the defence he's not actually confident enough with the team to start with just a two man midfield.
He's sacrificing an out and out striker to add another body in midfield. In theory it makes sense. If the team has a soft middle you make it harder for teams to play through you, a third man in midfield certainly helps that. The problem is Liverpool are still conceding goals even with the added security and extra body in midfield. The Reds have conceded six goals in the league already and this without really being opened up by the opposition. They're poor goals to concede but not really ones that can be coached out of a team, it's just a recurring theme of individual errors. While many may claim it's not sustainable, the alarming thing about all of this is Liverpool have been conceding these types of goals for years now. They shouldn't be sustainable but yet they keep happening.
If Liverpool were keeping clean sheets then the attacking trio of Coutinho, Firmino and Mane have enough quality to score 1 or 2 goals but it's when Liverpool concede and need that goal that the lack of a natural finisher is really showing.
It's only a small sample, three games and in one the team scored 4 times, but Liverpool are paying the price for not having a natural striker on the pitch at times. Against Spurs, Liverpool created countless chances and on another day could've romped home 3/4-0. But when the players got into certain positions they fluffed their lines and it left fans ruing not having one of Origi or Sturridge on the pitch to profit from these chances.
People do read into formations too much and that's probably because of the extra importance the media seem to place on them. They're nothing more than base templates for the team when they aren't in possession. They're essentially the base for players as the manager aims to strategically get them into dangerous areas to benefit the team.
If you look at average positions for the game against Spurs you'll see it's basically a 4231 formation. Adam Lallana, who was supposed to be playing in a central midfield role, appeared to be much more of a number 10 with Gini Wijnaldum and Jordan Henderson the two in midfield. It appears instead of having that right sided centre-midfielder drift to the wide right role, Klopp is using Lallana as a centre-midfielder who drifts into the attacking midfield position.
Obviously average positions shouldn't be taken as gospel as there are a lot of external factors to be considered. But if Lallana was pushing on from the right sided of central midfield and into that number 10 role in theory Liverpool could almost reverse that role and have Roberto Firmino in the attacking midfield role when in attack before withdrawing into a deeper role when the team have to defend. In that system Liverpool would be able to use one of Origi or Sturridge and not miss out on having another body in midfield out of position. In Firmino you have one of the hardest working attacking midfielders in the world.
People will cite Firmino's pressing as a reason Klopp uses him as the striker but if he's played as the 10 you wouldn't lose that aspect from his game. It's not as though Origi is lazy off of the ball either, he may not be as effective as Firmino when pressing but he can do it. This may seem like an overreaction given we're just 3 games into the new season but after a good start against Arsenal, Liverpool had the chance to build and take at least another 4 points. The chances have been there we've just not taken them.