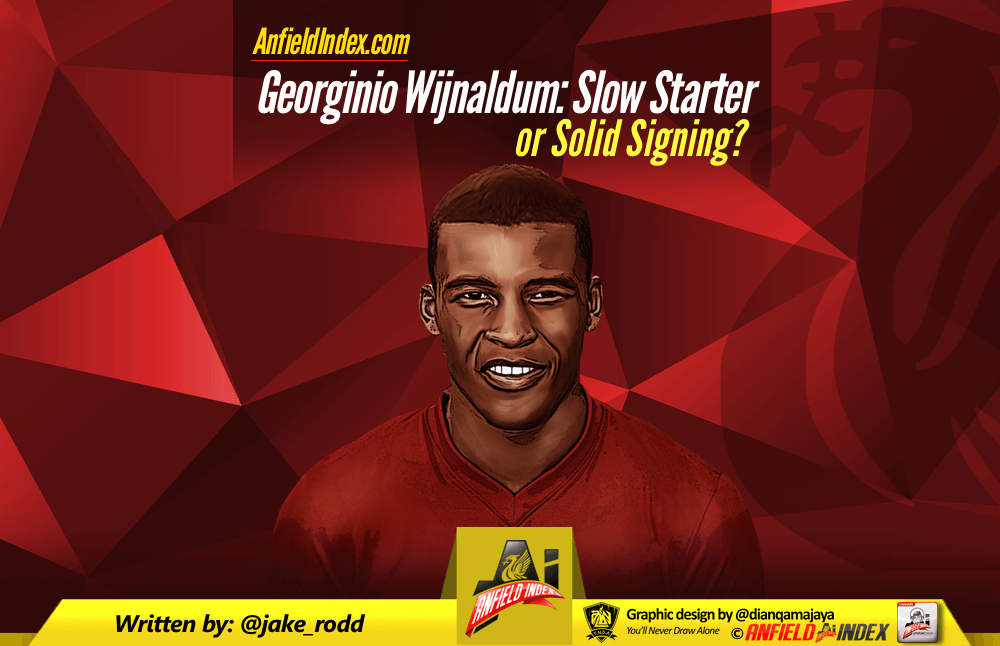 Georginio Wijnaldum: Slow Starter or Solid Signing?
Georginio Wijnaldum was signed from a relegated Newcastle United this summer in a transfer that was, to most, unexpected. The Netherlands international, who signed for Newcastle only last summer from Eredevisie outfit PSV, carried with him a reputation for drifting in and out of games a long with a price tag exceeding the 20 million pound mark. It was this, understandingly, that underlined many Liverpool fans' hesitation towards the transfer and, three league and three league starts into Wijnaldum's Liverpool career, the midfielder has yet to set the world alight.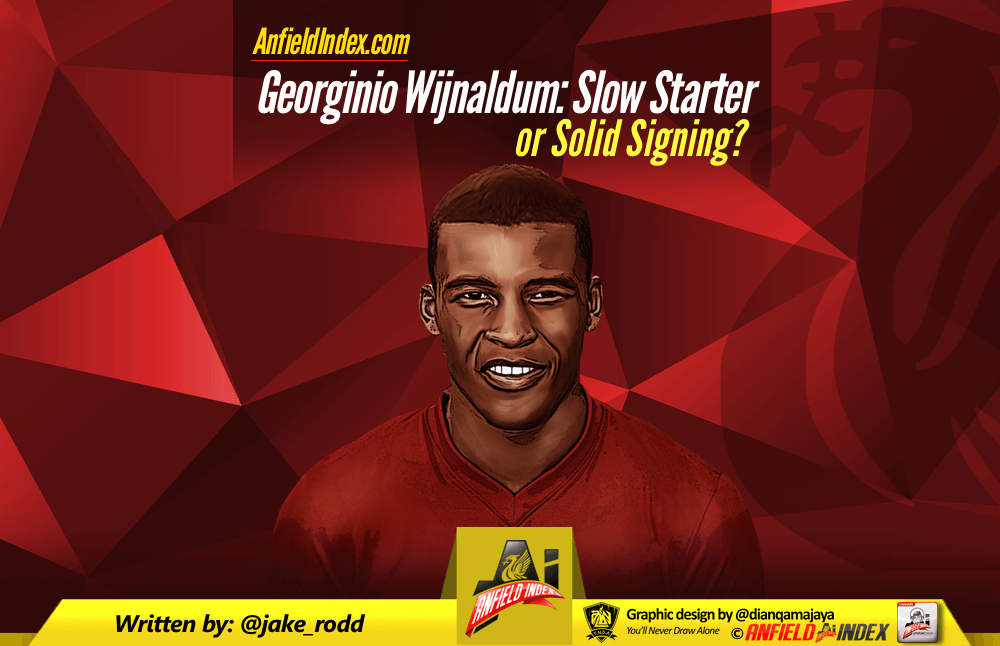 This, however, may not be a bad thing. Jurgen Klopp this summer initiated a transformation at Melwood designed to see Liverpool adopt a fluid 4-3-3 (which at times becomes a 4-3-2-1 or 4-2-3-1) this season – a key part of this is midfielders that can perform a box-to-box role.
Wijnaldum demonstrated competence in this role against Jurgen Klopp personally last December as part of a Newcastle side that saw off the Reds 2-0. During the fixture, Wijnaldum ran further than his team mates (covering 11.9km), won the ball the most times (12) and completed the most sprints (21). The impression, clearly, was made. In this game alone, Georginio Wijnaldum demonstrated his suitability to perform in a box to box, or number 8, role for Liverpool.
Nevertheless, most Liverpool fans expected to see Wijnaldum further forward, utilising his pace and physicality to trouble opposition defences. Despite his new role under Klopp (below), these expectations have remained, despite being made under the assumption he would adopt a more attacking role.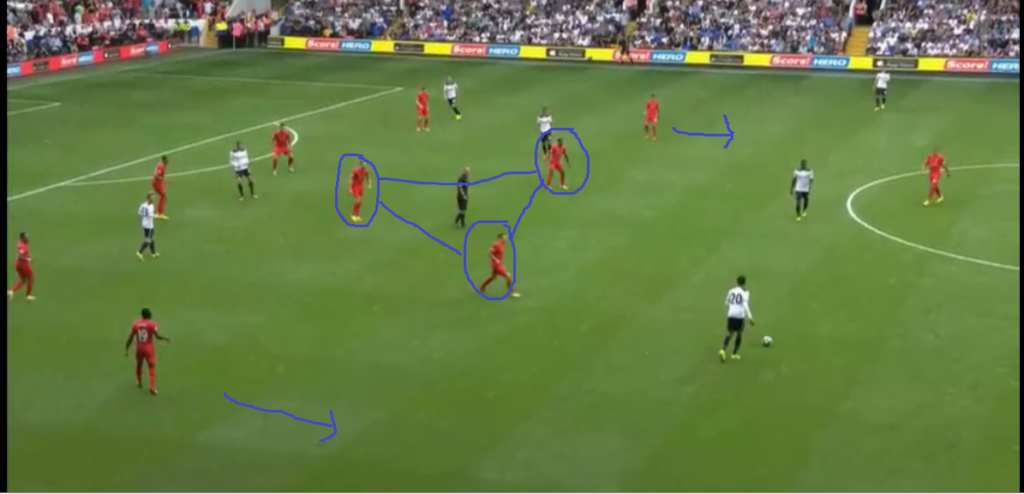 His midfield partner, Adam Lallana (circled), has also made the transition from an attacking player deployed either wide or behind a central striker which, handily, lends itself to a comparison.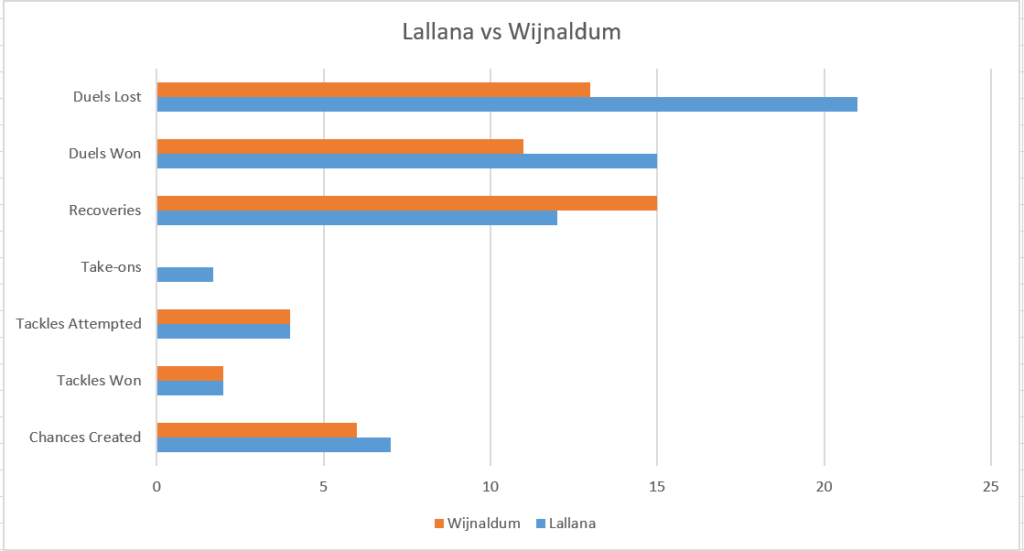 Statistically, Lallana and Wijnaldum have performed to a fairly equal standard. However, where Lallana is praised, there seems to be an unfair uncertainty surrounding Wijnaldum – at times, Liverpool fans question his purpose.
This, possibly, is because Wijnaldum is yet to provide that moment of magic, that moment where he breezes past a challenge or two and creates a chance however, as mentioned earlier, these expectations were more suited to the variant of the Dutchman at PSV – not the transformed version plying his trade in the Premier League.
The Wijnaldum envisioned by Klopp is a player who wins the ball back and oversees a transition from defence to attack – a player who keeps the ball moving via a pass or dribble.  Thus, that some fans have criticised him for drifting out of games may not be a fault of the player, rather a misunderstanding of his role from fans. Klopp's system places heavy emphasis on quick counters – Wijnaldum's role is to keep the ball moving before finding an outlet which, often, comes in the form of Sadio Mane.
A flashy role? No. Necessary? Absolutely.
Whilst players such as Roberto Firmino, Philippe Coutinho and Sadio Mane may catch the eye more frequently, Wijnaldum's role, to combine industry and technique in order to keep the Reds ticking, is equally important. In fact, to some midfielders, that some fans view Wijnaldum's role as esoteric could be received as a compliment, a suggestion he moves the ball simply and effectively without making things complicated – a highly sought-after trait in midfield.
Three games into Georgini Wijnaldum's Liverpool career, the Dutchman has registered an assist and, whilst not setting the world alight, done little wrong. Nevertheless, the midfielder is yet to register a single take-on thus far and, given his physicality, this is the area that must be addressed. Aside from this, however, the Dutchman has adapted to his new team-mates and play style effectively.
Whilst Georginio Wijnaldum needs to take the initiative more regularly (by attempting to take opposition players on, in particular), he has settled well into a box-to-box role for Liverpool, keeping things ticking and adapting defensively. With time on his side, Liverpool's number five has all the attributes to excel in Jurgen Klopp's midfield.