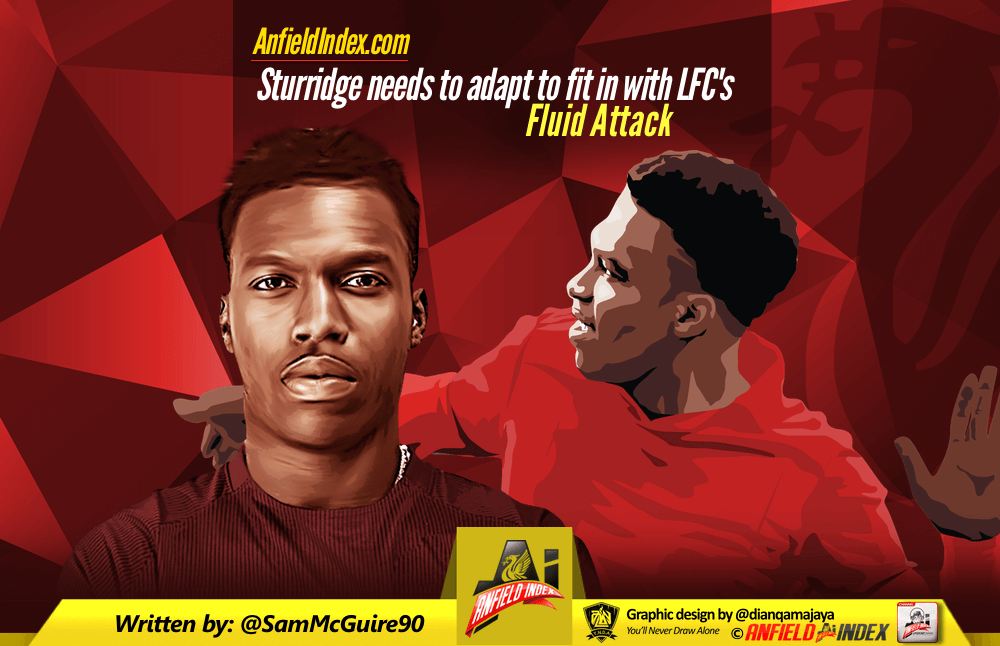 Sturridge needs to adapt to fit in with LFC's Fluid Attack

"Of course it is more difficult for me to play wide. I'm a centre-forward. In the modern day game you have to try and be flexible but everyone knows my best position,"
After Liverpool's 5-0 victory over Burton, Daniel Sturridge made his feelings pretty clear. He toiled playing in a slightly wider role in the previous weekends 2-0 defeat to Burnely the Liverpool no.15 took to the media to voice his displeasure.
"Well, I have to do a job for the team. That's not saying I am happy to do it. That's saying I have got to do a job for the team. It's a team game. If I am put in that position, I have to play there"
His quotes seemed to add fuel to the Sturridge v Klopp grudge that the British media are determined to build up. It comes less than a fortnight after Sturridge's brother took to Facebook to inform the world Daniel was fit to play but Klopp hadn't selected him in the match day squad for Arsenal. It's an easy narrative to push for the media and it results in easy clicks. The media won't scratch below the surface and look at the tactical repercussions.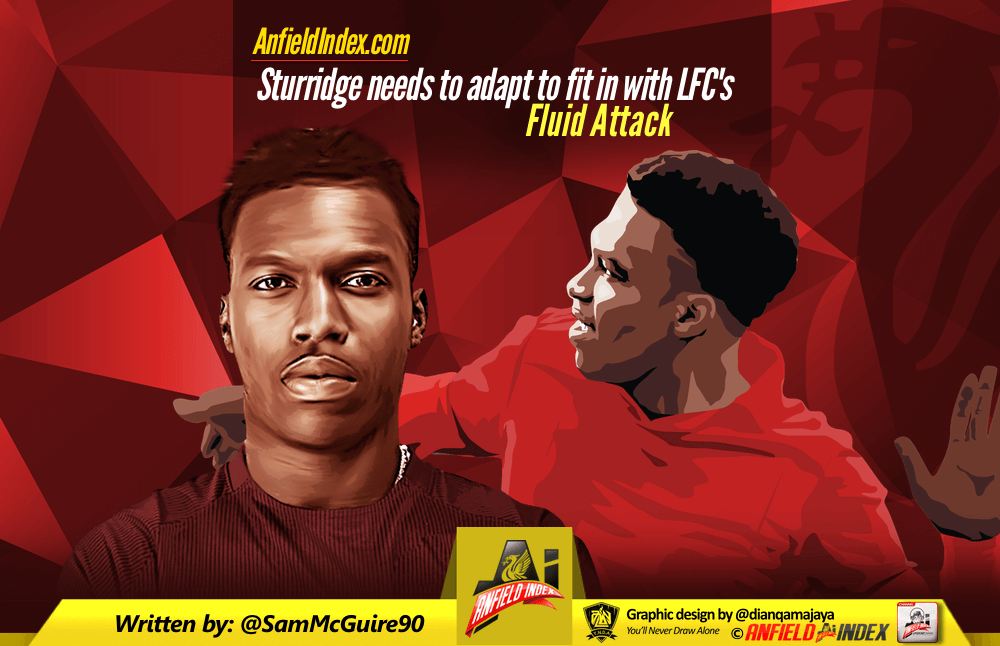 Klopp has a tactical game plan in mind. If he feels a player can't carry out the instructions, even if as an individual they're better than the player who starts, then he won't select them. It's all about what's best for the team, not the individual. He's been reluctant to play Sturridge in games in the past which would've seen him have to do something other than play centrally and after his reaction to the one game wide against Burnley you can understand why. What's worrying is Sturridge seems to be buying into the media narrative too, or at least his quotes would suggest so.
While giving Sturridge a 5 minute cameo is a waste of time starting him 'wide right' isn't. Klopp's hardly asking him to get chalk on his boots and take the full-backs on the outside now is he? The managers response to the Sturridge quotes was emphatic –
"I think both goals [against Burton] he scored inside the box so he was not on the wing in this moment – that is flexible football. That is how football works, it is not a fixed position [where you] stay outside and wait until you get the ball – especially not in Daniel's case.

When a striker plays in the centre it makes no sense so you have to change positions. Daniel is a very smart player in hiding himself in positions where it is not easy to defend and it is very often in a wing position. When he is not involved any more in defending you need a smart striker who takes the centre-half and moves them into a position where they don't feel comfortable. It is only a starting position for the next offensive move for my team"
The tactic Klopp is currently deploying sees the players flanking the striker drift centrally with the full-backs offering the width. It's all very narrow from the attacking trio with all three interchanging as they look to open up space for one another. Just because Sturridge is starting 'wide' doesn't mean he's spending the majority of his time there.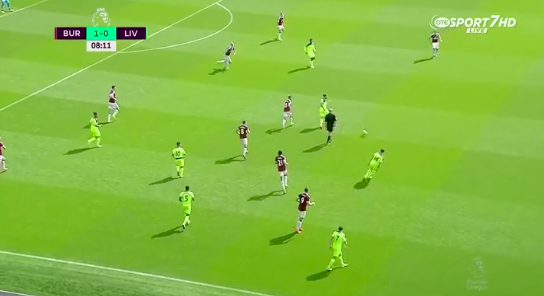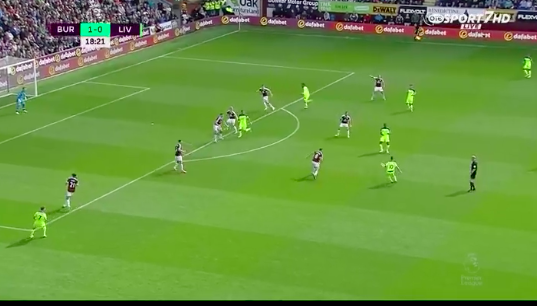 The top two screenshots above show Sturridge against Burnley. The bottom two are Sturridge against Villarreal when he was playing as the lone striker. If you looked at these without knowing his starting position would you know he wasn't playing in the same role in both matches? Granted starting centrally and working the channels is different to starting wide and drifting centrally but it shouldn't be hugely that dissimilar.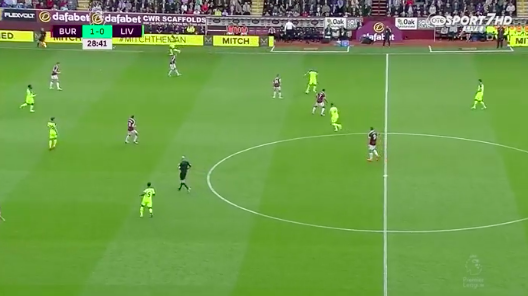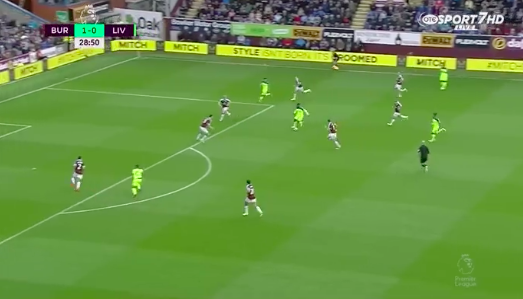 The next two screenshots show the build up to a Daniel Sturridge shot which he flashes wide. In the first picture Sturridge has drifted centrally and into space. He's able to receive the pass to feet, lay the ball off before getting it in a pretty dangerous position, which can be seen in the second picture, before he fires the shot wide. Again, would you know he wasn't playing centrally?
Against Burnley Liverpool at times looked to overload their right hand side with Adam Lallana, Nathaniel Clyne, Roberto Firmino and Daniel Sturridge all close together as Liverpool looked to build attacks. The attacks broke down deep usually with one of the midfielders picking the wrong pass and the chance to really capitalise on the superior numbers down that side disappearing. When Sturridge did get free in and around the area it was after he'd drifted centrally and isolated the Burnley left-back.
In theory giving him the best chance of working something. Burnley were always going to defend deeply so there wasn't going to be much space in behind. But with the clever movement from the front three Liverpool could work space between the Burnley defence and the midfield. Situating Sturridge in a position that gives him space on his favoured left foot is a positive, surely?
Adapt or Perish. 
You obviously want your strikers to be selfish but you don't want them to be narrow minded and stubborn. Sturridge wasn't playing in a defensive midfield role, he was still in a position where he would be able to score and influence the attack. Klopp wouldn't go out of his way to nullify an attacking threat. He has the ability to play there but does he have the mentality? When Klopp was managing Dortmund he used Lewandowski in withdrawn roles at times because the matches called for it, you didn't hear him talking to the press about not liking it there.
Klopp wants his attacking set up to centre around pressing and movement whether that's the right approach is yet to be seen but he's sticking to his guns. Ideally you want Sturridge to be part of it but if he's not got the mentality to do it then Klopp has every right not to start him.