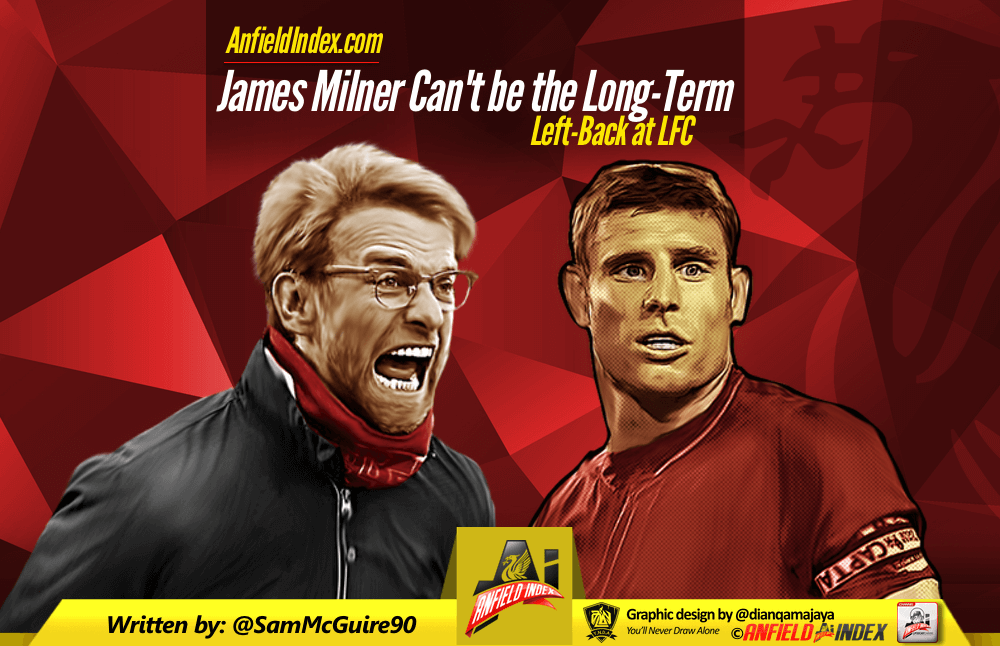 James Milner Can't be the Long-Term Left-Back at LFC

"Milly can play there, especially in the style of play we think we should play. Full-back is not only a winger in the offence situations. It's a really good position for Milly."
Jurgen Klopp's comments in the post match Spurs press conference didn't go down too well with fans who had hoped the German manager would bring in a left-back before the transfer window shut on Wednesday evening. After selling Brad Smith, the only natural left-back the club have on the books is Alberto Moreno and many believe calling him a defender is being extremely generous.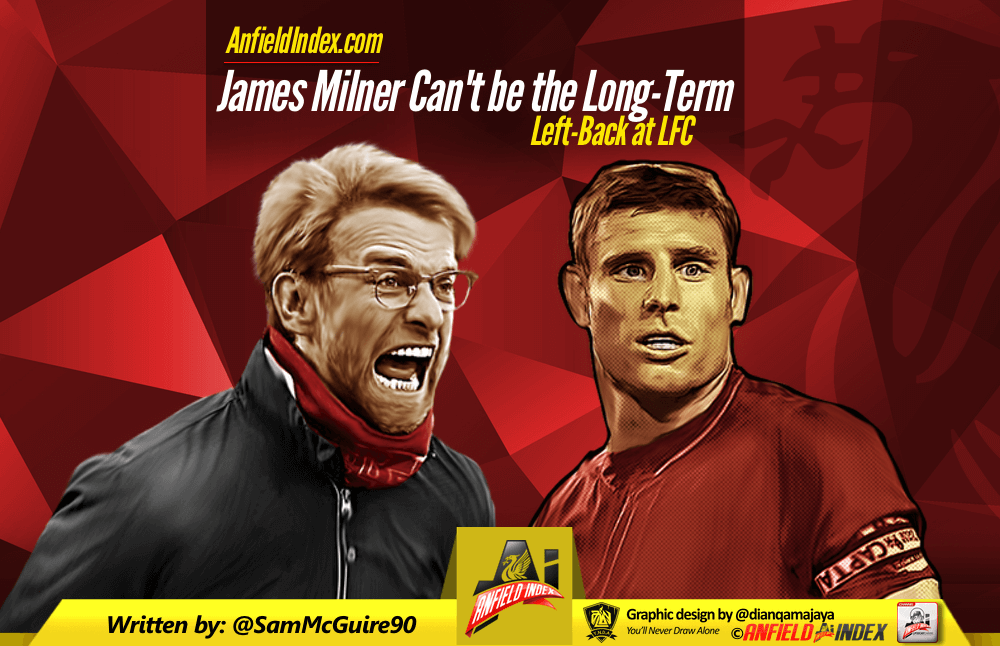 Liverpool do have players in their squad capable of playing that role in the form of Joe Gomez, Ragnar Klavan and, the current incumbent of the left-back role, James Milner. While Milner has been doing a job there it's clear for all to see that there are limitations to him in that position, which has a knock on effect on the team and it would be negligent for Liverpool to view Milner as a long-term solution to the left-back conundrum.
Problems with James Milner as a left-back.
The above two pictures are taken from Liverpool's 1-1 draw with Spurs. Phil Coutinho plays the ball to James Milner on the left flank and the no.7 has space to run into if he was naturally left footed and a burst of pace that full-backs often have. Had this been the case – and there was a threat that Walker could've been taken on the outside – the Spurs full-back would've been quicker to get over, which in turn creates more space centrally for the midfield runners.
Instead he checks back onto his right foot and plays the ball to Coutinho who has three Spurs players in close proximity and Milner hesitant to run into the space behind Walker. It makes Liverpool very one dimensional down that flank.
In the first picture Milner is just ahead of the referee having played the pass to Coutinho. In this scenario you want your full-back to go on the overlap and at least give the Spurs man, Eric Dier, something to think about which in theory gives Coutinho even more room to work with centrally. Instead Milner stays fairly central and as Coutinho shoots Milner isn't even in the picture. Had Milner made a bursting room from deep it's 5 vs 5 and Liverpool have players in dangerous areas.
Once again two pictures from the Spurs match and once again Milner's reluctance to go on the outside kills off any chance of a quick transitional attack. Wijnaldum plays the pass to Milner who has acres of space down the Spurs right. Had he had the pace and the confidence on his left he could've drove into that space with the ball before cutting it back to Wijnaldum who would've been in acres of space 25 yards out with three Liverpool players close by.
He ends up playing the pass to Wijnaldum but after it he doesn't attempt to make the run down the left, he comes central and Liverpool end up running the ball out of play trying to be too intricate.
In this series of pictures you can see how unnatural Milner seems in the left-back role. After playing the pass to Lovren the obvious run would be down the left hand side. He doesn't have to do a Moreno vs Arsenal and break his neck but moving 4/5 yards forward gets Liverpool up the field and also gives them the chance to progress further down the right with Coutinho and Wijnaldum in passing positions to take Dele Alli out of the game. Had it been done properly Liverpool could've taken 5 Spurs players out of the equation and there may have been a chance to counter.
Milner inexplicably holds his position and although Lovren dawdles on the ball it isn't helped by Milner not advancing.
Easier to Press. 
Another issue with playing a right footer at left-back is it makes them easier to read, control, dictate and press. In the above two pictures you see Milner receive the ball running to the left and even though there's space with only one Spurs man to beat on the outside he cuts inside onto his right foot and into three Spurs players who have cut off the obvious passing lanes to Coutinho and Henderson in the middle.
Since coming in to replace Alberto Moreno after the Arsenal match Milner has done a solid enough job. There haven't been any glaring defensive issues as such, but in a Jurgen Klopp system the full-backs are a lot more than just defenders and herein lies the problem of using Milner as a left-back. They're expected to support the attack, offer width and create space. They're almost auxiliary wingers at times as the attacking wide players are often narrow.