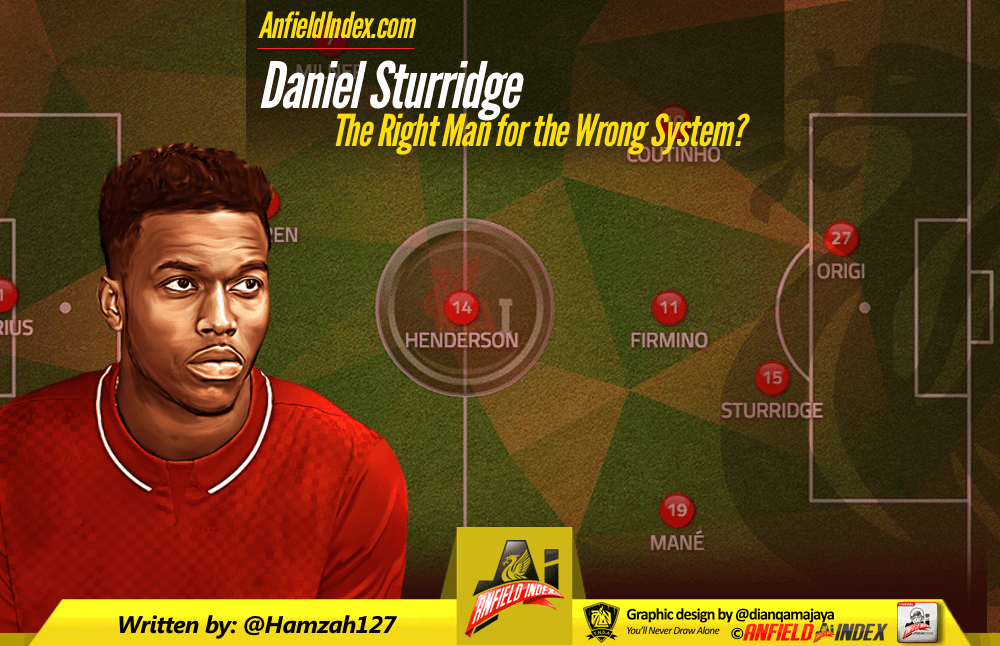 Daniel Sturridge: The Right Man for the Wrong System?
To my pleasant surprise, Daniel Sturridge was handed a start by Jürgen Klopp against Manchester United on Monday evening. Usually in the "big" games, Klopp opts for Firmino to play as a false 9, to spearhead the team's press, but instead, he chose Sturridge – a choice that unfortunately did not pay dividends.
But why was Daniel Sturridge so ineffective, why has he not been scoring recently, and why did Liverpool look much sharper and intensive once he was substituted for Lallana? Herein lies a much deeper, long-term issue (of whether Sturridge should always be in Liverpool's starting XI) that I will look to explore and perhaps offer a solution for.
I believe the answer to the first question is quite complex but also closely linked to the third question, and thus it is discussed in greater depth below; however, the answer to the second question, of why Sturridge has not been scoring regularly of late, is much more simple: Daniel Sturridge is out of form. Throughout his time at Anfield, Sturridge has always hit the ground running, when put into the first team, regardless of injuries. This however, appears to be the first time an injury has actually set him back, and the only solution to this is simply match-time and practice. Klopp, and the supporters should be patient and back him, whilst he adjusts to playing a new role in a different system to the one Klopp opted for last year.

Now, it is abundantly clear that Jürgen Klopp demands a high press system, as he feels it is the best way to win games. However the issue arises when Daniel Sturridge, by far Liverpool's best goalscorer, does not fit into this particular system as the spearhead; perhaps due to injuries sustained over the past few years, an unwillingness to press, or even that he simply is not as good as other offensive options, such as Firmino, as pressing intelligently from the front. If we cast our minds back to Sturridge's late introduction against Tottenham Hotspur, it certainly felt awkward, and his comments to the media about wanting to play centrally – which is certainly his best position – makes it appear as if Sturridge is not suited to Klopp's current system, but also that he is not happy. Yet Klopp has expressed in previous press conferences that he is willing to play two strikers at once, and shifted his system from a 4-2-3-1 to a 4-3-3, but how can Klopp fit Sturridge into the Liverpool starting XI, get him to play at his best, but also, keep the same intensive press from the front, and retain defensive rigidity?
Firstly, we need to establish some key conditions before we can explore altering Liverpool's tactical setup.
Daniel Sturridge is no longer as dynamic as he used to be, due to injuries.

As a result of this, he has changed his playing style from an 'on-the-shoulder' approach, to a more free, 'floating', quasi-false-9 striker.
However, Sturridge is also creative too – and can fashion chances for other players, which could suggest he may be suited to a "Second Striker" or "Centre Forward" role, i.e. between the Central Attacking Midfielder (CAM) and the Striker.

Arguably the most important condition, Daniel Sturridge is at his best as part of a two-man strike-force

Sturridge's performances with Luis Suarez in 2012/13 and then 2013/14 illustrate this perfectly – but so too his performance against Burton this season with Origi, but also, last season in the FA Cup tie against West Ham, where he played alongside Origi and Benteke in a fluid front three; Liverpool may have lost the game, but cut apart the West Ham defence with ease during the Extra Time period, and were it not for poor finishing on Benteke's part, Liverpool would have won.
Sturridge needs a player to run in behind to stretch defences and create space for him to pick the ball up in.

Against Manchester United on Monday evening, Sturridge struggled as he had little space to operate in, and both United centre-backs were able to focus on stopping him – as there were few other runners in behind that were not already marked or being tracked.
A second striker would prevent this happening, as the opposition centre-backs cannot simply man-mark two strikers without being susceptible to one of Liverpool's attacking midfielders breaking through on goal. Therefore Sturridge would have had more space, and would have been open more often to receive the ball.

As noted above, Sturridge is less likely to run in behind or off the shoulder of defenders, preferring to roam, and play off another striker – finishing off the chances created where the other striker occupies the defender.
A recent example of this in action was his first goal in Liverpool's League Cup tie against Burton.
The Leicester game also lends credence to this notion, with Sturridge linking up, or creating space for his fellow forwards – with the Firmino and Mané goals evidence of this.

Daniel Sturridge is not suited to playing as a lone striker.

Usually, lone strikers (such as Costa, Lewandowski or Ibrahimovic) have similar characteristics: they are comfortable with their back towards goal, they are strong and physical and thrive off battling with opposition defenders. Daniel Sturridge is not of this mould though, and struggles when asked to perform that particular role, instead, he prefers to be on the ball, to be involved in build up play, to run towards the opposition goal, and at defenders, and play a more pro-active, rounded role.

Daniel Sturridge is still Liverpool's best striker, and is Liverpool's best chance to win games, achieving a top four spot, or higher, come the end of the season.

Rather obvious – but necessary to justify the hassle for realigning the tactical setup Liverpool have.
This piece was meant to simply be just about fitting in Origi to play alongside Sturridge; as Origi's presence upfront would allow Sturridge more space, thereby allowing him to get into more scoring opportunities, and this would present a greater problem for opposition teams in terms of defending, as there is both a strong, traditional, high energy striker in Origi, but also an intelligent and ruthless finisher in Sturridge to be wary of too – but having examined Jürgen Klopp's system & demands I realised this is a much more complicated issue than I could have envisaged. After toiling for what felt like an age, I came to a rather radical tactical suggestion, explored below.
Initially we start with the classic 4-2-3-1, and the team that started against Manchester United: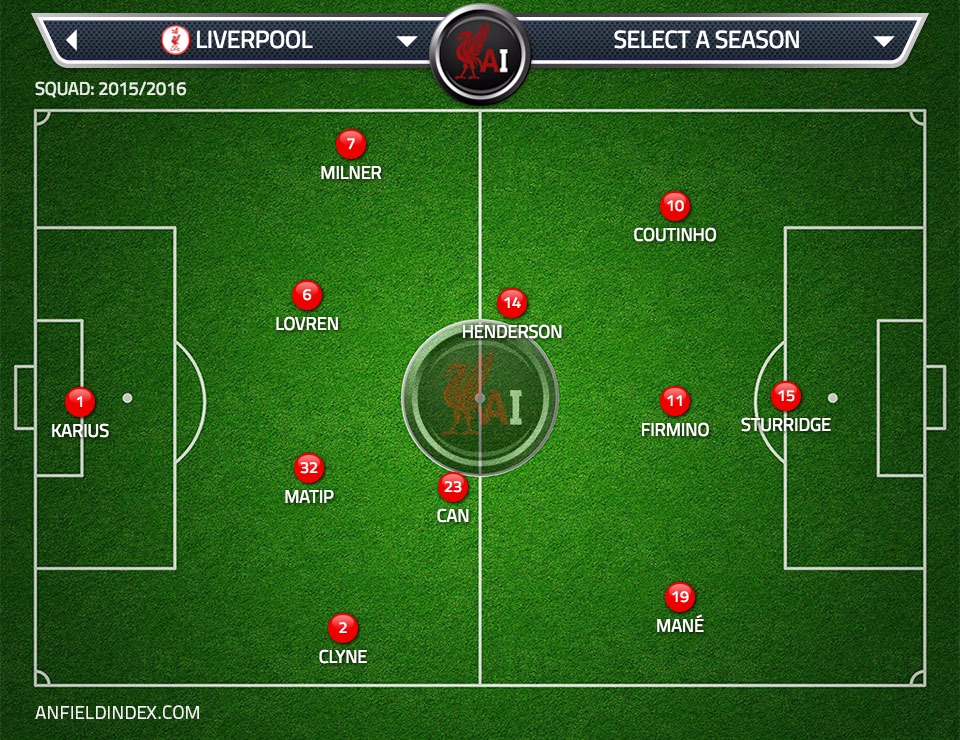 Now if Liverpool were to start with two strikers, the other being Origi, the formation would logically shift to a 4-2-2-2 or 4-2-2-1-1, with Sturridge playing in the "floating", Centre Forward, just off-the-striker role described earlier. However, this would mean that one of Coutinho, Firmino or Mané would have to drop out of the starting team – ridiculous considering they are three of the four best players, on current form, in the squad. Therefore either a defender or a centre midfielder may need to drop out of the starting XI. Klopp has worked extremely hard to build a solid back line, so the chance of removing a defender is minimal, and as Henderson has been re-moulded into a "number six", as Klopp said, it makes sense for Can to drop out. This could result in a 4-1-1-3-1 (with Coutinho most likely playing as the '1' behind the attacking '3' of Firmino, Sturridge and Mané, or the 4-1-3-2 below: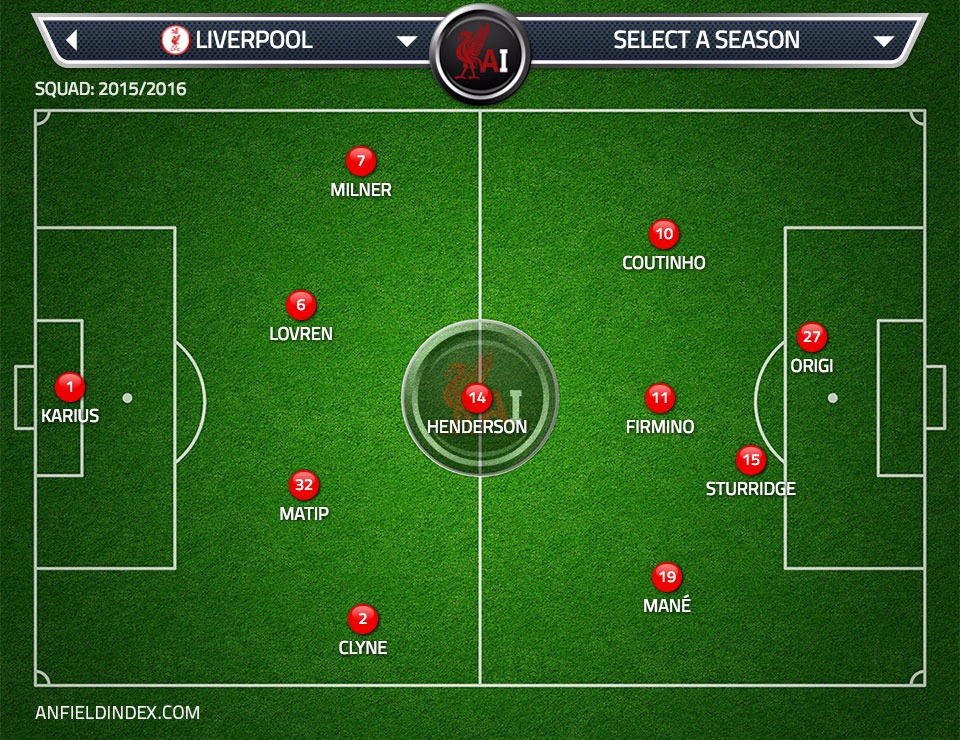 What we have though is a system that is far too top-heavy, especially if Milner and Clyne are meant to still perform a role as attacking full-backs, and one which leaves the defence exposed and reliant on Henderson to both break down opposition teams and dictate the play from deep – albeit perhaps Matip can contribute to distributing the ball.
So now there are two options, Liverpool could go down the Barcelona route of playing a 4-3-3: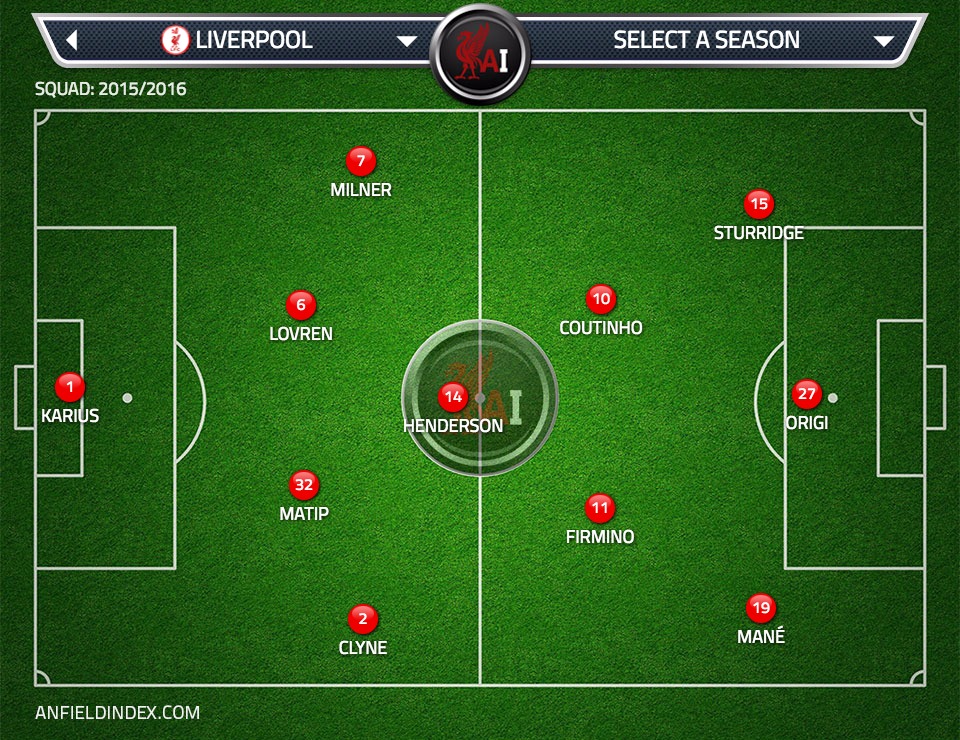 Or instead of that, which keeps Sturridge out wide and places huge stress on the CDM, (as Coutinho and Firmino cannot be expected to adapt to playing as Iniesta and Rakitic do for Barcelona, nor can Henderson try to play the Busquets role), Liverpool and Klopp could consider taking a leaf from Pep Guardiola's proverbial book; with the full-backs, Clyne and Milner, moving up into midfield, and not expected to go forward, but rather sit alongside Henderson, and play as holding wingers, in the "Inverted full-backs" role, that we've seen Guardiola use at Bayern with Alaba and Lahm, and recently at Manchester City too.
In this situation the holding midfielder, Henderson, will have support directly alongside him and in front of him, so he will be less likely to be dispossessed by an opposition team targeting and pressing him – as Manchester United tried to do in the first half of Monday's fixture. This is also a more natural role for Milner, and provides a greater defensive shield than a 4-2-3-1.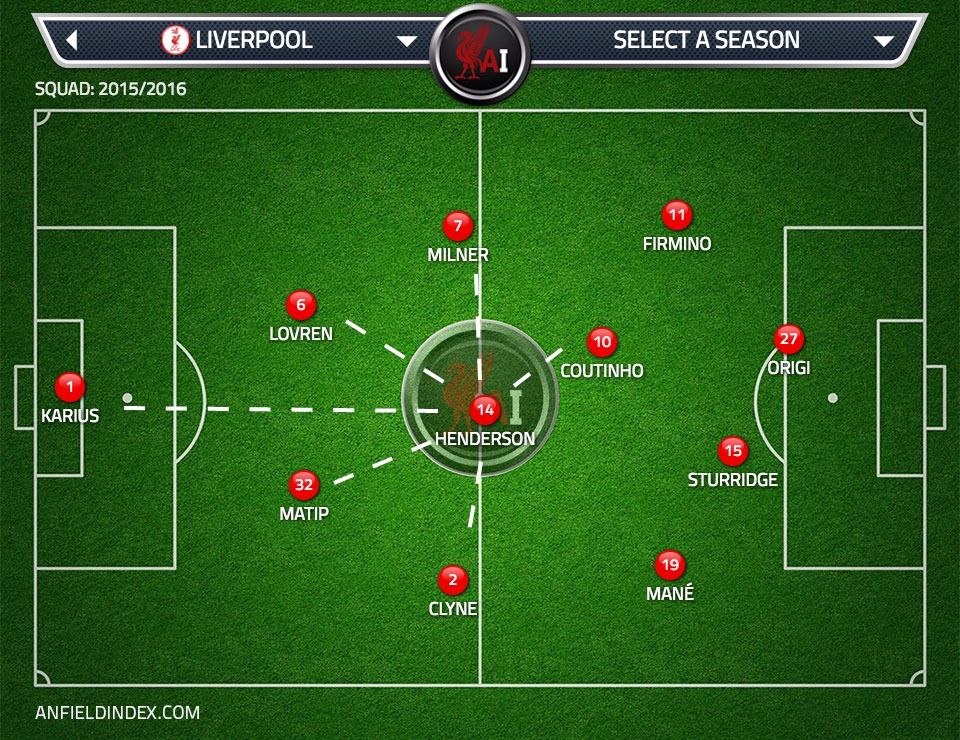 What we have above is the new potential system. Henderson now has six direct outlet passes, which should be available for the majority of the time, and the midfield is composed of Henderson, Milner and Clyne, with Coutinho able to drop in and offer support when necessary. In games where Liverpool are pressed, as they were in the first half against Manchester United, having a wide-variety of outlet passes for Henderson would help to avoid situations where Liverpool are forced back, with the team able to play through the press.
Now whilst Liverpool may lose the attacking aspect of the full-backs, that loss is arguably negated through having two strikers, and two wide players. We need to remember that the primary objectives of attacking full-backs are to create width, stretch the opposition defence and make spaces between the lines (and also create an overload on one side), and through having two strikers, both opposition centre backs are permanently occupied, with it requiring either Mané or Firmino just to beat their man in a one-on-one situation in order to be through on goal, or to cut the ball back – to either of the strikers, or even Coutinho in his "free" role. Therefore, the objective to stretch defences is achieved without needing the full-backs to push on so high. This particular role for Coutinho also suits him as he can control the play, run at the defence when he likes, provide support for Henderson, and also take plenty of shots from just outside or around the box.
If the ball were on the right side for instance, this system would allow for Coutinho to work with Mané to create the overload, or Clyne could still go forward to do so, providing Milner stayed back in his position – with him, Henderson, Matip and Lovren more than enough to rebuff a counter attack. This would actually offer more cover than what Liverpool currently have in the 4-3-3 system where Lallana and Wijnaldum take up the centre-midfield roles.
In this system, the two centre-backs and the defensive midfielder will need to be rigid, as usual, but now Coutinho is offered more space and influence on the game, than he is afforded when playing out wide; arguably this could help with the creative influence from deep, ball speed and tempo of Liverpool, as Henderson has been criticised at times for his conservative approach when on the ball. Additionally, in this system, Sturridge is free to roam, meaning he is much more of a threat, as he can perform as both a classic poacher and as a creative outlet playing off Origi. This formation offers the same fluidity that the 4-3-3 gives, and more than the 4-2-3-1; making it much harder for opposition teams to man-mark and defend against.
Simply put, by taking Klopp's 4-3-3 (with four attacking players, including Lallana in a centre-midfield role) one step further, and having five attacking players; Liverpool's pressing would be formidable, and in extremely advanced positions – which naturally have a greater likelihood of leading to chances and goals. But also, when teams are defending against Liverpool, they will very rarely have enough defensive players to go man-for-man, which in itself is problematic, as if one player were to beat their man, they would be through on goal.
This formation arguably still satiates Klopp's demand for high pressing too – with Firmino, Origi and Mané still pressing, whilst either Sturridge or Coutinho can mark the opposition's defensive midfielder – preventing any short passing outlets for the opposition. Again, building on Guardiola's systems that he used at Bayern Munich; whilst he did not use two out and out strikers, he did use both Müller and Lewandowski together, and perhaps Sturridge could fulfil the attacking role of Müller here – with Firmino doing the defensive role, by getting back to defend and pressing.
For instance, if we were to have a simple goal kick situation: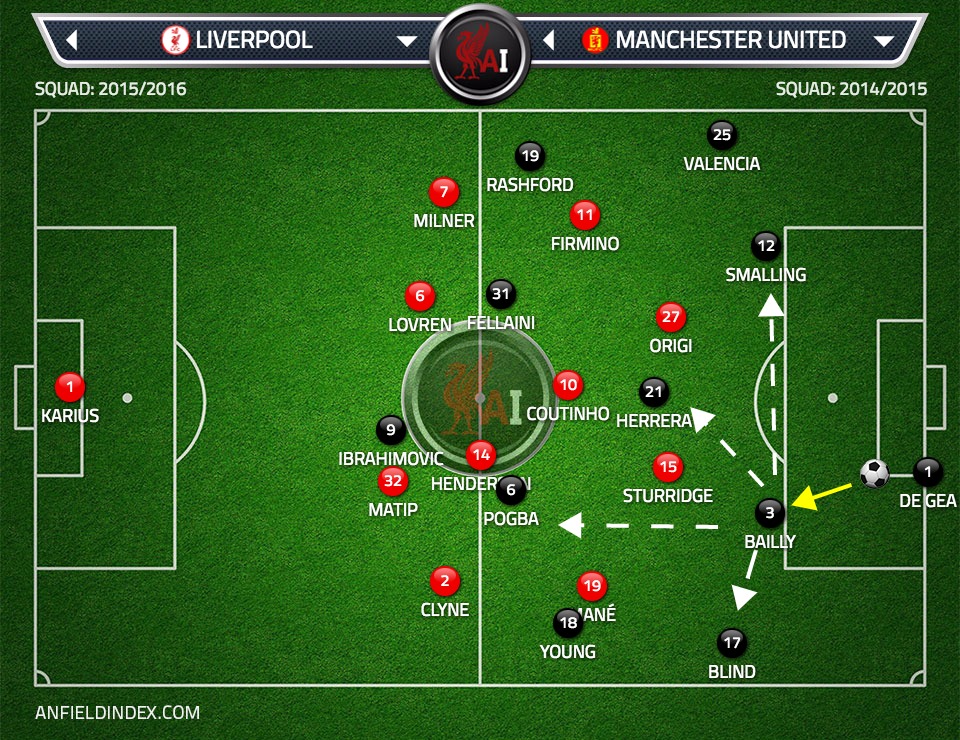 Here De Gea has opted to play the short pass to Bailly. Bailly has a few options available, he could play it into Blind, to Pogba, Herrera, back to De Gea, or even try a risky pass across the box to Smalling.
This is where this more advanced formation makes a difference. Instead of squeezing the play in the transition from United's defence to midfield, as would normally happen in a 4-3-3 or a 4-2-3-1, this formation allows Liverpool to press, close off options and win the ball back in the very first phase of play.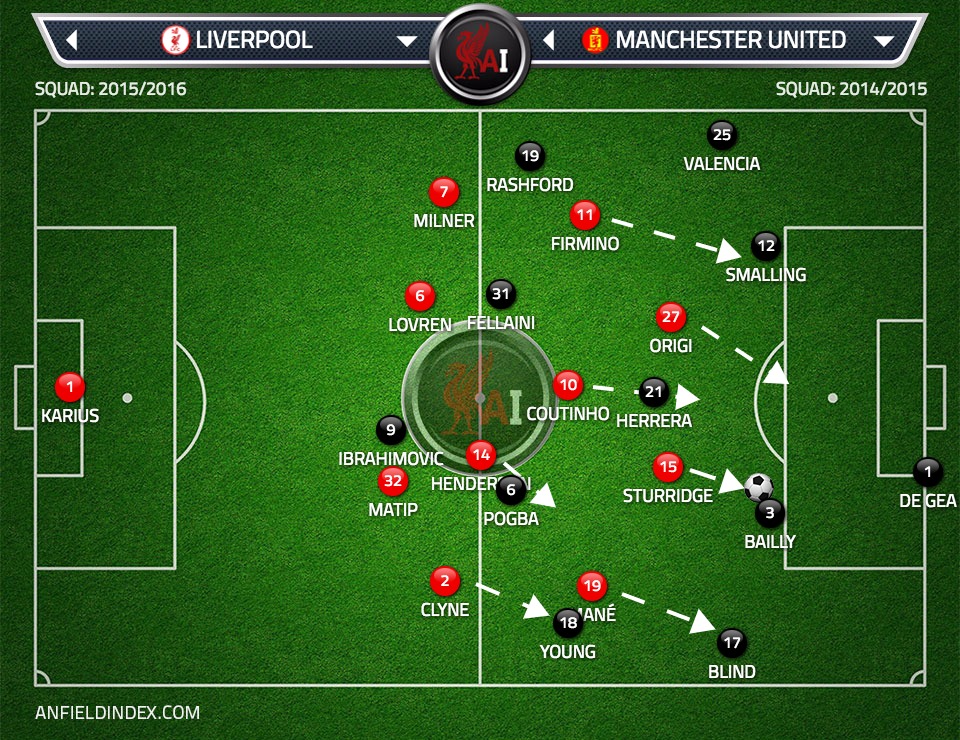 As soon as Bailly receives the ball, Sturridge acts as the trigger and presses him.
Firmino then comes across to stop the pass to Smalling.
Mané moves in to prevent the short pass to Blind.
Clyne presses Young who is available because Mané has moved up.
Henderson and Coutinho stick with their respective men, Pogba and Herrera.
Unlike a goal kick situation press in a 4-3-3 or a 4-2-3-1, as Liverpool are playing with two strikers, there is a player much more advanced than in those other systems. In this instance, it is Origi, who can choose either to press the ball with Sturridge, or to gamble on Bailly playing a blind pass back to De Gea.
The chances are, Bailly will either lose the ball and concede either a foul, give away a two versus one chance for Sturridge and Origi against De Gea, or he will clear it, only for Liverpool to re-gain possession, and be able to attack quickly, as the Liverpool players are already in advanced positions.
This formation also allows for an extremely dangerous counter attack, however, the long-pass option is always available too, as if an opposition team were to over-commit, a long-pass over the top or through ball in behind would be met by either Origi or Sturridge, both who are extremely quick, but who will also have a teammate to pass to – which would most likely lead to an increase in one on one chances with the opposition goalkeeper, and thus goals.
Perhaps this system could solve not only Daniel Sturridge's current quandary upfront, but also improve the Liverpool's overall game, and help to overwhelm opposition teams. Maybe this approach would be too "gung-ho" for matches with Liverpool's direct rivals, but it may offer a solution for teams that opt to sit back and try to frustrate Liverpool by defending in solid lines – as Manchester United did, and other smaller clubs will no doubt try to, when at Anfield.
Whether Klopp agrees with my assessment of Sturridge – that he is best with another striker alongside him – or whether he feels that forcing Sturridge into the team in this manner is simply not worth the hassle, (especially when Lallana and Wijnaldum are playing so well) is certainly debatable. Regardless, it remains an intriguing topic, and one which may well be an option pursued in the future, with the prospect of a "hyper-press", consisting of five attacking players, too interesting to overlook.