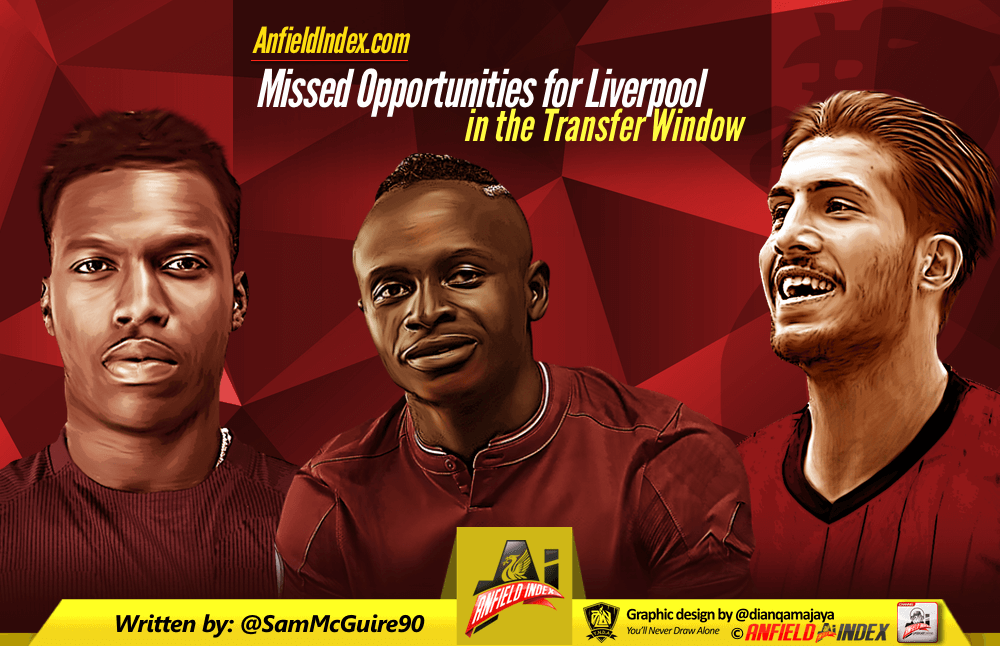 Missed Opportunities for Liverpool in the Transfer Window
I know many will be thinking after reading that title.
"You cynical bastard. The transfer window has only just shut and you're already putting a negative spin on it. Passing judgement before Klopp's even had the chance to field his strongest XI".
And to those who are thinking that – you're probably right. It may be premature but Klopp has – to put it politely – made a few head-scratching decisions this summer. Don't get me wrong, the early business was some of the best the club have done in a long time.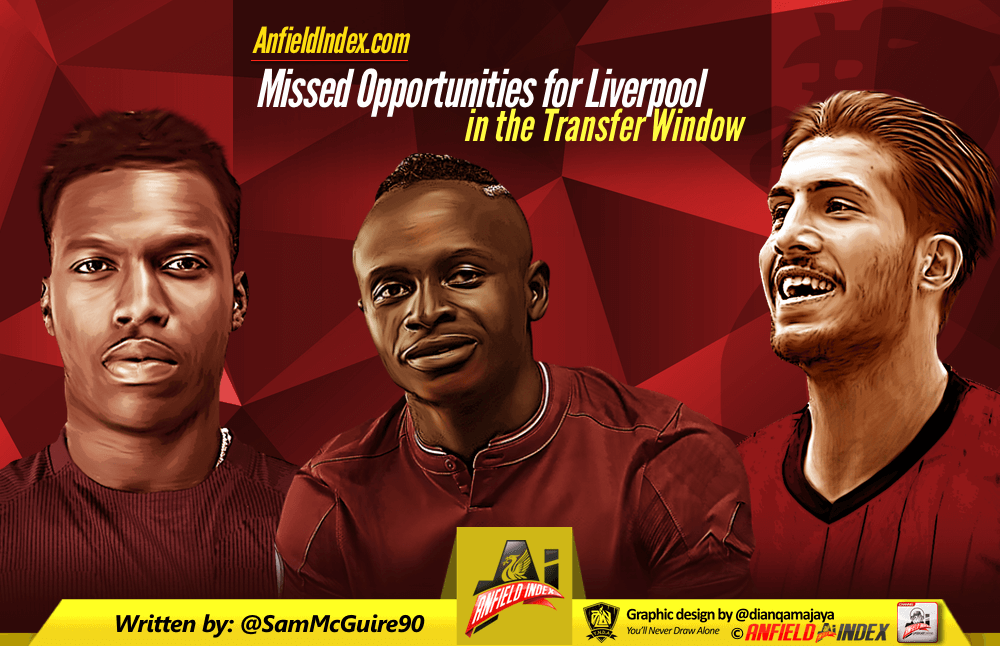 Loris Karius is an upgrade on Simon Mignolet in every possible imaginable way. The Reds will look immeasurably better when trying to build from the back with the German between the sticks. Joel Matip and Ragnar Klavan are improvements on Martin Skrtel and Kolo Toure are better suited to a Jurgen Klopp defence. Sadio Mane arrived for £30 Million and immediately added another dimension to the attack. Gini Wijnaldum arrived from Newcastle and immediately gave the team another player who could break the oppositions lines with dribbling and his off the ball movement.
The positives are there for all to see but then it came to an abrupt end as soon as pre-season started. 
Over reliance on Emre Can.
Liverpool have taken 4 points from trips to White Hart Lane and The Emirates without Emre Can so some fans are downplaying the importance of the German. Liverpool struggled against Burnley despite having 80% of the ball and it highlighted just how limited captain Jordan Henderson is in that withdrawn midfield role when he's expected to be the creative one.
The alternatives to Can, other than Henderson, are Lucas Leiva and Kevin Stewart. Quite the step-down in class if you think about it. Not for a moment am I suggesting Liverpool should have gone out and bought a £45 Million midfielder to rival Emre Can but a midfielder with a similar profile to the no.23 wouldn't have gone amiss so that if he's unfortunate enough to pick up another injury the team doesn't suffer.
No cover for Sadio Mane.
It's massively encouraging that Mane has joined the team and from the off has transformed the Liverpool attack. In the games he's featured in Liverpool have looked electric in attack. His arrival was like an adrenaline shot. Last season the Liverpool side desperately lacked pace and Mane has it in abundance. Not only does he bring pace to the side he's constantly on the move and it creates space for the other attackers.
On the flip side to that it's worrying to think that, like with Emre, there are no players in the squad similar to Mane. In the only game Liverpool have played without the influential no.19 this season the attack looked blunt. It's risky making players integral to you system if you don't have back-ups.
No left-back to challenge Alberto Moreno.
In theory Alberto Moreno is the perfect Jurgen Klopp full-back on paper. He offers width, he's decent on the ball and has great recovery pace. He would be key for teams looking to transition from defence to attack at quick speed but for him to be as effective as he can be he needs someone to cover these sorts of runs. Klopp and co have failed to balance the side to enable Moreno to make those runs forward and have gone completely the opposite way and started using James Milner there. The limitations of such a move are kind of obvious and although he's not bad there Liverpool are far from effectively utilising their left flank.
Mamadou Sakho 6th choice centre-back. 
Cards on the table here, in my mind Mamadou Sakho is the best centre-back Liverpool currently have. No I'm not in training and no I don't know what goes on behind the scenes but in terms of suitability he surpasses Dejan Lovren, Ragnar Klavan and Joel Matip. Klopp likes his centre-backs to be able to assist in building from the back and you'd be hard pressed to find a centre-back with the ability on the ball that Mamadou Sakho has. Many times last season he'd play the ball straight to Coutinho's feet and Liverpool would've turned defence into attack in an instant.
Loaning him makes very little sense in my mind but if Klopp wants him to work on his fitness/attitude/form then so be it. However, not replacing him in the squad is negligent. Lovren, Matip, Klavan and Lucas are hardly the most reliable.
People will cite Leicester winning the league with Robert Huth and Wes Morgan as a centre-back pairing as proof you don't need 'world class' defenders but it's incomparable. Leicester protected their centre-backs with Daniel Drinkwater and N'golo Kante shielding them and defensive minded full-backs. Liverpool defenders aren't afforded such a luxury.
The Daniel Sturridge conundrum. 
Liverpool currently use a system which doesn't suit arguably their only world class player. I'm all for building a team instead of relying on individuals but it's odd to see Daniel Sturridge sitting on the bench till the 87th minute against Spurs when the game is there to be won. If he's going to be used then surely selling him and buying a better suited player would have been the best choice for all parties involved?