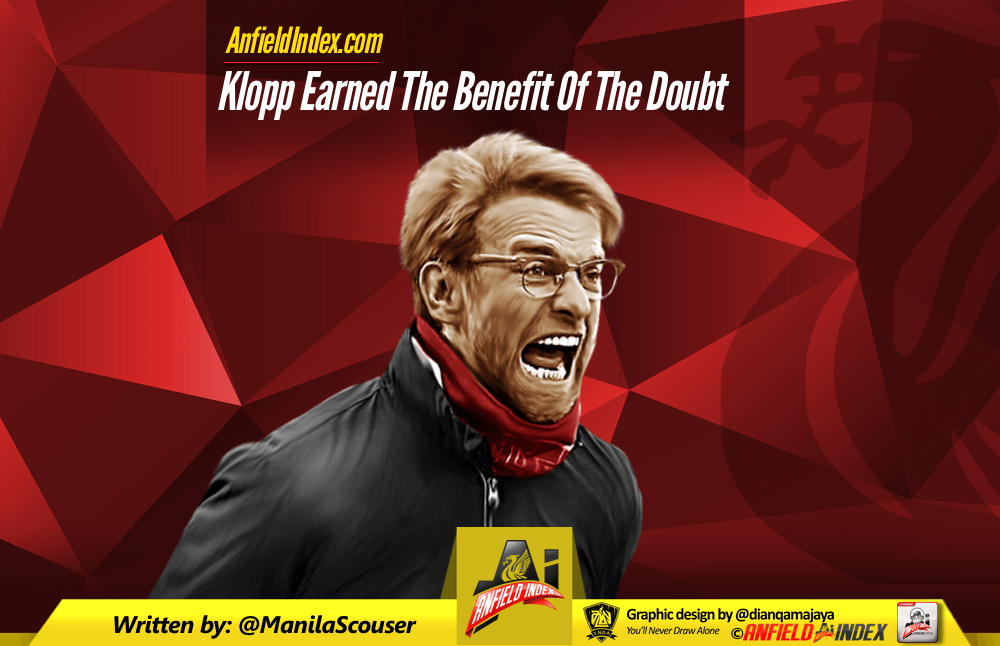 Klopp Earned The Benefit Of The Doubt

After a long, gruesome two months, the transfer window has officially been shut, the last grain of sand in the hourglass has fallen and it's certain that Liverpool Football Club can not, and will not bolster their squad despite a series of minor injury scares to certain key players, added by one who seemed to be exiled in his own country, not to mention the evident flaws in our team.
It's been all but told. The transfer window is something that Liverpool fans love and hate. Amass the volume of players our beloved football club are linked with, and the number of areas the fans feel need to be addressed, it seems that the Liverpool Manager Jurgen Klopp has other ideas in store for his team that us fans can only wait to see and understand.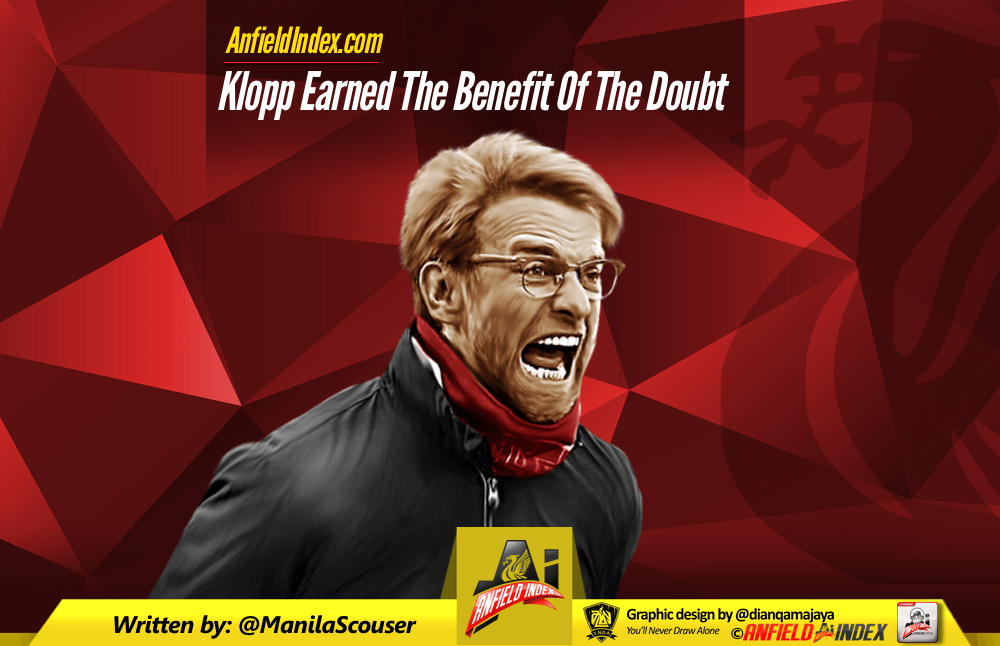 Truth be told, the obsession on transfers is a reality, and its something us fans believe, prefer, and expect our club to do in order for immediate improvement rather than a manager coaching young players or the current players on the club's payroll to improve, which is something a manager is, first and foremost. A football coach. But that doesn't necessarily mean there's no need to dip into the transfer market. There will be instances where it's a necessity rather than a luxury.
Patience is running thin, especially for us fans who support the Reds in Merseyside, who has tried for over two decades to bring home the ever so elusive nineteenth league title to add to their already impressive trophy cabinet, and be crowned Champions of England once again.
At the end of last season's Europa League Final heartbreak, there was plenty of concrete evidence on the areas that needed to be addressed in this window. The need for an upgrade on the position between our goalposts, followed by a central midfielder, left back, centre half, and a goalscoring wide player.
Alas, we've brought in Loris Karius, Joel Matip, Georginio Wijnaldum, Marko Grujic, Sadio Mane, Ragnar Klavan, and Alex Manninger. But the idea of bringing someone of tremendous talent such as Jonathan Tah and Mahmoud Dahoud is so succulent that it somehow have blindsided us into giving opportunities to the the set of players who have recently arrived.
Liverpool fans across the globe would be licking their lips at the idea of these two (Tah and Dahoud) alongside Matip and Emre Can respectively, and I'm among them. A left back to challenge Alberto Moreno will be most welcome too, but that doesn't mean that Marko Grujic can't become the Dahoud we all want, there's little to no sample size to prove that he can, or vice versa.
The refusal to return to the transfer window to reinforce the squad further and acquire a left back, defender, and another central midfielder had been labelled as reckless and negligent on the manager's part by the fans, who can't wrap their head around the idea of his preference to utilise what they call weak players already at his disposal.
If you've not already witnessed the interviews, Jurgen Klopp is the ultimate chess master and poker player, and the unpredictability of how quick and effortless in the players he signed has been proof enough to reinforce the idea that no one knows what goes on in his head, and no one can predict what he will do until he does it.
I'd like to think there's a plan that's already taken shape in his head, and despite it not being clear enough in the transfer window for us fans, it doesn't mean it's not there. We never expected to reach two cup finals in his first seven months as Liverpool manager, but we did. That was a somewhat successful season, and it's all thanks to his "weak" Liverpool squad and his self, a world-class manager who's making things tick in the sidelines. This doesn't imply that I'm all fine and dandy to keep James Milner at left-back or let Jordan Henderson as an alternative holding midfielder, but what he has shown, whether it fell short or not in your eyes, should be enough to believe and trust in him fully.