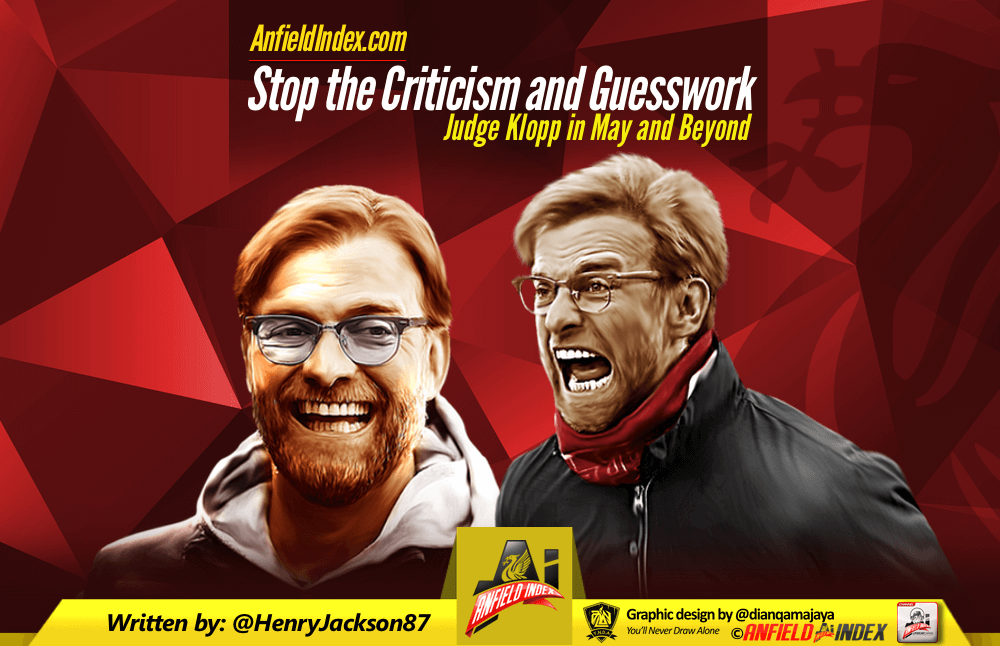 Stop the Criticism and Guesswork - Judge Klopp in May and Beyond

When you do someone an almighty favour and get very little thanks for it, it's one of the most frustrating things you can encounter in day-to-day life.
Without proclaiming him to be bigger than Liverpool Football Club – he most certainly isn't – part of Jurgen Klopp must be feeling a little like that currently.
Well, that is if he's stupid enough to read what some supporters have had to say about him in recent times.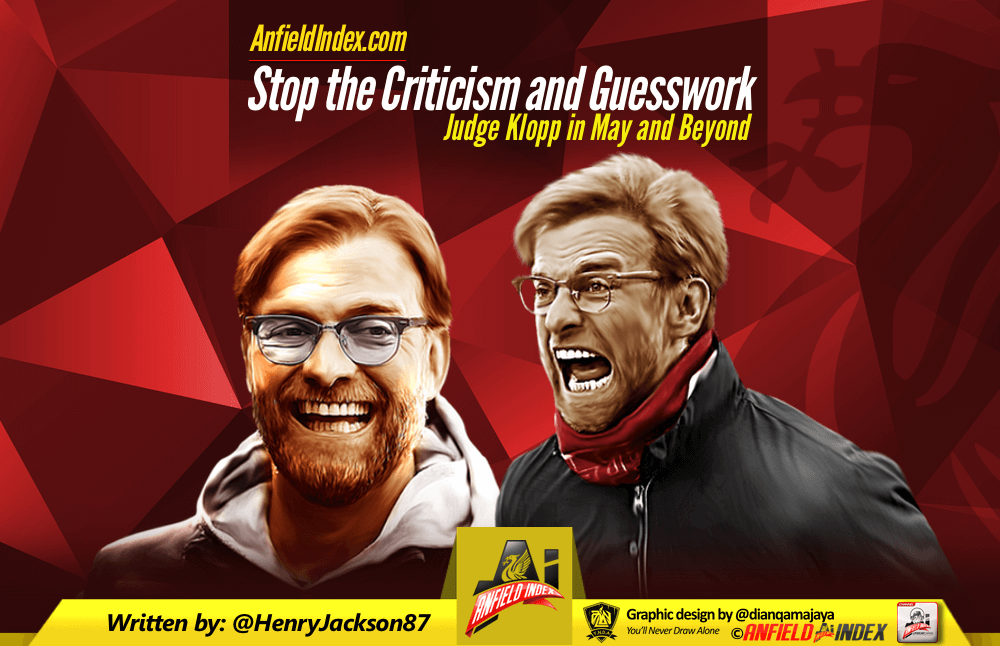 The 49-year-old was an unbelievable appointment when he moved to Anfield last October – people actually used to joke about him moving to Liverpool, such was his reputation in the game and the Reds' decline. This was his 'favour' to us.
He was in the very top bracket of managers around the world, and having had to put up with a diabolical Roy Hodgson, a fading Kenny Dalglish and a cringeworthy Brendan Rodgers, acquiring Klopp's signature was one of the biggest managerial statements of intent in Premier League history.
During those first few weeks of the German's reign, it felt as though we would actually be able to enjoy a long period of harmony between supporters, with positivity everywhere we looked.
How stupid we were to expect that.
Some poor performances, particularly against weaker opposition, saw the negativity return soon enough, while two defeats in finals were rather bizarrely labelled as a complete failure in some quarters.
The summer transfer window has also given fans plenty of ammunition, with Klopp refusing to spend big for the sake of it, and showing trust in many of the players he inherited last year.
Supporters have expressed their frustrations day in, day out at Klopp's transfer dealings, with the lack of a new left-back and defensive midfielder the most anger-inducing areas of concern.
While Manchester United and Manchester City have splashed huge amounts of cash on world-class talent, the Liverpool boss has brought in players suited to his system, rather than suited to selling million of shirts.
Everyone is entitled to their opinion on the matter – I have certainly expressed my concerns at times, before I am accused of lauding every single thing Klopp does – but he is a man we should have huge amounts of faith in.
He is doing it his way, and rather than whinge about what 'might' happen, we should assess how he performed in the transfer market at the end of the season, and beyond.
Who's to say that James Milner won't excel at left-back? Of course, the 'experts' on social media will tell you he's not right for the role, but who works with him every day?
Who's to say Alberto Moreno won't suddenly come good? Why can't Georginio Wijnaldum become an influential powerhouse in the middle of the park? Why can't Emre Can develop into a genuine defensive midfielder? Why won't Daniel Sturridge feature more than he is currently is?
Perhaps we have all just got used to a negative stance over the years, given Liverpool's general mediocrity, but these predictions of doom are not helping anyone.
Klopp is far from immune to criticism, and if the Reds do miss out on a top-four finish and fail to win a trophy, he will have plenty to answer for. Given the funds that were seemingly available to him, and the fact that this is now very much his team, he no longer has the leeway he once did.
The faith we should have him in should be through the roof, though, even if certain aspects of last season and the summer may have raised niggling doubts.
He has signed exactly who he wants, and while players such as Sadio Mane and Wijnaldum may not be as world-renowned and high-profile as some of those linked with Liverpool during the summer, he wanted them for a reason.
Klopp has never been one to sign players on reputation, with a team spirit and general harmony within the squad the key to his brilliance. He doesn't care for prima donnas and potential bad eggs, which is precisely why Mamadou Sakho's behavioural issues have rubbed him up the wrong way.
There is a lingering feeling that the 2013/14 season, in which Liverpool so nearly won the Premier League title, raised expectations too high among Reds supporters.
That joyous but ultimately freakish campaign remains the only time they have finished in the Champions League places in the last seven seasons, so what divine right do they have of walking into the top-four any time soon?
I have absolutely no doubt that Klopp will take Liverpool back into Europe's premier club competition in 2016/17, however, and also back to the summit of English football one day.
In an increasingly impatient world, patience is required.
Klopp didn't make Dortmund great the second he took charge in 2008. They finished 6th and 5th in his first two seasons, before clinching back-to-back Bundesliga titles in 2010/11 and 2011/12. BVB were patient with him, and it paid dividends.
The likes of Mats Hummels, Marco Reus, Mario Gotze and Robert Lewandowski weren't immediate world-class talents when Klopp first gave them their chance, but he helped turn them into the superstars they are today.
Joel Matip could become a monster of a centre-back for all we know. Mane could be world-class. Divock Origi has the Lewandowski-esque attributes to be unplayable one day. Sadly, too much is about the present day, and not the future.
At Liverpool currently, it seems as though anything other than winning every single game is an absolute disaster.
A few 'fans' actually wrote off the Reds' season after Saturday's 1-1 draw at Tottenham. Season over after a point at Spurs. In August. It's laughable.
Four points from three matches is adequate, even if the Burnley defeat was appalling, but you would think Liverpool had lost all three games the way a section of the fanbase is reacting.
We have the manager in charge that almost everybody wanted this time last year, and now that we have him, it still isn't enough for some.
Maybe a lot of supporters didn't fully read into how Klopp goes about his business before he took over, but either way, it is time to get behind him.
As the weeks, months and years pass, he will ensure that greatness returns to Liverpool Football Club, and that many were foolish to doubt him in his early days.