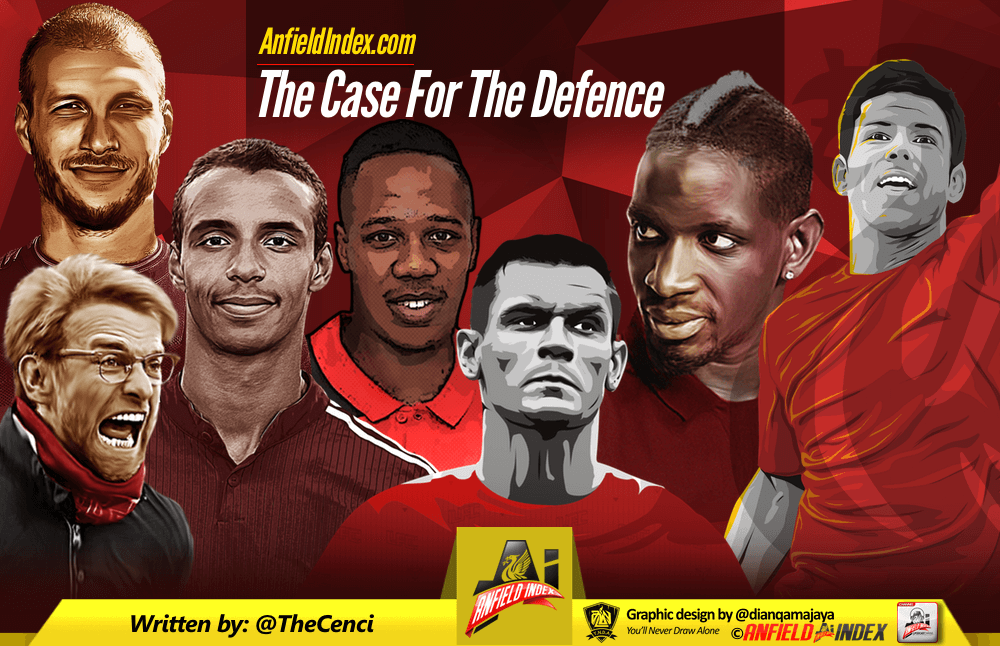 The Case For The Defence

Who remembers the City game last season?
Not the League Cup final or the 4-1 massacre at the Etihad but the home game. If you're struggling it was the game where Jon Flanagan kicked Raheem Sterling in the air in the opening minutes and his captain hissed 'Yes' at him while exhibiting a Tim Henman fist pump. No? James Milner scored against his old club and celebrated because he'd just scored a goal for Liverpool and thought it worthier than showing 'respect' to his old employers. Other goals came from Lallana and Firmino and City were sent home with a pretty decent walloping. They were not going to win the league playing like that.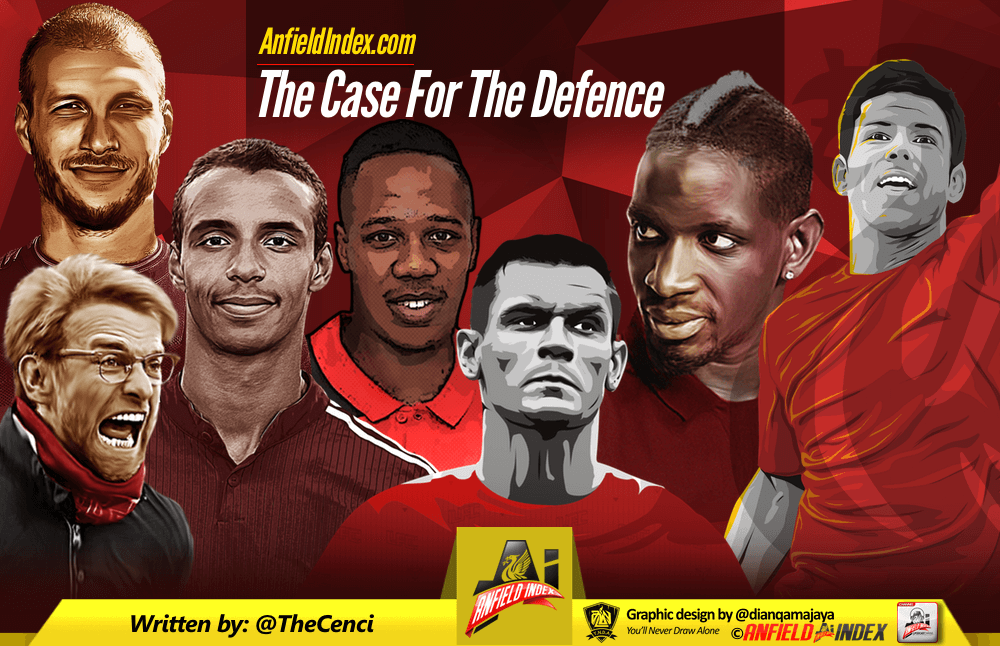 This game took place on 2nd March. The previous league game took place on Sunday 14th February – just over two weeks earlier – when we gazumped an ailing Villa side 6-0. Such was the level of superiority that even Emre and Kolo scored in that one.
There were three games in between those fixtures. Augsburg home and away and the small matter of the League Cup final against City. That 3-0 win was a Pyrrhic victory as they'd waltzed off with the trophy a few days earlier following some pretty dire Liverpool penalties.
So, why am I pulling your sleeve about that game? What's so significant about a bog standard home win against a knackered team?
Well, it's this.
That was the last time Liverpool kept two consecutive league cleans sheets.
Go back and look. Clean sheets are rare enough but consecutive ones are as rare as hen's teeth.
I know what you're thinking though. We pretty much passed on the league once the Europa kicked in so let's look a bit further back.
The previous blank double was Christmas when we beat Leicester City and Sunderland in 1-0 wins. Other than that it was the opening two games of the season when Brendan Rodgers had to be as pragmatic as possible given that his job was on the line.
2014-15? March again. Burnley at home and the Swansea away game where the 3-4-3 formation was about to be found out. Since that game Liverpool have played 51 league games and kept consecutive clean sheets just three times.
More stats? Under Klopp we maintained 8 shut outs in his 33 League games. One clean sheet every four league games.
Of course, you can make statistics tell as many different stories as you like. We may have conceded late goals in easier games where we were already streets ahead and the team had taken the foot off the gas. Sometimes there are goals with which you can do little about. Take Callum Chambers' goal against us in the season opener. A perfect delivery, he gets an inch or so on his man and it goes into the one area where Mignolet – pretty much placed perfectly – can't reach. A concatenation of circumstance where we can do little.
See also Burnley's first goal a few weeks back. Yes, we give the ball away cheaply but the lad has got an awful lot to do to score. Thing is, he did. Sometimes you just have to applaud the strike but sometimes you have to wonder what your goalkeeper is doing.
What's more concerning is Theo Walcott's goal, which will forever be characterised by Alberto Moreno sprinting out of his box when the ball found Adam Lallana, only to see him leg it back to Walcott in an attempt to close him. You can look at that two ways? Do you criticise the player for not tracking back and being reckless or applaud him for his positive thinking and joining an attack before Coquelin took the ball off Lallana? If Klopp's motif is winning the ball deep and supporting the front men as soon as possible, Moreno would have simply been following instructions.
So is Clyne – Burnley aside – caught out much? Hardly ever. Is it just the case that he has more game intelligence and maybe a bit more caution than the Spaniard? Very probably. So does Jurgen Klopp have the players to perform his tactics and – God help us – philosophy?
The transfer policy has been interesting. Pace has been added, defensive cover in Wijnaldum (though he is yet to set the world alight and that may not be his best position) but the Sakho and Moreno issues have left us short at the back. If Joe Gomez is the answer (5 competitive first team performances) and he's fit enough then we might be alright but even that is a concern. Lucas can't really play months on end at centre-back, can he? Can he?
I can't help but feel that Sakho has been a bit clever in all this. Jurgen clearly has issues – it's been a long time since we sent a player home from a tour – and is holding his ground on the Frenchman not starting but if Mamadou wants to show the club that his attitude has changed and he's prepared to knuckle down, then what better place to do it than under the noses of the first team staff. Plus with our injury record (as well as poor defensive record) there's a chance that he may be back sooner than any loan deal may have lasted.
If the gegenpress or whatever its current term is (it was just 'put him under' in my day) the new approach can still leave holes at the back and Liverpool cannot afford to gamble. We tried that in 2013-14 and it nearly worked but the truth is that a strong defence AND a defensive policy wins points.
Klopp is keen to point out that it's not about the press as such but about the timing of it but as yet we are only able to see how one half of the pitch benefits from it. Time and again we are overrun due to scurrying centre-backs operating with little midfield cover. See Andre Gray's goal. We're happy to commit forward and when it works (Arsenal) it's a glorious thing. When it doesn't we get turned over by a weaker team who know how to sit and wait for gaps.
We all love attacking football. We all love goals and chances and we all love a high octane charge at the opposition, but without the ability to defend we're always going to finish below the levels of our own talent and that will always be a concern.
It's no coincidence that Mourinho signed Pogba to strengthen United's defence. Conversely, Chelsea have just signed David Luis so maybe recklessness is the new theme.
The thing is, clean sheets equals points and Liverpool need a lot of them. It might be worth considering.