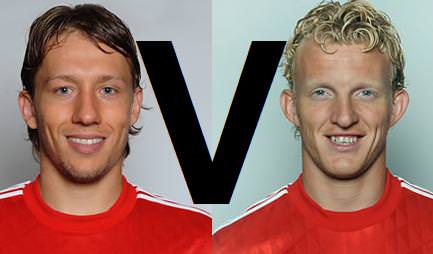 Player Of The Season 2010/11: Lucas V Kuyt

As the end of the season approaches some of our thoughts turn to who is Liverpool's player of the season. I've voted on various polls on blogs, websites and forums. Two players always seem to be on top Lucas and Kuyt.
Lucas now a favourite with the fans has to be one of the most improved players in the Barclay's Premiership. Its has been said so often this season that many of Liverpool's supporters had written the Brazilian off and this year has he proved us all wrong. He has increased his strength and worked hard to improve is technique to become one of the first names on the team sheet. Lucas conducts himself like a gentleman and never reacted negatively to any of the calls for him to get the chop. It is Lucas approach to the game and his professionalism in accordance to the Liverpool way and his improved performances that rightly makes him the leading contender for our player of the season.
The 'Flying Dutchman' has always been a fans favorite since he first arrived to Merseyside it wasn't long for the Kop chants of 'Put your hands up of Dirk Kuyt… he loves this city!'. Kuyt won over the Anfield faithful because of his tireless performances and great team work. A lot of the fans like me where expecting more goals from Kuyt based on his impressive goal scoring record in Holland but it wasn't to be. Benitez deployed Kuyt mostly as a winger and not a centre forward. However this has all changed with the departure of Torres and Dirk has stepped up to become our top scorer of the season. The Dutchman is in the best goal scoring form of his time at Anfield and who could forget that hat trick against our most bitterest of rivals Man Utd. With this fresh in the minds of many supporters it easy to see why Kuyt is getting a fair share of votes for player of the season despite a disappointing spell under Hodgson. Though bear in mind the entire team did.
So I'm going to try to answer 'who is the player of the season Lucas or Kuyt?' using statistics. At this stage I have no idea only that Lucas has the higher pass completion percentage and Kuyt has scored more goals.
So I'll start off with an easy one goals scored  Kuyt has scored 12 in the league this season. Lucas hasn't netted. So Kuyt wins this one hands down. Lucas 0-1 Kuyt.
Next shots on target. Kuyt has had 45 attempts on goal, 28 on target and 17 off target. This gives Kuyt a percentage of shots on target of 57.77%. Lucus has had 10 attempts on goal 3 on target and 7 off giving him 30% shots on target. Another round to Kuyt, Lucas 0-2 Kuyt.
Now for successful passes. The team average is 75%. Lucas excels here with a pass completion percentage of 83% well above the teams average. However Kuyt falls a bit short on 71%. Although Kuyt would attempt a high percentage of his passes in the final third this round if feel this round goes to Lucas. Lucas 1-2 Kuyt.
Assists. Kuyt as you would expect comes on top here with 7 assists compared to Lucas one. Lucas 1-3 Kuyt.
Kuyt has been involved in 48 goal scoring chances for Liverpool more than twice the amount of Lucas who has been involved in 21 chances. So now its Lucas 1-4 Kuyt.
It has been a bit one sided so far but now were in Lucas territory, tackling. Lucas has made a staggering 157 tackles of them 100 have been won giving him a tackles won rate of 63.69%. On the other hand Kuyt has made 69 tackles 40 were successful this give Kuyt a rate of 57.97%. Lucas wins his one, Lucas 2-4 Kuyt.
Duels or 50/50s. This seems to be one of Lucas specialities he's been involved in 462 possession duels coming on top 266 times so a rate of 57.58 compared to Kuyt's 39.76%.
Nearly there. Now for headers won Lucas has won 52.52% of his aerial duals. Kuyt has won 38.05%. Its now all square at 4-4. With the next stat being the decider.
The last one and the decider is interceptions. Kuyt has made 51 interceptions and Lucas has made 59. So Lucas wins. Lucas beats Kuyt 5-4 in the 'stat off' and surely deserves to be Liverpools player of the season. Well not quite.
I don't know how many times I've heard the phrase 'stats don't lie'. Stats are facts but are up to interpitation its why they're great and you can use stats to justify anyone's view. In this case I went for a straight head to head but Lucas Kuyt and Lucas perform two different roles for the team, attacking and deffensive. So really the question should be 'who has performed their role better Lucas or Kuyt?' and I'll attempt to answer that one next time.
RedWill83
Further reading;
Dirk Kuyt, my player of the season by Joe Barnes
Lucas – He doesn't pass it forward does he? by Barneystuta
Who do they pass to the most? (Kuyt, Suarez & Lucas) by the AI team