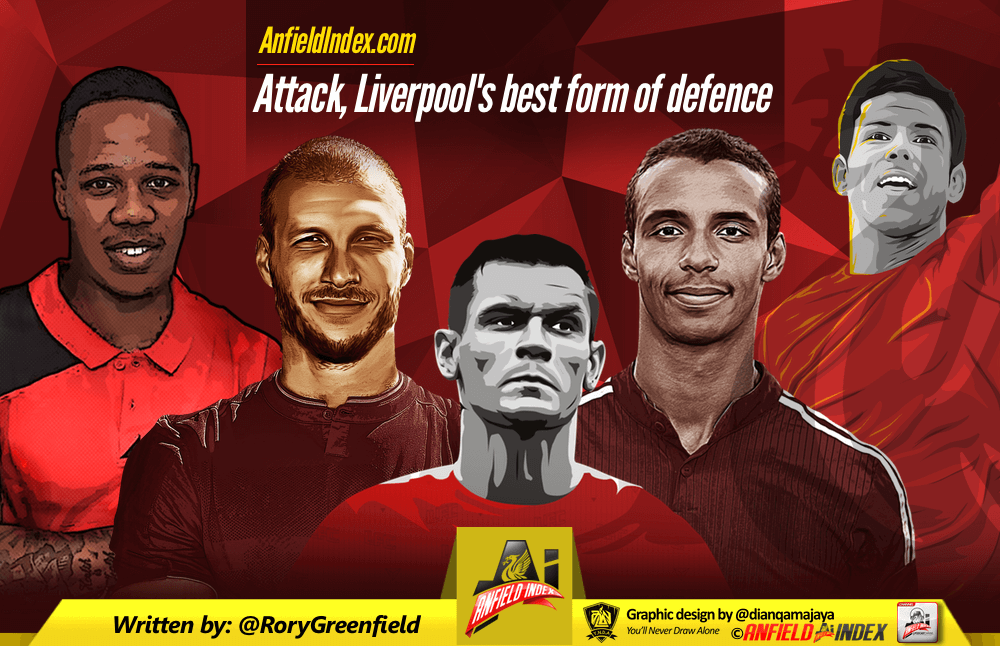 Attack, Liverpool's best form of defence
Three games into the new Premier League campaign, Liverpool have conceded six goals, whilst scoring just five. Experiments with players operating in new positions, no clear preferred back five, or defined midfield protection, result understandably in questions being asked, even at this early stage. The mistakes and uncertainty will fail to alleviate fans fears, that the defensive frailties of seasons past, have once more not been addressed this summer.
When Jürgen Klopp arrived, the area I thought he'd address first and foremost; when given the opportunity, was the defence. Build a strong foundation by reducing defensive errors, establishing confidence and cohesion, in a settled backline. That's not to say this won't happen over the course of this season and into the future, but you'd have to wonder whether it's as big a priority for the manager, as addressing the attacking options this summer.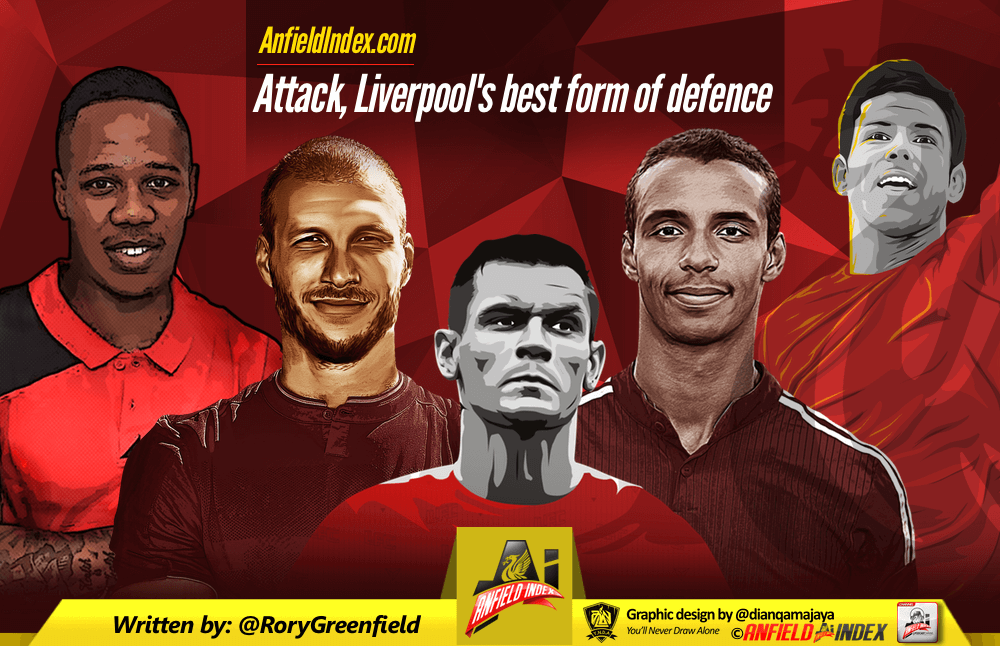 The new defensive recruits are Lloris Karius, Joel Matip and Ragnar Klavan who've replaced Adam Bogdan, Kolo Toure and Martin Skrtel in the squad. On paper yes they're upgrades and in the case of the two former could be significant, if they establish themselves as core players in a defensive spine. The outlay combined stands at a little over £10 million and whilst you could argue it was shrewd business, you have to wonder what further investment could have been made to bolster the defence.
Karius, is not just an upgrade on the hapless Hungarian, but over the previous number one, Simon Mignolet. A confident commanding shot stopper, who is comfortable with the ball at his feet, offers quick and decisive distribution and can operate behind a defence with a high line. I'm relaxed over Karius first season at the club, because I'm expecting it will take time for him to settle and truly excel. Long term however, I have great faith in a goalkeeper who infinitely meets the requirements of a Klopp team, over Mignolet who in truth has struggled to adapt to a high line that requires quick distribution, since day one.
Joel Matip could prove a breath of fresh air in defence. A commanding presence in the air, standing 6ft 4in, he certainly will help with the teams struggles against set pieces. At 24, I feel Jürgen Klopp believes that Matip could prove a player he can forge a defence around. He's a calm presence, extremely comfortable bringing the ball it out from the back, quick, strong and agile enough to make a telling difference. The key is the partner, who after the situation with Mamadou Sakho (which I can't add more to, than has been said before) will likely be Dejan Lovren. Whilst clear improvements have been made, it remains to be seen if Dejan can become a reliable performer and remove the rash, careless and costly errors from his game. He'll need to, if the pair are to build a successful partnership this season.
An alternative option is Ragnar Klavan, the veteran Estonian. It's likely he'll be used as an experienced back up. In that role he will prove a far more stable and reliable squad player, than Martin Skrtel. A consummate professional, Klavan has proven for club and country, that he'll always give 100%. He isn't a risk taker, nor the type to excel when building from the back, but he's consistent in his defensive approach, reads the game well and is decisive in the air. He should prove a good signing, one at the age of 30, which allows for Joe Gomez to be moulded and developed naturally, over the next couple of years, without the desperate need to throw him in the deep end, after such a difficult injury stricken 12 months.
The glaring hole remains at left back, where it is expected James Milner will become number one choice, relegating the much maligned Alberto Moreno to a peripheral role in the squad. I'll be honest, the thought of James Milner a midfielder his whole career, converting to full back at the age of 31 is a bitter pill to swallow. I see the argument for players capable of playing in multiple positions, but in defence I prefer specialists with experience of playing in that position. Milner at left back offers great energy, intelligence to link in the final third and a strong delivery. However, most significantly he has positional indiscipline (as displayed in central midfield), a lack of recovery pace and as a poor tackler, thus I'm not expecting this experiment to be a resounding success.
Whilst Alberto Moreno has clear defensive deficiencies, he had displayed strong, disciplined performances at times last season, but his head dropped after the Europa League Final. He looks devoid of any confidence, but will he get another chance at redemption? Nathaniel Clyne is likely to deputise on the opposite flank, without any clear competition for his place. He was extremely consistent and reliable in defence last season, without adding much to the attack. He appears to have found an end product to his surging runs this season though, with two assists in four games. However, it must be noted, his normal reliability in defence hasn't always been there, but I'm hoping that's only temporary.
A clear issue amongst the defence is trust. Without a natural leader, moments of simple defending, can become absolute chaos. I do hope a consistent centre back pairing, with a vocal goalkeeper, will pay dividends over time. The crux though is simply does Karius, Milner, Lovren, Matip and Clyne appear a strong enough unit, to stop leaking so many goals. I have doubts and with the transfer window closed, I feel Jürgen is taking unnecessary risks with the defence, expecting improvements from players, that can only raise their level so high.
With no lack of fear and trepidation on my part when an opposition attack this newly formed defence, I find comfort and solace in the quality of this Liverpool attack. Not since the 2013/14 campaign have Liverpool had, such an array of attacking impetus and goal scorers. The debate around Roberto Firmino, Divock Origi and Daniel Sturridge starting upfront, will no doubt rage on. The positive for me is that each bring a different attacking threat and when fit and firing, the much needed goals to mask defensive deficiencies.
Aided by the electric Sadio Manè, the creative genius of Philippe Coutinho, the movement of Wijnaldum and the dogged determination of Adam Lallana. Chances will be created through a combination of the press, the precise pass, the movement, of raw pace and power. There is enough ability in this attack, to become a real force in the league, the key is creating the right team balance and that's why Emre Can at just 22, has become a lynchpin in this Liverpool side.
Liverpool supporters have been craving a defensive midfielder since the enigmatic Javier Mascherano left the club, a playmaker too when Xabi Alonso departed. It would be a little cruel to say that Emre will have to do both of these roles, single handily this season. Given there is hope Jordan Henderson, finds the form displayed in 13/14, or Marco Grujic settles and established himself quickly. But in recent form, the midfield success is dependant on the fitness and form of the German midfielder.
If Emre shows the form displayed in the last quarter of last season, particularly in the Europa League vs United, Dortmund and Villarreal, then I see success this season. High praise yes, but he offers the defence stability and the attackers, the freedom to do just that. He's shown vast improvements in fitness and finesse under Klopp, taking responsibility and displaying true signs of courage under pressure. His leadership and stature in the team is growing, it's crucial however that he puts these niggles and injuries behind him, if we're to find some solidity in this spine.
I'd love nothing more than the defence to become a well drilled, well oiled machine. To defy any negative fears I have, that I've shared and make the foundation rock solid, to build a successful premier league campaign. The key to this, is of course Klopp. His work with the players on the training ground, aided by his technical team is fundamental to the defence becoming a unanimous success. I personally just can't see that happening, at least soon, so can see the reliance on goals become more and more important, throughout the season. Whether it will make the club competitive for top 4 or beyond, time will only tell. One things for certain, if Jürgen can make this defence solid, he'll surely have converted any remaining doubters into believers.