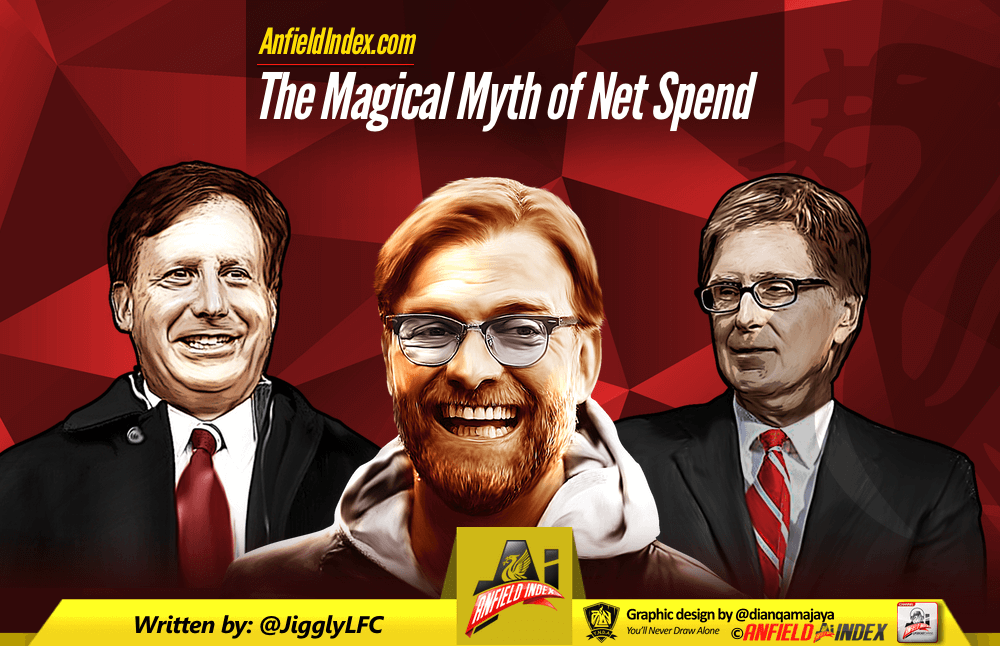 Liverpool and The Magical Myth of Net Spend
As the transfer window has finally wound down to a close and settled into an international break, Liverpool supporters have begun to reflect upon our window. As you could probably expect, the general fan opinion on our window is "mixed" at best. Certain supporters like myself are happy with where we have improved and bolstered the squad, but there are others who wish we hadn't stopped where we did in the market. Namely people were hoping for a first team left back and a quality defensive midfielder. Deadline day came and went, and while we improved on the wing, midfield, center back, and goalkeeper, there was no sign of a Jonas Hector, Paredes, Dahoud, or Ricardo Rodriguez to fill those two gaps in the squad. As it so often does when things don't go our way in the transfer market, and helped on by talks of a rich Chinese takeover, attention and scrutiny was turned towards FSG and of course our net spend. For a while now, we've gauged FSG's commitment to winning by net spend, but our concept of net spend and it's affect on the club/squad is very different from the club's, and for our fans the importance of it is often overstated.
First off, window by window, the club will look at net spend very differently than we do. Fans will use, understandably, a simple addition and subtraction of all the incomings minus the outgoings. It's simple, makes sense, and gives you one number that tells you how much money was invested into transfers from outside of our received transfer fees. But for clubs that's not actually how it's looked at. Let's take brand new marquee signing Sadio Mane as an example. There's been a small amount of debate surrounding his fee due to add ons and such, but the most widely reported fee for Sadio Mane was 34 million pounds. So as fans we look at that as a flat 34 million. The club doesn't. When Mane signed his contract until 2021, they looked at the fact that we have him for 5 years, and they look at the transfer as an investment of 34 million over those 5 years. And because of this, they divide the fee by the number of years, and look instead at the transfer fee per year. So for Mane the club would be viewing the cost as 7 million a year over 5 years, rather than 35 million as one big splash, regardless of whether or not we are actually paying for the player in installments. Because of this perspective, net spend gets awfully confusing awfully quickly, and as fans it becomes pretty tough to keep up with net spend. Personally I haven't. But the reason I haven't is more out of disinterest rather than complexity. Net spend doesn't matter to me. There's a variety of factors that could affect why the club does or doesn't spend more or less on transfer fees, and as supporters that are on the outside looking in, we just don't know them. I could go on about potential factors that affect our net spend, but I really have no interest in speculating needlessly. All I'll say about it is that Klopp has said that HE doesn't want the players, and HE doesn't want to spend the money. Some people may call me naive for believing him when we were lied to so much by Rodgers, but the point is that there's no evidence otherwise, so I'm going to stick to believing Klopp since I've been given no reason to think otherwise.
I will however explain why I don't care about net spend, and it's simple. It's because money doesn't win games, players, tactics, and managers do. Obviously money buys those things, and I'm not ignorant enough to think that money has no effect in the modern game, but believe it or not, there's actually no correlation between transfer spending, or net spend, and league position. There is actually a strong correlation between wage spending and league position, but not transfer fees. And honestly it should be kind of obvious to us that transfer spending is irrelevant, but sometimes we find it hard to think critically about. In this instance let's look at Paul Pogba, 89 million pound signing for United. That's an insanely expensive transfer, and there's been endless discussion over people think he's worth it. But regardless of whether United had paid 89 million, 20 million, or 300 million, they're getting the exact same player. The change in transfer fee doesn't magically make Pogba a better or worse player. Transfer fees are merely the "market price" for a player. It's just economics. It's about how valuable to the selling club the player is. United has spent an insane amount this summer. Now imagine Pogba flops, Ibra's goals dry up, and Mkhitaryan doesn't come good. Nobody in the world will be saying "United didn't spend enough". That's because the players and the manager determine the results. Obviously money gets you the best players and the best managers, but players are human, and flawed. Some players flop, some players overacheive. Spend and net spend don't account for that. Imagine we'd signed N'golo Kante last summer. We would've moaned about "moneyball" and owners who don't want to spend at the time, when he ended up being one of the players of the season last year. We look at that now as one of the best pieces of business over the last few years. In the transfer market, you just don't know. Especially fans. I'm not going to feel badly about our transfer window just because some couch manager is pointing out that we have a negative net spend. I want to see the players and how they impact the team. If come January or 6 months from now there are still gaping holes in the squad, then sure I'm all for spending money. But I'm not all for panicking over meaningless numbers.

I know some of us aren't, but I am incredibly excited for this season. I think we've done great business, and we're yet to even see the best available squad with Karius still out. I think top 4 is 100% a possibility, and nothing you can say is going to change my mind about that. I'm here to enjoy football, and I'm going to do that as best I can. I strongly encourage anyone who's feeling negative about our window to try and forget about the numbers and focus on the positive effects our players have already had on the team just a couple months in. Just sit back and enjoy the season, because literally anything can happen with Klopp at the helm.