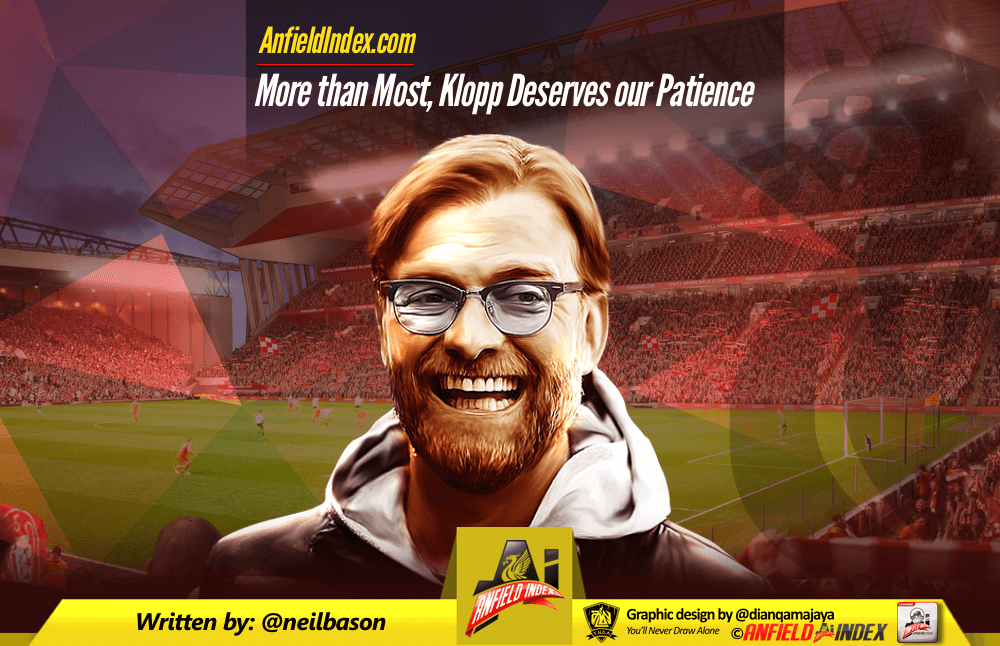 More than Most, Klopp Deserves our Patience

Since the second coming… I mean, arrival of our charismatic manager, Jurgen Klopp, there has been the undeniable whiff of an air of optimism around us fans in regards to what riches the future might now hold for our club.
Looking back I'm pretty sure Klopp arrived for that first press conference descended from the heavens in a Pegasus drawn chariot, announced by trumpeting angels. Although it could have been via car, I get a bit hazy at my age.
There was a lot of talk during his inaugural (half and a bit) season about how the touchline pacing, passion filled, tactical genius, would be working with Brendan Rodgers' team and how that could only prove an initial hindrance in the Klopp masterplan. In all honesty it proved a handy tool every time things went tits up on the pitch. We could use the fact to deflect the usual pain of a crippling defeat, whilst equally celebrating three points as though Rodgers had assembled some sort of rag tag mid table Sunday league side, rather than the heavily capped international stars that graced the Anfield turf and came a whisker from number nineteen in that one unforgettable season.
Klopp did produce some great results using Rodgers' lads, some even seemed momentarily revitalised under him. Moreno looked the part for a good three weeks before resorting to type. But equally, the same players under Klopp produced some less than sparkling displays that echoed the Liverpool lost that Rodgers had stumbled into, and just a few months prior, cost the Northern Irishman his job.
Klopp however could attack his new role largely without question and free from criticism.
"What is Klopp expected to do with the shite that Rodgers left us with!?" pretty much summed up the mood.
But now we embark on a new season where Klopp has had time to further mould his side into the precision machine he craves, and has also enjoyed a busy transfer window in which to add players who fit his specific bill whilst unloading those who he deemed unsuitable for the new Liverpool.
All in all the word on the street is that now we get to judge our German gaffer.
And to be frank, I find it all a bit concerning.
From a worryingly high number of fans I've witnessed something of a clamour to cast judgement right away on the first taste of the squad that Klopp built. It's something that I can understand if it came from fans of rival clubs, but not from our own. The haste to judge is frightening. We live in a time of knee jerk reaction upon knee jerk reaction and there are no winners or anything positive that comes from it. We beat Arsenal, we're going to win the league and Klopp is a god. Lose to Burnley and along with the three points goes all hope, Klopp has done this wrong, Klopp has done that wrong, we're f****** doomed!
Obviously the instant reaction of social media plays a big part. An open forum to vent all that built up anger and frustration. Add that to a slight lack of realism in some quarters in regards to where we actually are as a club, where we actually stand in terms of our quality on the pitch and our history over the past twenty five years and it makes for a pretty toxic cocktail for any manager taking on the Liverpool job.
Liverpool under Klopp, or any other manager previous, is a job that holds incredible expectations that are borderline ridiculous for any manager who is to be judged on the first steps into the role. To win the title, to retake the throne as the greatest club side in English football, to conquer Europe as we did all those decades ago. And, in this modern age of a demand for instant results, to do all this now.
"It's your squad now Jurgen, get it done." Pretty much sums up the mood.
But as we all know only too well, the game has changed and the power has shifted. The expectations being placed upon the current Liverpool side, and the judgement that will undoubtedly be cast upon the manager, are unnecessary and unneeded at such an early stage of what amounts to a huge task ahead.
I like Klopp's approach to the game, I like his approach to the media, and I love his approach to being Liverpool manager. If we finish the season outside the top four then I'll take it on the chin and back a manager I believe in time will prove his worth in silverware and enter the pages of Anfield folklore as one of the greats. But I won't yet judge him. I'll watch the games avidly, passionately. I'll feel the pain of defeat as acutely as ever, I'll bathe in the euphoria of victory and relish every opportunity to do so. But, having watched us fall short for the past two decades under managers whose approach to the game varied from great to godawful, I'm not about to begin questioning a manager who actually has me excited to watch my team again. There will come a time to judge the performance of our manager, but right now I suggest buckling in for what will almost certainly be one hell of a ride and begin to love football again for it is under Klopp, fast, aggressive and at times absolutely bloody beautiful.