The rest of the Premier League took note as fantastic Liverpool gave a five star performance at Craven Cottage last night. Liverpool scored five goals with another hat-trick from Maxi Rodriguez, Luis Suarez scoring in his second consecutive and Dirk Kuyt matching a 10 year record by scoring in five consecutive games. Liverpool were breaking records of their own as Maxi Rodriguez scored the fastest goal in the Premier League season, netting the opener on 32 seconds.
So where was the game actually won? There were a few performances that we'd like to touch on.
Centre Midfield & Right Back
The central midfielders were key. They always wanted the ball, they totally dominated the play and Lucas delivered his best creative performance in a Liverpool shirt (our personal opinion). The first goal was all started by a brilliant ball by Lucas to send Luis Suarez through down the left flank. Lucas then sent Glen Johnson through for the second too. So despite not matching his usual high standard passing wise Lucas had his best game in a Liverpool shirt creativity and skill wise. There were lots of flicks and kick ups done by Lucas and he really looked a Brazilian last night.

Jay Spearing was superb also. He asked for the ball at every single occasion and when he got the ball he kept it simple and even got  few shots away. He's really growing in confidence and is totally deserving of his place in the side right now. He probably doesn't want the season to end as he's been exceptional since Gerrard got injured. The chalkboards for the central midfielders are below:
From the Guardian chalkboards above you can see that Spearing kept things simple and got plenty of touches. A great performance with 50 successful passes (82% successful). His best away performance this season. Lucas's chalkboard shows that he's trying much more longer passes now. This has affected his pass completion which was the worst of the season, at 67%, however he looked a much better player and some of his long passes were excellent (not all in the air, mostly ground passes).
From our stats centre we noticed that Lucas had an immense game in terms of 50-50 possession duels. He attempted 25, winning 17 of them. Jay Spearing won 8 out of 11. An impressive showing from the central midfield pair.
We've also included Glen Johnson's chalkboard, above, on the right. A very disciplined performance from Glen. He stuck to the wing and got his first two assists of the season (about time). Johnson's pass success was 72% with 49 passes being successful. Glen Johnson also won 8 out of 13 possession duels. Another great performance and area where we won the game. Shifting Flanagan to left back whilst playing Glen on the right yesterday was a master stroke by Kenny.
Maxi Form
Maxi Rodriguez's form has been awesome of late. He's netter 7 goals in three games and has really hit a purple patch. His pass completion was excellent again yesterday with 86% of his passes completed (31/36). His movement into positions was key with him being in the right place at the right time for each goal. The chalkboards of his shots is included below:
Suarez Effect
The Suarez effect is, in our eyes, one of the main reasons for our awesome form at the moment. If you look at the heat map below you'll see that Luis is taking up positions down the channels and really working those areas well. How many times did he take Hangeland wide and then skin him? Suarez registered 7 successful dribbles last night and really punished the Fulham defenders especially Hangeland.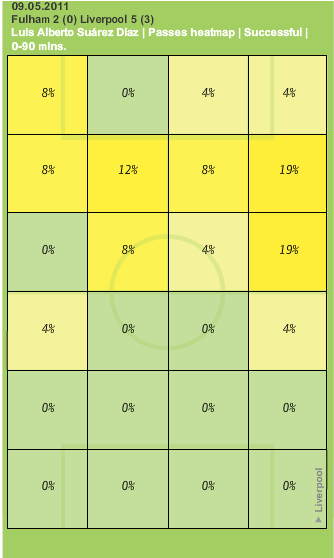 Analysing the heat map a little further you can see that Suarez only spends 4% of match time inside the box. Most of his work is done outside the box and down the channels. This heat map illustrates why we believe that Luis Suarez is not an out and out striker. He's a typical number seven that will create and score goals but his best work will come from the areas shown above. Suarez's statistics were very impressive with 67 touches, four chances created, 5 shots with 40% on target, 1 goal and 7 successful dribbles, mostly skinning Hangeland.
Pressure
Liverpool applied plenty of pressure on the Fulham defenders and midfielders. Lucas, Kuyt, Suarez, Spearing, Maxi and Meireles all working very hard to for the team's cause. A notable difference from the Hodgson era.
Pass and Move
The main area where "the game was won" yesterday was because of Liverpool's return to pass and move. Luis Suarez doing a lot of the movement for one-two's and plenty of one touch passing carved Fulham open at times. The best example we found yesterday was for the second Maxi Rodriguez goal. A total of eleven passes and 13 touches before Maxi netted the second goal.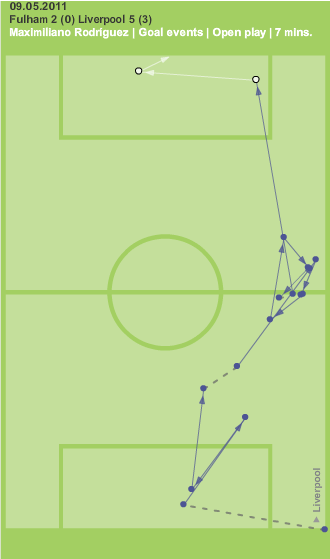 As you can see the move started at the back from a goal kick and was reminiscent of Raul Meireles's goal against Chelsea. We did something very similar passing the ball around and then broke down the right with a midfielder breaking in the centre to put the ball into the net. That time it was Meireles and this time it was Maxi Rodriguez. The goals from midfield have been key to Kenny's team winning so many games, now up to 10 games won since he was in charge.
Pass and Move can be attributed solely to Kenny Dalglish coming back to the club. He's been a breath of fresh air, Liverpool are playing some of the best football seen in the league at the moment (this is not an over exaggeration) and Luis Suarez and his team mates have all performed excellently.
We believe the game was won in the areas described above with pass and move being the key ingredient in securing the win.
Note-able mentions:
John Flanagan at left back – excellent.
Dirk & Meireles – effective.
Shelvey – impressive.