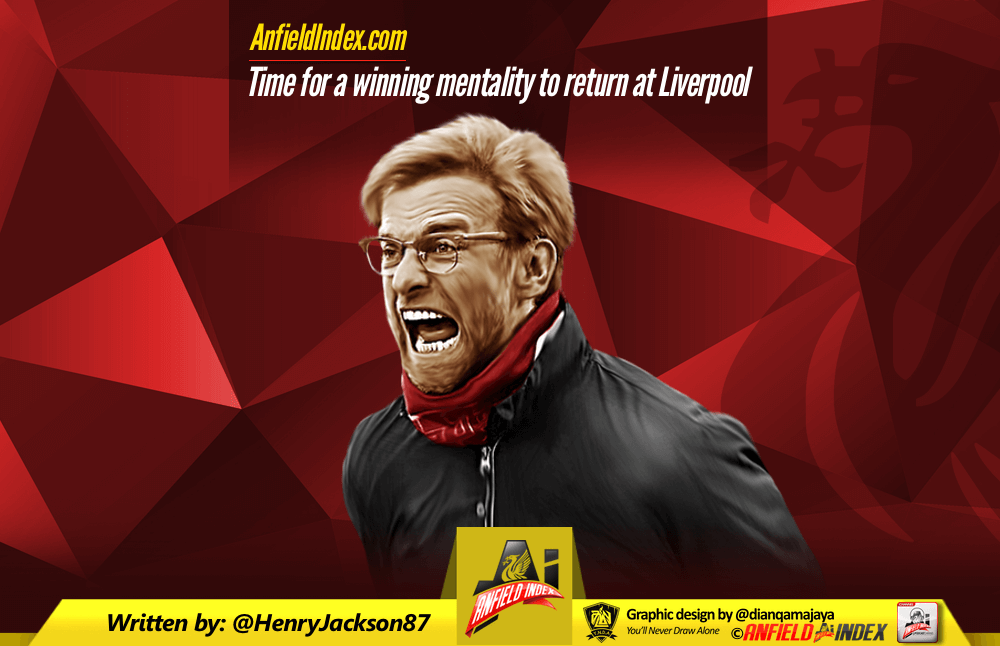 Time for a winning mentality to return at Liverpool
When you look at Liverpool's most successful teams of the 21st century, they all had one thing in common: a winning mentality.
They often never knew when they were beaten, and they would overcome moments of adversity thanks to sheer quality and an outstanding team spirit.
Both Gerard Houllier's treble-winning side and Rafa Benitez's team of the late 2000s had it in abundance, even if a Premier League title did elude both.

They became genuine forces in Europe, winning the UEFA Cup and Champions League, respectively, and only an unstoppable Manchester United side and the odd great Arsenal and Chelsea team prevented them from bossing the English game as well.
The Luis Suarez-inspired class of 2013/14 may not have had the experience and know-how of Houllier and Benitez's outfits, but they still knew how to win. At one stage, they went on an unstoppable 11-game winning run that helped them come agonisingly close to title glory.
Only a much-publicised cruel twist of fate prevented them from lifting the trophy in the end, much as rival fans will love to claim Liverpool 'bottled' it.
All three of these Reds sides had the ability to get the bit between their teeth, finding consistency, momentum and a ruthless edge when they most needed it.
In general, however, a lack of a winning mentality has dogged Liverpool throughout the Premier League era, and under Jurgen Klopp, it is still very much a work in progress.
We are three games in to the 2016/17 season, and consistency has already plagued the Reds to a frustrating extent.
Against Arsenal, there was an utterly sensational 20-minute spell that blew the Gunners away and effectively earned Liverpool all three points in what was an unforgettable 4-3 triumph.
There was, however, also a very poor first-half display – Philippe Coutinho's free-kick on the stroke of half-time was majestic but undeserved – and a worryingly slack second-half period in which Klopp's men almost allowed Arsenal to complete the most improbable of comebacks.
The 2-0 defeat at Burnley was depressingly bad from start to finish, mainly and the fact that not many saw it coming made it even worse. It perfectly outlined Liverpool's ability to flatter to deceive.
The 1-1 draw away to Spurs was highly impressive, on the whole, but the Reds still left north London without a win.
By the time Danny Rose equalised in rather easy fashion, Liverpool should have been out of sight. That ruthless edge evaded them once more.
With the international break now done and dusted, the Premier League takes over our lives again this weekend, with the visit of Leicester City to a new-look Anfield one of the standout games.
This is a huge 90 minutes for Klopp and his side.
While the final outcome on Saturday won't exactly be season-defining, a win would bring such a buzz back to the fanbase, and be further evidence to suggest the Burnley debacle was just a one-off.
Seven points from four games, having played the current champions, Arsenal and Spurs would represent a good return, regardless of the abomination we witnessed at Turf Moor.
The belief that three points against Leicester would bring would be huge, even if the Foxes aren't the most daunting of champions in living memory.
Anfield needs to become a fortress again – Liverpool won just eight times in 19 games there last season – and a place where the opposition are genuinely fearful they may be blown away and humiliated.
With no European football this season, the Reds are in the enviable position of often having week-long breaks between matches, and this can act as a huge advantage as the season progresses.
A winning mentality needs to be found early in the campaign, though, in order to stay in touch with those at the top and stop the wave of negativity that has bizarrely taken hold of a certain section of the fanbase.
Defeat to Leicester would be an almighty blow, with a draw not much better, and the players must make sure they deliver a big performance on their long-awaited return to Anfield.
Those 2000/01, 2008/09 and 2013/14 sides may not always have been perfect, but their ability to get on a roll and have total belief in winning football matches made them special.
Klopp achieved exactly this during a number of years at Borussia Dortmund, and the hope is that Saturday's visit of the champions can be the start of a new dawn, in terms of having a winning edge.
If they can turn over Leicester, and pick up a positive result at Chelsea a week on Friday, an easier run of fixtures awaits.
Here's to the start of the new ruthless Reds (I hope).