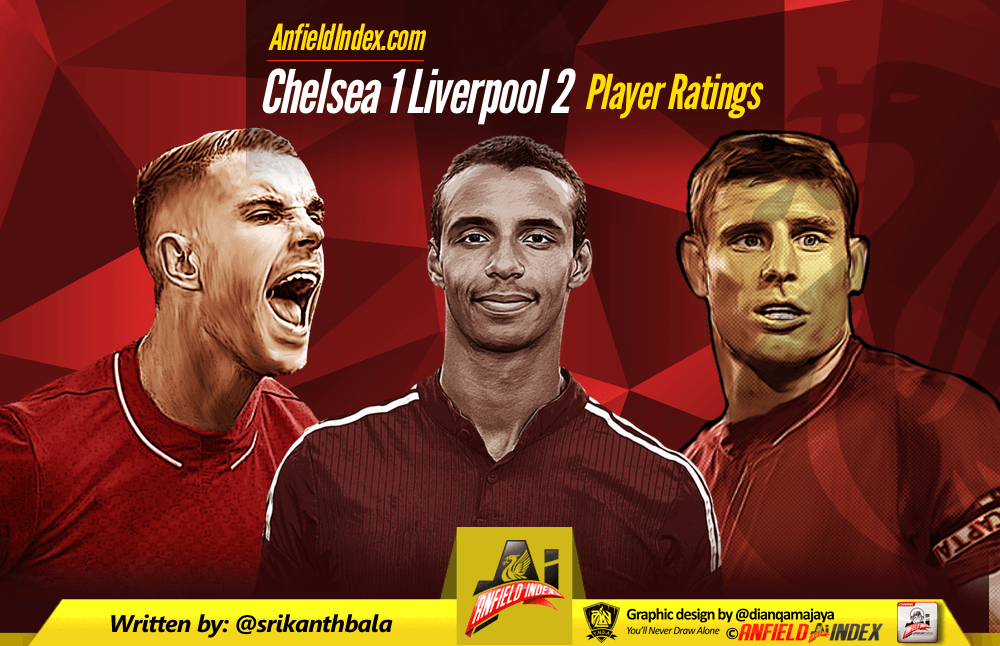 Chelsea 1 Liverpool 2: Player Ratings

A game of two halves if there ever was one, as the Tricky Reds displayed multiple facets of their game as Liverpool ground out another away win at Chelsea, the second on the bounce.
Lets see how the Reds fared.
Simon Mignolet (6) – Wretched first half from Mignolet as he was his usual dithering self on the ball. He was flapping at the crosses and almost repeated the ignominy of carrying the ball beyond the touchline himself. It is quite apparent his passing makes the whole defensive line nervous. Otherwise did not have much to do in the first-half. He was much improved in the second half as he decisively stepped out to punch away couple of potential opportunities. Still will not be long till Karius comes in as first choice.

Nathaniel Clyne (7.5) – Solid first half from Clyne as he nullified the threat of Hazard to a large extent by staying tight to the Belgian. This tactic led to him making a couple of fouls but Liverpool were not punished. He also linked up well with Mane who cut infield very often. Improved decision-making on the final ball would be welcome though. A different second-half from Clyne as he faced a barrage of attacks from Hazard but was more than equal to the task. A couple of surges in attack showed that he was always alert to potential opportunities.

Joel Matip (8) – Imperious presence at the heart of the defence as he made it quite clear that the zone of rarefied air above his head solely belonged to him as he won almost every aerial duel. He was a calm presence on and off the ball, snuffing out any threat from Costa. Made a deep run into the penalty box which showed his ability to understand space in attack too. Pretty much the same in the second-half, a calming presence where Liverpool were starting to get ragged in the second half. A slight criticism for the goal as he he could have stayed on his feet and shepherded Matic towards the touchline.

Dejan Lovren (7.5) – Lovren was back in the team after a forced absence, and he started on the wrong note as he charged at the attacker and was beaten comprehensively. He got Liverpool off the mark with a finish which would do a striker proud. He settled into the game thereafter making a couple of well-timed challenges and resorted to a safety first approach on the ball, choosing to clear it whenever possible. Would do well to keep up this level of performance.

James Milner (7.5) – It is apparent that Milner is starting to settle down in the left-back spot as his performances have started to improve game-on-game. He was resilient in the first-half ensuring that Willian was not influential. His first touch and passing ensured Liverpool got out of tight spaces when necessary. He continued working tirelessly but it was clear to see he was getting dragged infield allowing Willian to exploit the gaps, yet he was always running back to close down spaces.

Jordan Henderson (8) – An excellent first-half capped off by the Goal of the Season thus far. He got into the right spaces more often than not and made some excellent interceptions and tackles. His passing tempo was bang on and crisp and kept the momentum up. What about that finish! Words would not do it justice. Had a far more disciplined job to do in the second-half and was adequate in fulfilling it. Maybe could have tracked Matic's run in the box as he was literally in no man's land for the Chelsea goal.

Georginio Wijnaldum (7.5) – The Dutch midfielder was quietly effective again,as he was influential with his ability to unlock spaces and break down defensive organization lines with his intelligent off-the-ball movements. He started off the game with his early opportunity which signified that Liverpool meant business. Linked up excellently with all the attacking players. He began to tire in the second-half which allowed Chelsea to dominate the midfield. Was taken off late in the second-half.

Adam Lallana (7) – A solid first-half from Lallana as he became the primary presser from the front in the absence of Firmino. Was good on the ball with his ability to retain possession in tight spots along the touchline. He kept pressing and running till the end, nothing more typified this than his tackle right at the end followed by his rallying call to close down the game. Hopefully his good spell continues.

Sadio Mane (6.5) – His most ineffective game in his Liverpool career yet as Mane played far more infield today (might have been a tactical move), which afforded Clyne acres of space on the right. Since space was at a premium in the middle, there were no opportunities for Mane to display his searing space and hence was not very influential in creating chances.

Philippe Coutinho (6.5) – Coutinho was back in the starting line-up at the expense of his fellow Brazilian. He dropped deep into the midfield to start off attacking moves with his intelligent touches. He showed his capability to unlock a packed midfield with his surety of possession more than once. Was taken off in the second-half as Liverpool shored up the midfield by bringing on Lucas.

Daniel Sturridge (6) – Sturridge floated in and out of the game, but was pretty much ineffective today. Was not involved in any of the major attacking moves and was taken off early in the second-half (presumably with an injury).

Substitutes
Divock Origi (6) – Origi came on early in the second-half to replace Sturridge, presumably to offer a more physical presence off the ball. Was presented with a glorious chance only to be denied by Courtois.
Lucas Leiva (N/A) – UNLUCCCKKKYYY to be yellow carded as Hazard behaved as though he was an iron rod and Lucas' leg was a magnet.
Kevin Stewart (N/A)