When you look back, and remember Liverpool Football Club played an outrageous amount of pre-season games (9) all crammed up in a month or so, the first thought that would come to mind would be Klopp grinding his players to make them the fittest in the Premier League.
But the insane number of games won't serve the sole purpose of having incredibly fit players. It would also speed up the settling in process of new arrivals and their integration within the squad. I've written about chemistry a few times on Anfield Index, and both times I've cited Barcelona as possibly the greatest example of how incredibly synchronised their players are, regardless of the talent each player posses.  I wrote an in-depth article about chemistry here. 
Our Premier League season opener against Arsenal wasn't something anyone would have predicted. Liverpool had a poor record against the Gunners in London, but once again, the team surprised us by putting four past Wenger's men, something that hasn't happened at the Emirates in seven years.

Four goals. Two come from individual brilliance by Sadio Mane's blistering run, beating two defenders, and the other from Philippe Coutinho's magical forty-yard free kick.  But the other two, had been built by chemistry between our players.
Liverpool's second goal never looked like a fortunate turn of events. It felt like those nine pre-season games helped the players understand the movements of one another.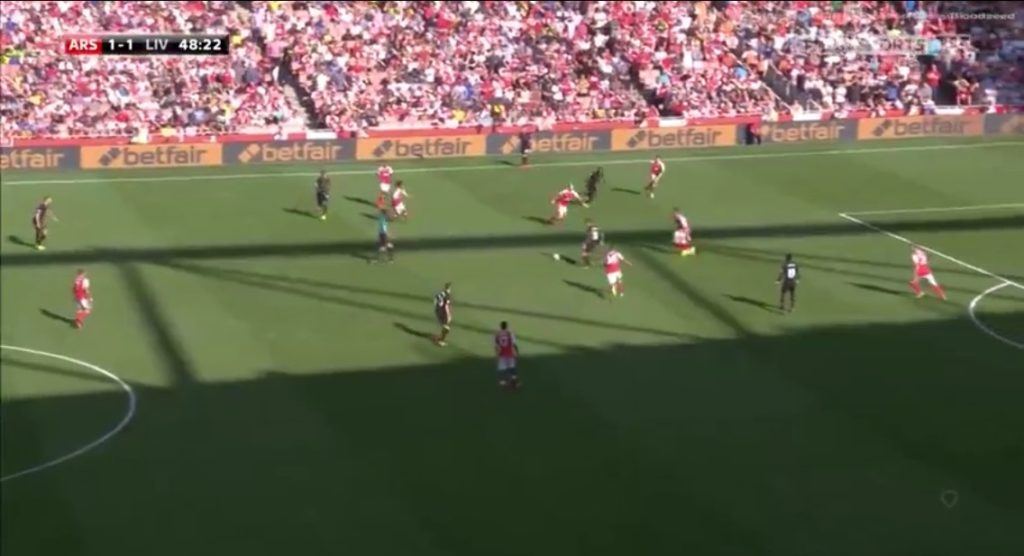 As you can see above, this was the moment Coutinho flicked Roberto Fimino's pass towards Wijnaldum's run for him to latch onto. It was a great initiation from Bobby to start the build up especially with five or six opposition players around them.
Upon receiving the pass, Gini then stopped to a complete halt. You could imagine the reason for him stopping, apart from being chased down by two or three Arsenal players, it looked as if he was expecting there would be someone running into the box at the far post – and he was right.  Looks up, and sees two black shirts, one was Sadio Mane, who was already in position, and the other was Adam Lallana, who was making that run into the box.  Adam then chests the ball down and takes a shot. With a bit of luck, the ball passed between Cech's legs and stumbles onto the net as you can see below.
Liverpool's third, however, was the complete opposite. A patient build up made from at least twenty passes around the final third. With our attack playing narrowly, our full-backs provided the much-needed width to stretch the Londoners defence. In result, Nathaniel Clyne receives the ball from Wijnaldum and then runs forward and produces a fine cross for our little magician to tap in his second of the game.
And those are only the build up to our goals. You could witness the progress of understanding between each other in all of our chances. Coutinho's backpass to a late-running Gini in the first half, all the way to what could've been another goal apart from the timing of Philippe's unfortunate cramp.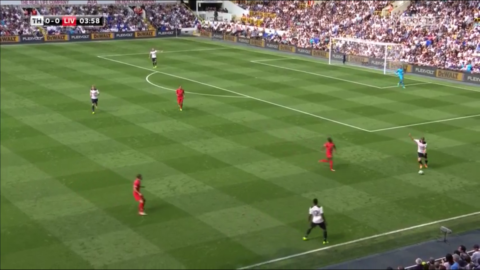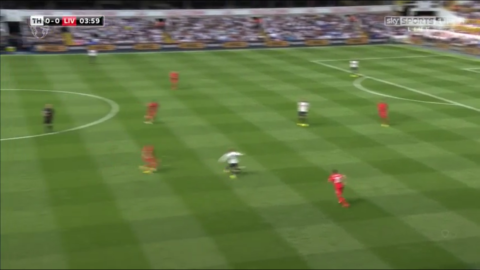 Against Spurs, you can see how our link-up play was once again, excellent. We weren't too clinical with our chances but you can definitely see the philosophy Jurgen Klopp is instilling in the team.  Above you can see two screenshots of the high press Liverpool do on Tottenham's back line.  A strong pass from an under pressure Danny Rose had proved too difficult for Eriksen to handle, subsequently giving Lallana and our Skipper time to pressure him and give the ball away.
The image below will show you that Mane regaining possession (same sequence as the above images) and poking the ball through for Firmino, who tries to wiggle past two Spurs players, but instead threads it to his fellow Brazilian Coutinho who unfortunately couldn't finish his chance.  this was in the first five minutes of the game as you can see on the clock.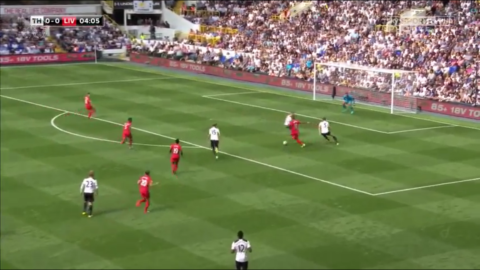 Our most recent match was another impressive showing by the Reds.  A scintillating performance resulted in a 4-1 victory against defending Premier League champions Leicester City, who we welcomed into our new look home we call Anfield.  The first goal against Ranieri's side was a thing of beauty.  Two passes ended in a goal after Daniel Sturridge's willingness to track back and intercept what seemed to be a swift counter-attack from our opponents.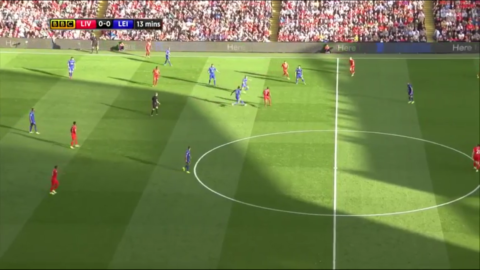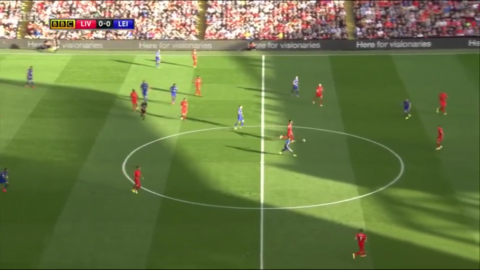 Lucas then passes to James Milner (not in image), who threads a ball through to Firmino for him to slot into the net after once again, an intelligent diagonal run from Daniel Sturridge to give him space.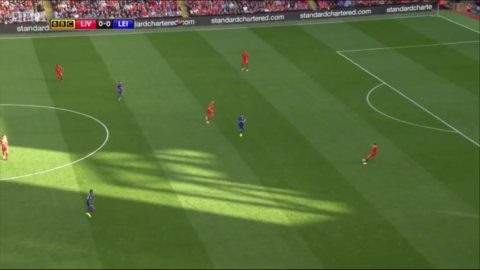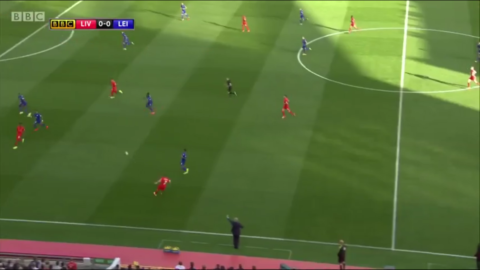 Our second goal was of the same class as well.  Lucas Leiva broke through Leicester's midfield with one pass to Roberto Firmino who was dropping deep.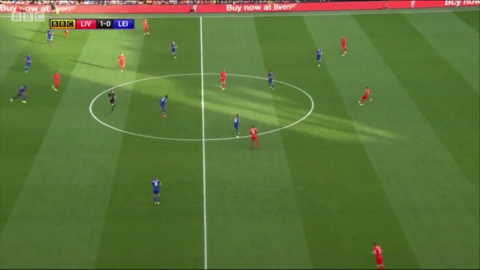 Bobby then tapped it to skipper Jordan Henderson, who immediately lobs it through for a running Daniel Sturridge, joined by Sadio Mane (far right).  A neat back flick from Studge inside the 18-yard box results in Sadio Mane lobbing the keeper to double the lead.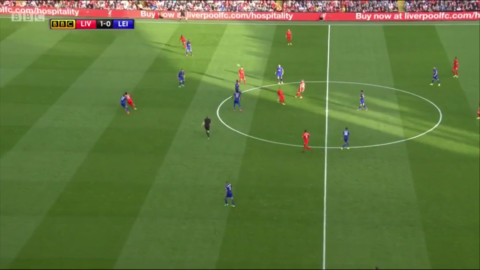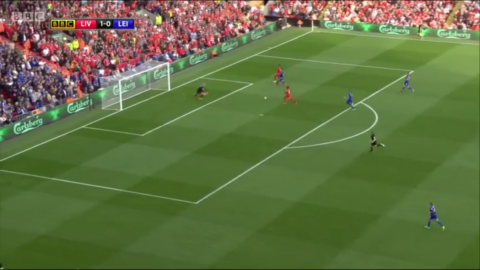 Burnley aside, in which despite the disappointing performance, we are now witnessing the effect the pre-season has had on chemistry, intensity and fitness on our players even prior to our competitive matches.  when we played Luis Suarez and his Barcelona team, Firmino played in Adam Lallana who then passed to Mane just outside the six-yard box for him to fire home.
The extensive pre-season schedule was more than a demand to have the fittest players. Klopp's done majority of his business in the summer window long before the pre-season had begun, so it was a sign that the chemistry side of things was equally as important to fitness for Klopp in order to fuse between his players in his heavy metal, full-throttle system we're expected to witness.
There's obviously plenty of areas to improve on, consistency and breaking down a "park the bus" type of opponent are of top priorities, but the image of what Klopp and his team are teaching his players are getting clearer after every match.