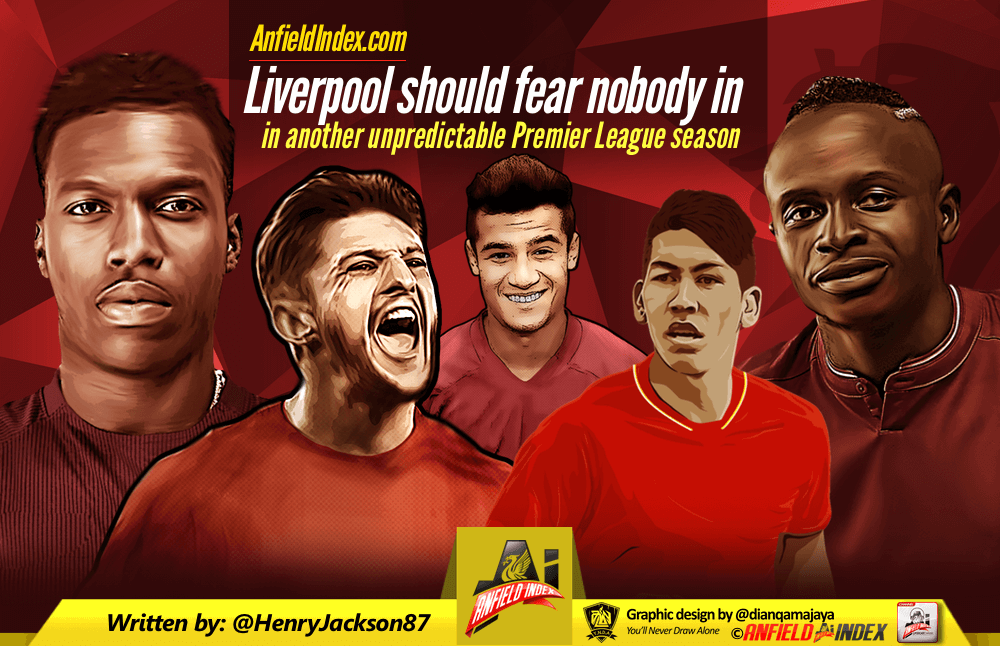 Liverpool should fear nobody in another unpredictable Premier League season

Liverpool can win the 2016/17 Premier League title. I can hear the groans from here.
"Bet you weren't saying that after the Burnley game", "Typical Liverpool writer full of hyperbole, putting a positive spin on everything".
I've heard it all before, don't you worry.
But if you can't get excited about the way in which the Reds have blown Arsenal away for a period on their own patch, outplayed Spurs away and thrashed champions Leicester City, part of me wonders why you're into this football malarky.
Watching Jurgen Klopp's men romp to a 4-1 on Saturday was breathtaking, with the pace and ferocity of Liverpool's attacking play as relentless as anything we have witnessed in the Premier League in recent years.
We all know that consistency is the key, with an ability to implode against lesser teams the Reds' biggest issue, but Klopp will be all too aware of this, and will ensure it is extinguished.
He is not Brendan Rodgers, who had blind faith in his own ability and squad, and therefore never eradicated the shortcomings that affected his Liverpool side. Klopp identifies deficiencies.
This Liverpool team is not perfect, but neither are their rivals at the top of the table. Every single one of them is flawed. While history suggests Liverpool won't win the league, there isn't an Alex Ferguson Manchester United side lurking. Or Arsenal's "Invincibles". Or Jose Mourinho's first Chelsea side.
Sure, we all watched Manchester City put on a Pep Guardiola masterclass in Saturday's Manchester derby, but they don't look wholly convincing. They are undisputed favourites for the title now, but they are yet to be properly tested.
Every one of their full-backs is in their 30s, John Stones will make mistakes and they have a goalkeeper who will take time to adjust to life in England. They're not exactly Guardiola's awe-inspiring Barcelona side of the late 2000s and early 2010, are they?
United may have won their first three league games, prior to their rather embarrassing display against their local rivals, but they have flattered to deceive in the first month of the season.
Bournemouth didn't even show up against them on the opening weekend, they were solid but unspectacular against Southampton and needed a last-minute goal to defeat newly-promoted Hull City.
Jose Mourinho is a born winner, and United will be very much in the mix, but Saturday showed that are not the force that many claimed they were in the lead-up to the derby. Any team with Marouane Fellaini, a fading Wayne Rooney, Antonio Valencia at right-back and Daley Blind at centre-back is going to come unstuck at times.
Chelsea dropped two points at Swansea City on Sunday afternoon, and while they look a predictably efficient machine under Antonio Conte, they look like a team that needs some fresh blood all over the pitch.
The creaking legs of John Terry and Branislav Ivanovic are yet to be properly tested this season, while the disaster area that is David Luiz has returned to entertain rival supporters.
The Blues have the 'no European commitments' luxury that Liverpool have, which will benefit them greatly, but there is genuinely no reason why they should finish above the Reds. They look better at the back, without question, but they also look nowhere near as incisive and devastating in the attacking third as Klopp's men.
Arsenal are once again being Arsenal. We all know how their season will pan out – plenty of promise, possibly top at Christmas, a February meltdown and a likely top-four finish – but in terms of being the daunting outfit they once were under Arsene Wenger, they are far from it.
There is a total lack of leaders within their team, and they have a manager so stubborn that nothing will drastically change at the Emirates until he leaves.
Tottenham have made a very solid start to the campaign, and much like last season, they have gone largely under the radar in comparison to their more illustrious rivals.
Mauricio Pochettino is a fantastic young manager, and he has built an exciting young side, but their squad depth looks slightly lacking, and the form and general weariness of Harry Kane is a worry.
There are some very good players plying their trade at White Hart Lane, but is there the firepower that Liverpool possess? And how will the Champions League affect them?
All of the above teams are undoubtedly very good on their day, but as I keep stressing, have any really looked as impressive as Liverpool this season?
City fans can understandably make a case for their brilliant performance at Old Trafford, but otherwise, I struggle to think of one occasion when the Reds' five rivals have really caught the eye against quality opposition.
On the flip side, some may argue that none of them have played as badly as the Reds did at Burnley, but four strong performances (including the 5-0 mauling of Burton in the League Cup) surely outweighs one bad display.
A top-four finish has to be the aim for Liverpool in 2016/17, but after Leicester's remarkable achievements last time around, a title challenge should not be dismissed.
Despite having a far tougher start than any of the top clubs, the Reds are only four points adrift of leaders City, three behind Chelsea, two behind United, one behind Spurs and level with Arsenal. That should be seen as a real result.
Picking up seven points against Arsenal, Spurs and Leicester is a very good return, and while the aforementioned Burnley game will always be painful to think about, this should be seen as a good start by Klopp and his side.
As their rivals get their Champions League and Europa League campaigns underway this week, Liverpool's players can sit back and prepare themselves for Friday's showdown with Chelsea at Stamford Bridge (yet another tough game).
This luxury of week-long breaks between matches will be hugely beneficial all season long – 2013/14 showed that, as did Leicester last season – and the fitness of this squad means they have the ability to steamroller teams as the months progress.
Perhaps this all sounds like a "typical Liverpool fan" going over the top and risking ridicule come May, but I genuinely see no reason why an assault on the title should be laughed at.
Sure, the Reds may be dispatched of at Chelsea on Friday and the doom and gloom will (needlessly) return, but not a single rival has shown that they will be a guaranteed force week in, week out.
Klopp is a manager who is inspired by momentum, and Liverpool as a club are similar. If they can get on a run, their all-action style of play has the potential to become unstoppable.
It goes without saying that results against the weaker sides must improve drastically, but rather than assume that we will see repeats of Burnley time and time again, let's believe in Klopp and think positively.
The Reds could finish sixth for all I know – the projected finish in the eyes of many at the beginning of the season – but from what I've seen so far, there's no reason why a title challenge cannot be mounted.
Who's with me?