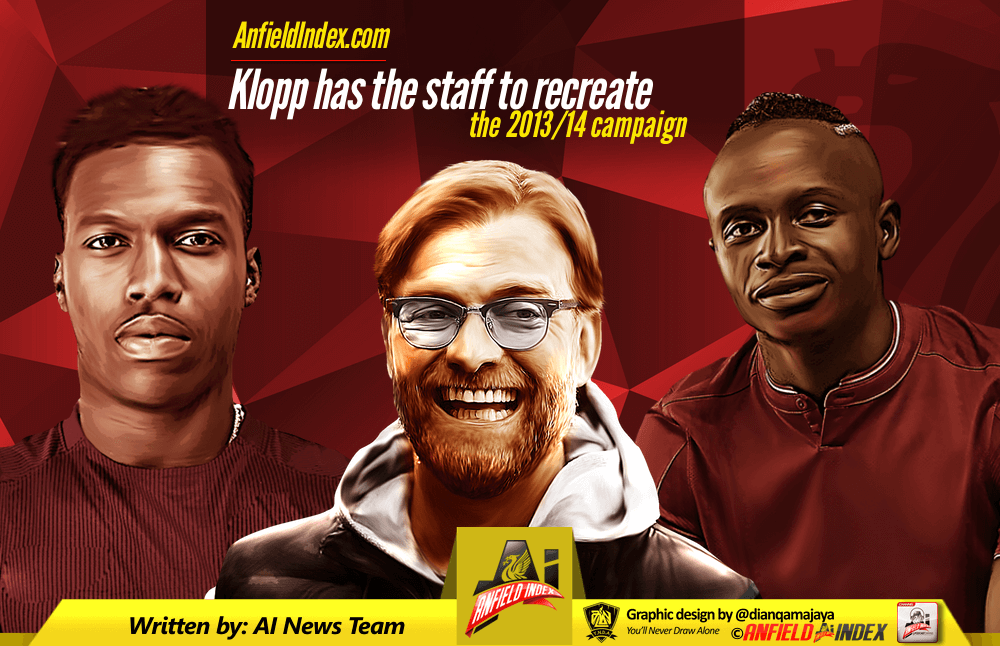 Klopp has the staff to recreate the 2013/14 campaign
The Liverpool campaign of three seasons ago in which the Reds came so agonisingly close to lifting their first Premier League title still weighs heavily on the hearts of supporters. That season, Luis Suarez and Daniel Sturridge formed an irresistible allegiance and between them scored 52 goals. For the first time since then, the Reds have the players that could potentially hit those dizzying heights once again.
Jürgen Klopp has begun the new season experimenting with a few different line-ups without having yet settled on the perfect arrangement. One thing is for certain, while Sturridge is fit, the German needs to make use of the most prolific striker available to him, and play to his strengths.
Disregarding the brilliance of Luis Suarez, there is no doubt that Klopp has a higher quality selection of players available to him than Brendan Rodgers had when Liverpool finished second. The key is finding the best way to play them together before the league leaders pull too far ahead. Sturridge benefited from having a fiercely aggressive striker next to him in Suarez, and Saido Mane possesses some similar features that could mean he has the ability to fill the Uruguayan's boots.

Mane is technically an attacking midfielder, but he has also shown that he can be a devastating finisher; the strike against Arsenal in the opening game being a prime example. After putting away 11 goals at Southampton in each of the two seasons prior to joining Liverpool, the 24-year-old is more than capable of occupying the support role behind Sturridge. At the time of writing, the England striker is at odds of 33/1 to claim the Golden Boot and BritishBookmakers.co.uk are a good place to start and list bookmakers with the best betting offers, for those who would want to bet on which striker will score the most goals.
Here is one potential formation that could work, and get the best out of the left-footed sharpshooter.
The inclusion of Alberto Moreno may startle some, but he and Nathaniel Clyne are included for their attacking raids down the flanks to provide width, while the advanced midfielders buzz around more centrally.
This unorthodox 4-3-3 set-up sees Sturridge as the focal point of the attack with Mane just behind him occupying the same position that Suarez used to sit in. With the plethora of attack-minded midfielders at his disposal, Klopp could use Philippe Coutinho, Roberto Firmino, Adam Lallana, or Georginio Wijnaldum behind Mane, but going by early season form Lallana is the best option at the moment. The England forward has put in some excellent displays and looks to be flourishing under the new manager. After three matches he has had eight attempts from inside the box, which is more than any other midfielder, proving that he loves to charge forward into dangerous areas.