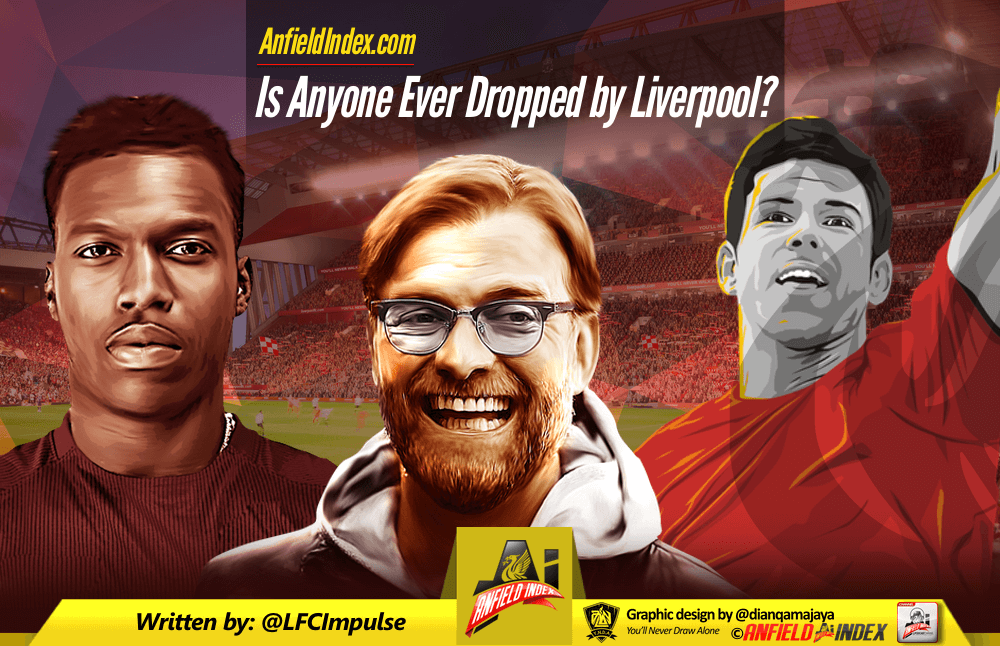 Is Anyone Ever Dropped by Liverpool?
Football, like any sport, is filled with drama both on and off the pitch. However nothing quite takes the cake for journalists and for mainstream media like drama involving players and their respective managers. "Wielding the axe" – one of many analogies used to describe the non-selection of players by a manager; but nothing sounds as imposing as the term "dropped", perhaps because of how short and sweet it is. The concept of dropping players is often picked up by mainstream media because it can almost always be correlated with said player being offloaded in coming transfer windows as well as a new player coming in as his replacement.
As with any other club, Liverpool has already been caught in this wave simply because of the inevitable switching of players in and around the starting XI. As such, plenty of storylines revolving around players being dropped have already been invented and crafted, and no-one has bought into these storylines more than Liverpool fans themselves.
With May of 2017 still in the distant horizon, can we say for certain that any player has been dropped indefinitely by Jürgen Klopp?
Recent Origins of "Dropped" Players
For one player, his origin story began like how it ended last season in the finals of the "second-tier" European cup competition, the Europa League. Liverpool FC was a goal up heading into half-time, and it seemed like a spot in the trophy cabinet will need to be cleared up in the next 45 minutes. However, failing to capitalise on a 1-0 lead against multi-year Europa League winners Sevilla meant that dreams were shattered when the final whistle blew.
To many, the main culprit for a horrible second-half defensive display was touted to be Alberto Moreno, the former Seville player who actually won the competition in 2014, mainly because he was perceived to be at fault for the equaliser. Although only partially to blame in the eyes of the impartial, Alberto Moreno was deemed guilty of allowing a comeback win.
In a similar fashion but in the very first game of the 2016/17 Premier League season, many blamed Alberto Moreno almost exclusively for Theo Walcott's opening goal in the Emirates despite Jürgen Klopp specifically defending the man who came under extreme scrutiny and criticism. He was then "dropped" for James Milner and Moreno's head was on the chopping block, with the perceived notion that a new left-back will be brought in immediately after.
Yet, it never happened. The summer window of 2016 closed with no further signings beyond Georginio Wijnaldum. James Milner, who in many ways, contributed to the lack of offensive threat that was required to break Burnley's defensive stance, continued at left-back in the following game against Tottenham Hotspurs and Leicester City where he did relatively well for the most part. However, there are still no signs that point to Alberto Moreno having a foot out the door.
In a similar vein, it's been widely claimed that Daniel Sturridge is the latest to be dropped. Against Burnley, the Englishman was played way from where he wants to be and where he's most lethal, being given a role as a right-sided wing-forward rather than right down the middle to spearhead the attacking line. Following the game, Sturridge mentioned his dislike of the role despite his willingness (depending on how it is interpreted) to play where the team needs him to play.
Daniel Sturridge's "outburst" (again – interpretation) led to his non-inclusion in the starting line-up against Tottenham a week later; low and behold – Sturridge got dropped. This notion was further fuelled when his supposed understudy, Divock Origi, was brought on as a substitute in that game much earlier than Sturridge himself. The camera pans towards Sturridge as commentators, pundits, fans and foes alike reacted to it how they pleased. Two weeks of heated debates transpired on the events revolving around the striker's attitude in respect to the club's needs, thanks to the international break, with Liverpool fans eagerly awaiting the next game to confirm or deny personal bias and perspectives put out by mainstream media.
A Role for All
While there have been calls for new signings to phase out these players – Alberto Moreno in particular – who have been dropped, there hasn't been any concrete, undisputable signs that they have no part to play in the team for the season to come.
Daniel Sturridge returned as the #9 against Leicester City and was absolutely instrumental in the demolition of the defending champions of England. Nothing seemed out of place with him whatsoever, and as for Alberto Moreno? He has still been handed substitute appearances by Jürgen Klopp against Burnley and Leicester, albeit in a slightly different role and for a reduced amount of time.
Perhaps the Spanish left-back has been "dropped" to take him out of the limelight after heavy scrutiny by the media and fans; maybe this was a move Jürgen Klopp thought would be best at least for now? "Why start a player who might only be judged on his last game regardless of what he does today" may be one of the questions in Klopp's train of thoughts?
The man himself has come out to deny any allegations of drama behind the scenes in regards to the two players. He's publicly defended Alberto Moreno and has stated that Daniel Sturridge will have a regular role to play throughout the season. One will take his words how they wish, but without informed knowledge on what is happening, no one can or should assume distress.
Undoubtedly, every player retained has a role to play. Many fans were anticipating Lucas Leiva to be sold in the summer of 2016, yet he remains at the club and is seen to be cover for midfield and defensive positions. With similar benefit of doubt, perhaps we can make cases for Alberto Moreno and Daniel Sturridge as well – the former being able to utilise his pace to defend teams who are quick on the break while the latter is better-suited to certain types of opposing defensive structures.
No player should be judged so rapidly and so certainly when the sample size remains at such a minute number in the grand scheme of things. At least for now and for the coming weeks or months, no one has been dropped like a hot potato from the team. To say that any player has been indefinitely, unquestionably dropped from the squad entirely would be jumping the gun a little bit. When the situation calls for it, certain players will have predetermined roles to play under Jürgen Klopp.
Ultimately, we've only barely played the first month's worth of football in the 2016/17 campaign; we're literally 4 games in with 34 yet to be played in the league alone. While Liverpool are firing on (almost) all cylinders on the pitch, let's slow it down a notch off it.