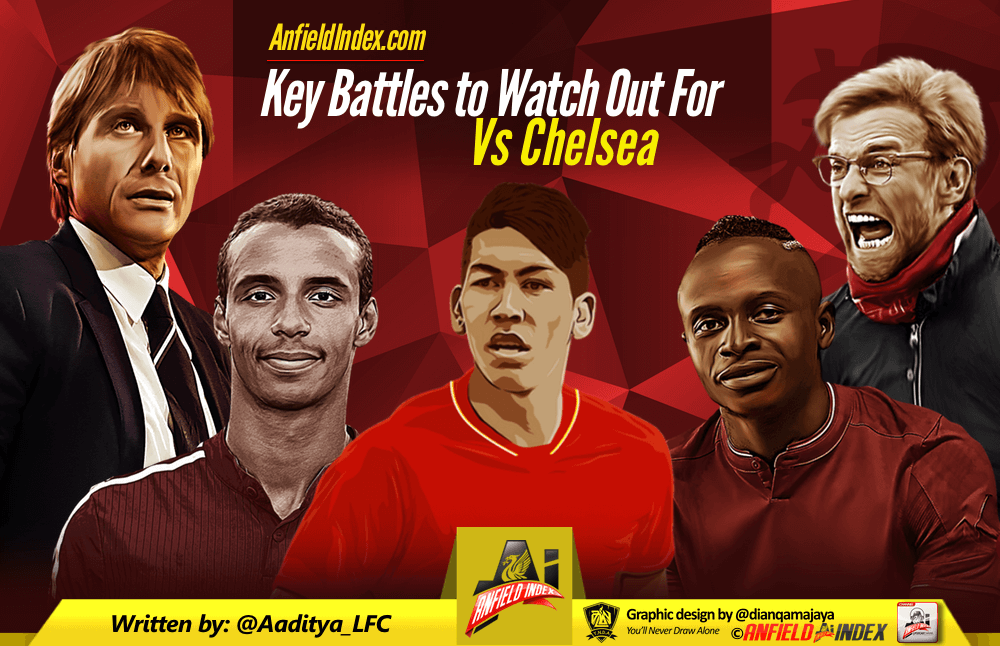 Chelsea v Liverpool: Key Battles
After four points from the first two trips to London this season, Liverpool head back to the capital, this time to Stamford Bridge to take on a Chelsea side unbeaten in the league so far. Antonio Conte's men were in cruise control against Swansea on Sunday, but then pressed the self-destruct button, before Diego Costa rescued a point for them in South Wales.
For Liverpool, it is about building some momentum and racking up as many points on the board as possible. Last weekend was a good one, as the champions were demolished in the first game at the new Anfield. This promises to be a fascinating encounter with enough players on both sides capable of making the difference on the day.
Here are some individual battles that could make for wonderful viewing.

Diego Costa v Joel Matip
Chelsea's Spaniard has enjoyed a wonderful start to the season, scoring four and assisting one more goal. On Sunday, Costa got on the nerves of Swansea – both the players and the fans, as he played the role of pantomime villain to perfection, putting them to the sword twice to save Chelsea from their first defeat of the season. In his first two Premier League games, Matip has looked solid and has looked like a man capable of leading the defense. Matip has largely shut out the likes of Harry Kane and Jamie Vardy, but arguably his toughest test in the league awaits in the form of Costa, whose form and stature as Chelsea's most dangerous player makes him a huge threat to us.
N'Golo Kante v Adam Lallana
Since his move from champions Leicester to Chelsea, Kante has picked up from where he left off last season. His presence has freed up the likes of Nemanja Matic and Oscar to get into more advanced positions, and he has been a very effective shield for John Terry and co. On the other side, Lallana has slowly but surely made himself a regular starter for Liverpool. He has scored three goals for club and country already this season, and the end-product everyone craved from him is slowly beginning to be seen. It will be a fascinating battle between two men who never stop running, never stop closing down and trying to win the ball back.
Cesar Azpilicueta and Eden Hazard v Nathaniel Clyne and Sadio Mane 
It is safe to say that Chelsea's left and our right are the stronger flanks for the two sides. It will be interesting to watch how this sub-plot unfolds. The most intriguing factor will be the amount of freedom that the managers give their wingers, in relation to the amount of help they need to give their full-backs. Mane has been Liverpool's most consistent attacking threat this season, and it is important that he can continue with that. At the same time, it would be a huge risk to let Hazard one-on-one with the full-back – especially now that he seems to be regaining the spark and form that was missing last season. But the case is similar for Hazard too. Letting Mane alone against Azpilicueta would be a huge risk, especially given that the Spaniard is not the quickest of full-backs. How Hazard and Mane balance their attacking and defensive responsibilities will be big challenge for both of them.
Chelsea's defense v Roberto Firmino
There cannot be just one defender tasked with marking Firmino. The Brazilian has got an uncanny knack of finding space in the tightest of areas, and on his day, he can be very elusive. Just as Leicester found out at Anfield on Saturday, the entire defense needs to be alert and on their game against Firmino. It isn't just his ability to find space but also his ability to find a killer ball or a killer finish, that makes Firmino among the first names on Jurgen Klopp's team-sheet.