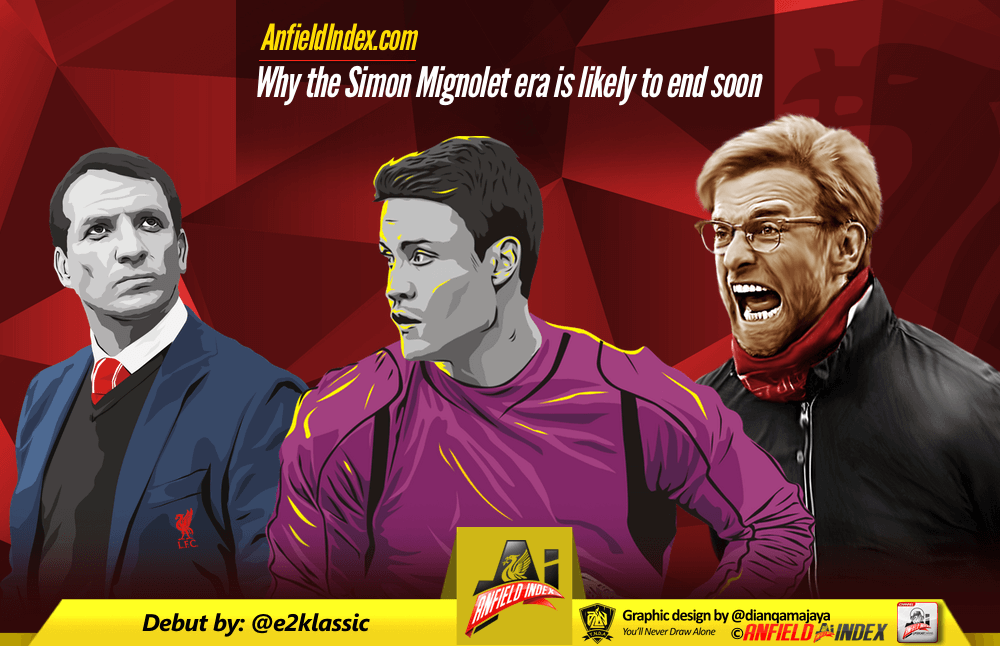 Why the Simon Mignolet era is likely to end soon

On a weekend where more than a few headlines were devoted to Manchester City's new goalkeeper Claudio Bravo and his struggles in the derby at Old Trafford, 34 miles down the road his (presumably outgoing) counterpart at Liverpool, Simon Mignolet, provided an expert, if subtle, lesson on why Pep Guardiola's decision to allow Joe Hart out on loan to Torino was the correct one, a lesson so timely and apt that not even the England number one's mistake against Atalanta the following day could surpass it for sheer wisdom.
Guardiola was moved on Saturday, not alone after a Manchester derby in which the new arrival had gifted his opponents a goal and narrowly avoided a penalty and red card for a challenge on Wayne Rooney but after several weeks during which his judgement over the goalkeeping position had been questioned by all and sundry, to reiterate that "I will try to play with the ball as long as possible…I'm sorry, this is not negotiable". Indeed it has come to the point where Guardiola, one of the brightest minds and most successful coaches in the game, seems to be having his credentials put under the microscope every bit as much as his goalkeeper, the inference being that if Bravo is useless, or at least inferior to the departed Hart, then surely Guardiola must be a lousy judge of a player.
Yet whether you see Bravo's presence through the prism of providing the foundation for Manchester City's startling dominance of the first 35/40 minutes of the game on Saturday (as Guardiola surely would) or in terms of the mistakes which almost cost them a 2-0 lead (the more traditional view in this part of the world, I would suggest), whether you see Guardiola as being "right" or "wrong" in black and white terms, there is no question that the assurance and decisiveness shown by the City boss over Hart and Bravo as regards how they fit into his approach is preferable to what we have seen with Simon Mignolet during a Liverpool career in which, through no fault of his own, he has largely been a square peg stuffed into a round hole.
Unlike Bravo, who only has that shaky debut performance to his name so far, there is now over 3 years' worth of information on which to draw in the case of Mignolet. Numerically it certainly hasn't been great, even beyond the visual evidence of Liverpool's defence leaking goals like a sieve throughout Brendan Rodgers' time in charge. Last December, WhoScored.com released statistics which suggested that while only one Premier League goalkeeper had kept more clean sheets than Mignolet since his arrival at Anfield (ironically, Hart), not only had the Belgian been the League's most error-prone goalkeeper over those 2 and a half seasons, his percentage of saves for shots on target faced (67.6 per cent) put him 18th out of 31 'keepers who had made more than 20 Premier League appearances in that period. And that last stat, if anything, appears to be getting even worse on the evidence of the 4 League games so far this season, where he has conceded 7 goals from 14 shots faced for a 50 per cent save rate.
Such statistical information is not perfect, of course, particularly in that it is primarily quantitative data as opposed to qualitative. It could be argued that Theo Walcott's finish was perfectly placed in the corner, that the deflection of Alex Oxlade-Chamberlain's shot off Dejan Lovren rendered it unsaveable, that Callum Chambers' header was inch-perfect, that Sam Vokes' shot was a thunderbolt, that Andre Gray's finish was beyond his reach, that Danny Rose's was cleverly placed inside the post and that Jamie Vardy's was laid on a plate for him by Mignolet's own teammate. Similarly, there is no doubt that a number of outfield players could and should have done better for many of those goals. However, when such data illustrates the same worrying pattern repeated consistently over a period of years, it becomes harder to simply dismiss.
Mere statistics, though, don't even begin to scratch the surface of just how unsuited the Belgian has been for the Liverpool teams of which he has been a part. Having justifiably earned himself a reputation as a good young stopper prior to his arrival at Anfield, playing a major part in keeping Sunderland up during his 3 years at the club (finishing 10th, 13th and 17th), a case could be made that Liverpool were justified in paying £9m for a 24 year-old, 6'4" international goalkeeper who had already proven himself Premier League-ready. What cannot be argued is that, even for a non-regular at the Stadium of Light, a cursory knowledge of his two main managers at Sunderland, Steve Bruce and Martin O'Neill, would have suggested that playing out from the back was likely not something that Mignolet had been asked to do very often, especially with a team primarily looking to secure safety every season
The Belgian's very arrival at Anfield, in this context, was odd in and of itself. With Rodgers in place, a manager who professed to value possession football philosophically every bit as much as Guardiola and had shown a predisposition towards it throughout his previous job at Swansea ("If you have possession of the ball you have a 79 per cent chance of winning", as he reminded everyone), the choice of Mignolet to replace the declining and departing Pepe Reina seemed strange. In hindsight, however, it looks downright bizarre. Rodgers' goalkeeper at Swansea, Michel Vorm, now a Tottenham reserve who hasn't lost a step judging by his performance against Liverpool a few weeks back, was the obvious choice, yet no massive effort ever seemed to be made to sign him. He eventually moved to White Hart Lane for a fraction of Mignolet's fee (£3.5m) a year after the Belgian arrived at Anfield.
Even for the more optimistic of us, then, the best we could do was hope that someone at the club had seen enough potential in him to conclude that he would eventually take to Rodgers' methods, and sooner rather than later. This, of course, has never happened either under Rodgers or his predecessor, Jürgen Klopp, another coach who clearly values the ability of his goalkeeper to be an auxiliary outfield player. The player has tried to make it work, no one can ever question his effort. And there have been a few (all-too-brief) flickers over his 3+ seasons at the club where things looked to be slowly coming together. Have a look at the calmness, for example, with which he navigated Tottenham's high press for Phil Coutinho's third in Liverpool's 4-0 win at Anfield during the 2013/14 title run-in, while as recently as a month ago many were praising his command of his area against Arsenal and hailing (optimistically, no doubt) the flurry of decisive punches that day as evidence of a new, more commanding and confident Mignolet.
But we've been here before, many times. The problem is that these attributes first had to be coaxed out of him, and then once they were he has possessed neither the instinct nor the ability to do them well on the consistent basis required by a club looking to challenge for trophies. Which is why Guardiola was absolutely correct not to waste his time and that of his players, supporters and employers attempting to teach his 29 year-old incumbent goalkeeper how to be the "1" in "1-4-3-3" (or whatever formation it ends up being on any given day) because one of the most difficult things in football, especially if you're attempting it while challenging for trophies, is to make a footballer out of a stopper, a lion out of a housecat. Liverpool, rather than simply signing Vorm for £3.5m in the summer of 2014 as Guardiola would have surely done, have persisted in just such an endeavour for over 3 years with frustrating results for all concerned.
And so we come to Saturday. As impressive as the 4-1 win over champions Leicester City was, the period towards the end of the first half where a 2-0 lead very nearly became a 2-2 draw heading into half-time was chillingly reminiscent of the abrupt defensive collapses suffered against Arsenal (2 goals conceded in 11 minutes), Newcastle United (2 in 18 minutes), Southampton (2 in 3 minutes) and Sunderland (2 in 7 minutes) last season, fractions of games where a potential 12 points became 3 as panic and fear swept through the Liverpool ranks like the proverbial dose of salts until the players on the pitch looked less like a team than a rabble of eleven strangers assembled an hour before kick-off.
On this occasion the danger passed and the home side went back to largely dominating the game after the break, fashioning another couple of goals and running out worthy winners in the end. That 3-minute period, however, was yet another reminder of how vulnerable this Liverpool team remains and, once again, it was Mignolet standing centre stage as the wheels threatened to come off, just as he had when Aaron Ramsey and Olivier Giroud beat him on his near post last January, as he had when Adam Johnson sneaked a free-kick into the Kop-end goal past a woefully inadequate wall in February, as he had when he came for and missed Andros Townsend's cross against Newcastle in April. In fact, now that Martin Škrtel has moved on, no other player in the squad possesses anywhere near the capacity of Mignolet to spread panic amongst his teammates where only seconds earlier there had been calm. In this context alone, the competitive debut of Loris Karius surely cannot come quickly enough.
To be fair, it was Lucas' heavy touch and panicked clearance across his own box which provided Leicester's immediate path into the game on Saturday, no argument there. However, aside from the fact that such miscontrol and subsequent compounding of the error were entirely out of character for the Brazilian and he subsequently recovered his composure sufficiently to coast through the remainder of the game, it would surely also be fair to say that a defender splitting out to the side of the penalty area to provide an outlet is dependant to a large degree on his goalkeeper adequately assessing the danger nearby, danger to which Lucas largely had his back turned.
Shinji Okazaki was already on the move towards the Brazilian when the ball left Mignolet's boot. At the very least he was putting a teammate and, indeed, his entire defence under needless pressure with that pass, and this is the trouble with Simon Mignolet. He'll do what Rodgers, Klopp and the supporters want and try to pass the ball out from the back, and most of the time it doesn't result in an opposition goal, but he'll do it with neither nuance nor subtlety because it's not natural or instinctive for him, it's not in his DNA. There are large gaps in his skillset which are likely at this stage, based on over 3 years' evidence, to prevent him from ever becoming an effective footballing goalkeeper, and yet he has been forced by circumstance to fill that role regardless. And so he makes errors of judgement.
The pass to Lucas on Saturday, given how high Okazaki and Vardy were pressing, was the wrong choice. He found a teammate with a short kickout while neither recognising the potential for a fuck-up, with Okazaki already making tracks towards Lucas, nor with enough ability or confidence to similarly find another, safer target further up the pitch. Had a midfielder received the ball under similar pressure, he would have likely had players on three sides available for the pass; Lucas had Okazaki to his left, the sideline to his right and behind him, and Mignolet in front.
This is not to excuse his error (two errors, in fact), but a 'keeper with better instincts for ball possession and retention would surely have sized up his options more effectively. And from there the panic predictably spread, notably not throughout the team this this time but through him: moments after the goal his hurried clearance fell straight at the feet of a Leicester player and Wijnaldum had to clear a cross for a corner, from which Mignolet proceeded to leave his goal, something else which isn't in his DNA, and attempt a punch that he didn't get near executing as Robert Huth's header crashed against the crossbar. It's one thing doing these things or trying to do them, but they need to be underpinned with natural ability.
To be fair to Mignolet, there are quite a few top division clubs in England and around Europe for whom he would likely do a job, in particular those, like his previous club, whose coaches avoid playing out from the back, which employ a deep defensive line and central defenders who command their penalty area, and possess aerially-dominant players further up the pitch who can win a fair percentage of long kickouts. West Brom, for example, with a trio of Craig Dawson, Jonny Evans and Gareth McAuley in front of him and Tony Pulis directing traffic from the sideline, would appear to be an ideal fit. Liverpool, though, clearly, are not, and his signing remains one of the oddest by a club which has made a habit of them over the past number of years.
It was interesting listening to Steve Nicol during the week recalling how he came to break into the Liverpool first-team as a midfielder: he was ready to play but Phil Neal wasn't ready NOT to play, and so Joe Fagan put him further forward. Nicol's view was that, aside from maybe upfront, there are certain basic attributes that mean you can play any outfield position on the pitch, and because his basics were sound he succeeded. It's an interesting point in the context of James Milner's continued stint at left-back, the aversion of many pundits to Roberto Firmino playing upfront and the long tradition at the club of effectively utilising players where they are needed (e.g. Jamie Carragher at left/right-back, Steven Gerrard on the right, Ray Kennedy's conversion into a midfelder, etc.), but Mignolet as a mobile, ball-playing goalkeeper has simply been a bridge too far.
What Guardiola is looking for at City, and what Liverpool should have been looking for in the summer of 2013, is a complete goalkeeper, not necessarily a perfect one but one who can competently stop shots, command his penalty area, organise a defence, catch or punch crosses with regularity, be comfortable with the ball at his feet and pick out a teammate more often than not. Such is the purity of the Spaniard's possession-based approach that the latter two attributes are prioritised more than they perhaps would be for another manager, but we can be sure that Bravo, debut jitters aside, will be entirely competent in terms of those other attributes too because a manager as good as Guardiola, one who has worked primarily with Victor Valdes and Manuel Neuer during his managerial career, knows what a talented goalkeeper looks like.
Ultimately Guardiola wants to be successful, it's something he seems to crave more than anything else, and he knows that the best way to do that is to stock his squad with players who fit the approach he considers the best path to victory. That's why Bravo has replaced Hart at Manchester City and it's why Guardiola's opposite number at Anfield also returned to a former club this summer to sign a new goalkeeper. And it's why, regardless of who starts at Stamford Bridge tonight, the Simon Mignolet era is likely to end soon.