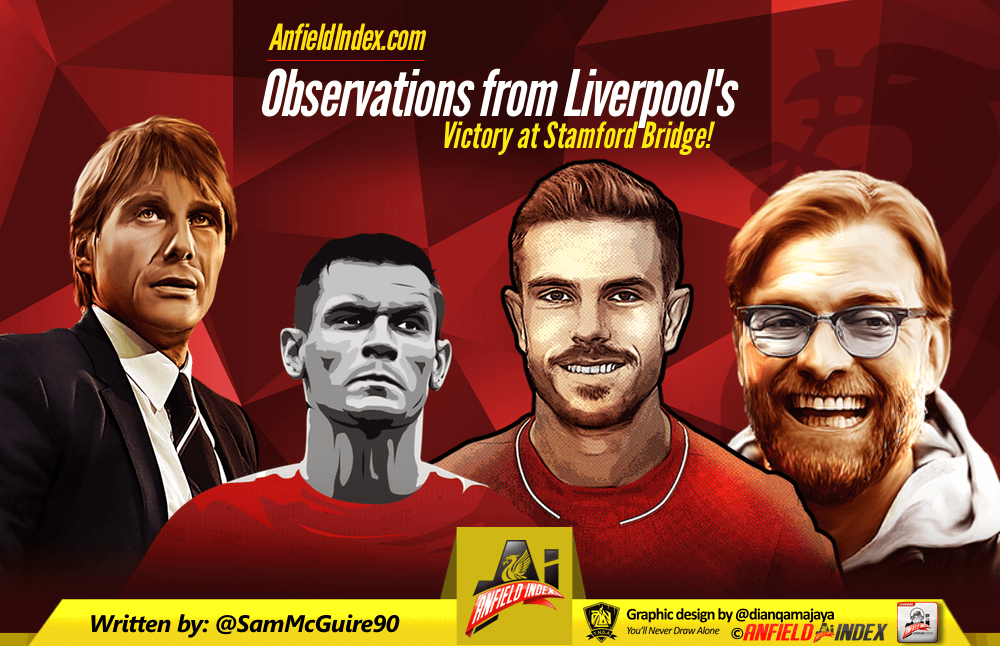 Observations from Liverpool's win against Chelsea
The Reds, as they so often tend to do, made hard work of what should've been a pretty straight forward situation. A hard fought 2-1 victory at Stamford Bridge is something to savour, but had Liverpool maintained their concentration levels throughout it could've, and should've, been much more comfortable and I wouldn't have had to watch, rather awkwardly, with one eye closed for the final 25 minutes.
But a win is a win and Liverpool have now taken 10 points from a tricky opening five games. Not many teams will manage to go away to Arsenal, Spurs and Chelsea and walk away undefeated. Liverpool did just that as well as emphatically toppling current League Champions Leicester City. There are plenty of positives for Liverpool fans.
Sharing the goals – Eleven goals in the opening five games with Roberto Firmino, Sadio Mane, Jordan Henderson, James Milner, Dejan Lovren and Adam Lallana all getting their names on the score-sheet. A stark contrast to Liverpool's opening five games in the 2015/2016 season which saw Liverpool register just the three goals with Benteke netting twice and Coutinho scoring the other.
The goals are flowing and just like Klopp's BVB side they're being shared. There's no over-reliance on one player to score and it means the team are harder to defend against.
Jordan Henderson improvement – The captain has been in for a lot of stick lately after some questionable performances against Arsenal and Burnley. He didn't seem to cope well with teams pressing him when he was supposed to be the one to start attacks. Against both Leicester and Chelsea he was dominant in that midfield but it's no coincidence he hasn't been pressed as much. His goal was world class and fans just hope he can repeat those types of goals and performances.
Fluid Movement to break down a deep defensive line – Liverpool are renowned for struggling against teams with a low block. These types of teams just sit back and watch the Reds toil with possession and without any decisive or incisive runs or movement. Yet today Liverpool had Chelsea chasing shadows. The movement of the attacking trio combined with Lallana and Wijnaldum from deep caused the home side trouble and Liverpool looked like they could cut them open at will. It's a positive to be taken forward for the rest of the season.
However, there were some negatives –
Deja Vu Defensively – Shock horror as Liverpool concede a sloppy goal. There are errors in the Liverpool defence no matter which personnel Klopp opts to start and there's always a threat of Liverpool conceding. The Reds aren't often cut open, you'll rarely ever see the team on the receiving end of a well worked team goal. Instead it's defensive errors and lack of concentration.
…but there was some resiliency as Liverpool once again managed to see out the victory much like they did against Arsenal.