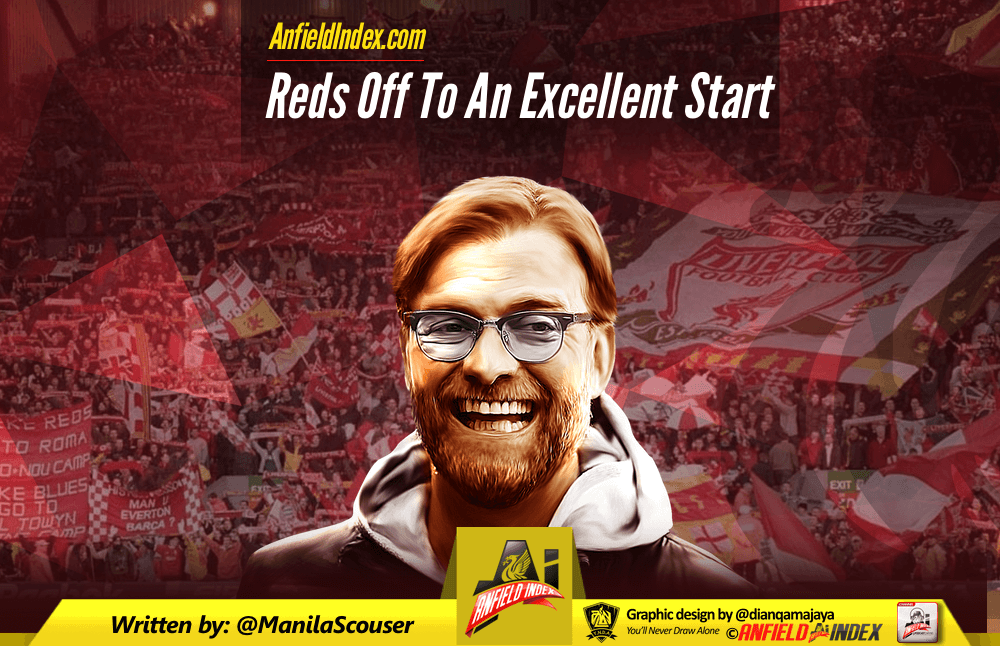 Reds Off To An Excellent Start

Three wins, a draw, and a loss from the first five opening games in our Premier League campaign has drawn plenty of negative conclusions from a good chunk of Liverpool fans.
We kicked the season off with a flying start at the Emirates, where we scored four on Arsenal's own turf, something that's not been done for more than half a decade. We followed it up with a rather disappointing performance against newly promoted side Burnley at Turf Moor, which is what the majority of supporters remained worried and unimpressed with.
The Reds bounced back and made a statement by winning 5-0 against a Championship side team in the league cup, subsequently settling for a draw against another London club a few days later in the form of Tottenham, which we can all agree was a game where we should've taken three points because of our great performance.
Another fixture that followed was another exhilarating performance by our team, where we put four past reigning English champions Leicester City in our new and improved home.
Finally, our most recent match against Chelsea saw us win 2-1 thanks to great goals from Lovren and Henderson. The first half dominance saw us get a well deserved two-nil lead, but Diego Costa pulled one back for the home side. Liverpool did well to manage the game to secure three points.
These results of these five fixtures (Arsenal, Burnley, Spurs, Leicester, and Cheslea) leave us accumulating ten out of 15 possible points.  There's a few ways to look at our current situation:
We're not going to get top four 
A large fraction of our fans think that our manager's decision not to explore the previous transfer window for another left-back, central midfielder and possibly a centre-half will be the direct cause of being unable to secure top four, with the reiteration of the disastrous performance against Burnley a reinforcement to their argument.
It's an excellent start
Excellent may be pushing it a little, but there's no denying that if you take a second to consider a few factors, it might not be as bad as we originally thought.
Our first five fixtures in the league were against three (Chelsea, Arsenal, Spurs) of the six teams in the league who you could say will be in contention for the Premier League trophy come May 2017.
Manchester United have played against only one of the top six, Manchester City, where they dropped all three points. The rest of their first five fixtures were against Bournemouth, Southampton, Hull City, and Watford.
Manchester City racked up only one encounter in their first five fixtures against a top six side, which is obviously their win against neighbours Manchester United. Their remaining games played were against Sunderland, Stoke City, and their most recent, Bournemouth.
Liverpool are Arsenal's only top six matchup in their first five encounters, where they lost. Leicester City, Watford, Southampton, and Hull City make the rest.
Chelsea have faced only Liverpool where we came home with all three points. It was matches against West Ham, Watford, Burnley, and Swansea who make the rest of their first five games.
Tottenham have also played only once against a "top six" side, which was a 1-1 draw against us. They've also played Everton, Crystal Palace, Stoke City, and Sunderland.
Then there's Liverpool, who's played against Chelsea, Spurs, and Arsenal in their first five games and tallied seven out of a possible 9 points against them.
That's quite a start for us considering such a huge opening five games. The rest of the top six teams have only played once against their fellow counterparts, where we have faced three of them already, and ended up dropping only two points.
When City, United, Spurs, Chelsea, and Arsenal face each other, one of them are already guaranteed to drop points, whether it's two points a piece of three points for one of the teams, it's already an assured outcome.
Yes, the issue with Liverpool has been there for ages. We perform fairly well against "bigger" opponents, but have difficulties in putting away the teams who are on the bottom half of the table.
But judging whether it'll be the same story again because we lost a single game to Burnley, and even more; concluding that we won't win the league or make our way into the top four this season for that reason alone on Klopp's first full season at Liverpool is not even an educated guess – it's just being pessimistic.
Majority of our performances so far has proved that Klopp knows what he's doing, despite not indulging on our desires to bring in more players before the transfer window shut.
It's not having blind faith in Jurgen Klopp – rather having faith in his impeccable CV.