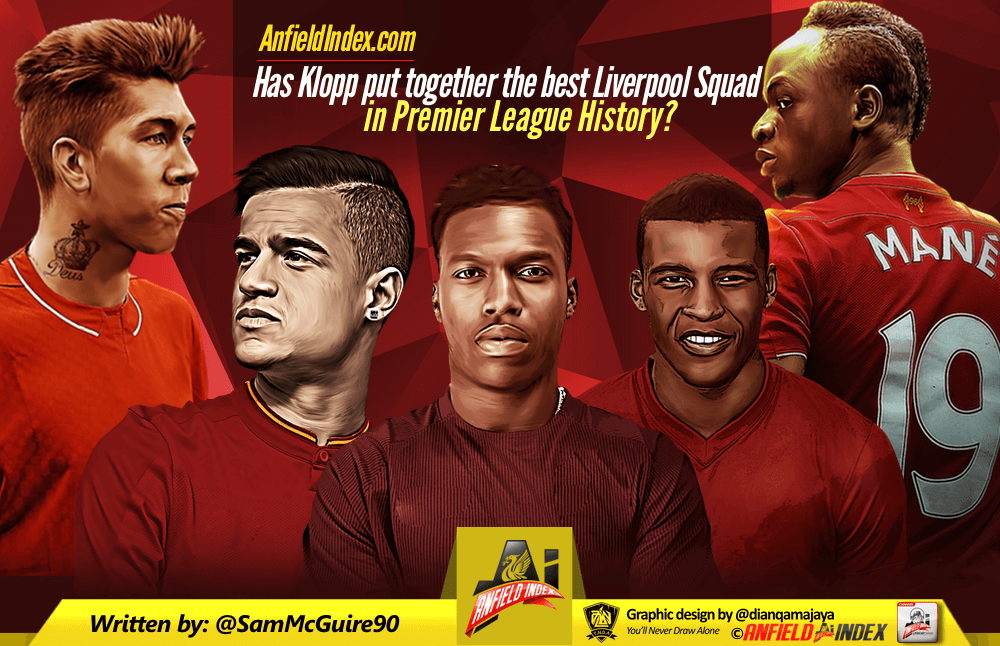 Has Klopp put together the best Liverpool Squad in Premier League History?
For years now Liverpool have been overly reliant on certain players. The Reds have had decent starting XI's, teams capable of beating the very best on their day, but it's hard to sustain a top 4/title challenge when your squad players aren't anywhere near the requisite level. It's corrosive to the team. The lack of ability from the players coming in eats away at the quality on show and before you realise the squad has dropped a level or two.
Jay Spearing and David Ngog coming on to replace Javier Mascherano and Fernando Torres. Then there was a time that Fabio Borini came in to replace the suspended Luis Suarez. Or even Phil Coutinho being replaced by Jordon Ibe after picking up a knock.
The drop off in quality is hard to ignore and Liverpool suffered because of it.
Yet this season it's been different. Yes, it's only been five league games and yes there are some glaring weaknesses in the squad. But Liverpool faced Arsenal without Daniel Sturridge and scored four goals. They went to Burnley without £30 Million man Sadio Mane but were still able to field Sturridge, Roberto Firmino and Philippe Coutinho in attack. They then faced reigning Premier League Champions Leicester without Philippe Coutinho yet managed to dismantle them and romp to a 4-1 victory which could've been 6/7 had it not been for Kasper Schmeichel. Finally, Liverpool went to Stamford Bridge without the poster boy for Jurgen Klopp's 'press, harass, stifle' tactics, Roberto Firmino, but were able to come away as 2-1 victors.
In each of the games this season Liverpool have been without one of the four attackers that almost every single Liverpool fan would start. But Jurgen Klopp's switch in starting formations at the beginning of the season threw a spanner in the works for many.
Gone was the 4231 formation associated with Klopp and in it's place a 4321 formation. Not a drastic change stylistically but the addition of an extra midfielder meant the Reds sacrificed playing an attacking player. It basically means when all players are fit, if Klopp persists with this formation, Liverpool will have two of Daniel Sturridge, Divock Origi, Sadio Mane, Roberto Firmino or Philippe Coutinho on the bench at all times. When was the last time Liverpool were in such a luxurious position? All five have the ability to be game changers and match winners.
It's not just in the attack that Liverpool are spoilt for choice. In midfield, barring injuries, Liverpool will be able to have at least one of Jordan Henderson, Emre Can, Adam Lallana or Gini Wijnaldum on the bench in certain matches. As much as a cult hero Lucas appears to be he's not the best suited midfielder for a Klopp system, all four of those aforementioned players are monumental upgrades on the Liverpool no.21 and having that calibre of playing coming off the bench in games puts Liverpool in an unfamiliar situation. To go from having Joe Allen and Lucas as the substitute midfielders to having two of Marko Grujic, Can, Lallana, Henderson or Wijnaldum gives Liverpool a whole other dimension.
The defence is by no means perfect, what with James Milner the current incumbent of the starting left-back position, but centrally Liverpool haven't looked this strong in years. Both Ragnar Klavan and Joel Matip have impressed many since singing this summer, both seem to suit what Klopp wants from his defenders and both aren't Martin Skrtel. It means Liverpool have four five centre-backs in Sakho, Lovren, Matip, Klavan and Lucas and the drop off in their quality isn't glaringly noticeable. Obviously there's a marked difference in say Sakho and Lucas but the backline can still function without the former. Nobody is saying they're world class defenders but they're inifitnely better than the likes of Kyrgiakos, Coates and Caulker, aren't they? All of whom were at one stage the third/fourth choice centre-back at the club.
Goalkeepers have been a troublesome position for Liverpool ever since I can remember. With the exception of Jose Reina the Reds have always had a dodgy 'keeper as first choice and then an amateur (to put it politely) 'keeper as back-up. With Loris Karius now here we have a 'keeper suited to Klopp's style of wanting to play out from the back as well as an abundance of ability between the sticks now but not only that he has the ability to improve in the future to potentially be one of Europe's best. If all goes to plan then Liverpool's first choice 'keeper for the past three seasons will be their back-up. Not exactly the worst situation to be in, is it?
Many supporters, myself included, have spent time looking bemoaning the obvious weaknesses in the squad that Klopp failed to address in the window without actually acknowledging just how well he's done to put together this squad with an impressive array of talent and depth. We've went to Stamford Bridge, the Emirates and White Hart Lane and picked up results without Mamadou Sakho, Emre Can or Loris Karius playing a single minute, all three would be in the strongest XI for many of the clubs supporters but it's testament to the squad Klopp has pieced together that they've achieved these results.