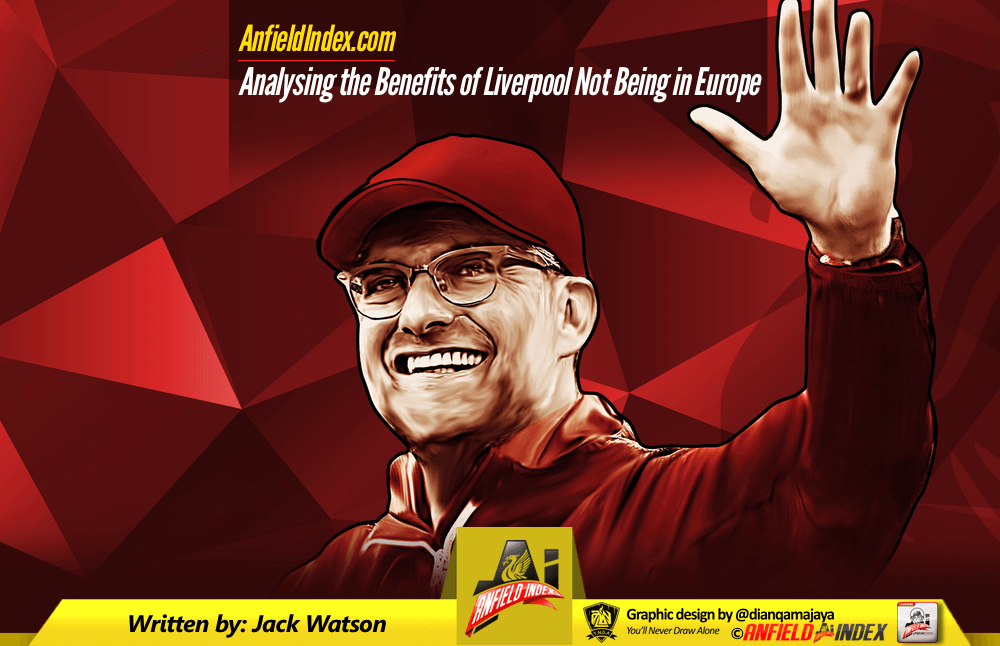 Analysing the Benefits of Liverpool Not Being in Europe
Suffering from the mid-week hump? Had it up to your oven-mitts with Mary Berry and Paul Hollywood? Stuck for something to do after work? Wonder no more football fans, for we have been blessed with the return of the greatest and most corporate competitions of them all, the UEFA Champions League and Europa League.
You know what that means for Liverpool fans though, don't you? That's right – some free time watch Bake Off and catch up on Andrew's rocking laced pancakes and Mel and Sue's jaw-dropping innuendos (and on the BBC no less).
Yes, we're not in Europe this season. This, I'm told, mostly by Liverpool fans like me, is a good thing though. Time to focus on the league is a luxury our biggest rivals will not enjoy.
Given the physicality of Liverpool's performances of late, that may provide the players with a chance to recharge over the mid-week break and to tear through another domestic defence at the weekend.
And yet, I'm an advocate of playing European football as much as we can, and I find it difficult to put my finger on some conclusive proof that this is the case. So, I've done some mathematical digging. How much of a burden is European football?
First of all, think back to the last time Barcelona and Real Madrid were planning trips to Manchester and London instead Liverpool. Over the course of the 2013/14 season, Liverpool went from strength to strength, pulling from fifth around the end of the January window to almost taking the title. This run included an incredible 14 successive wins, all achieved while the likes of Chelsea, Manchester City and Arsenal – who completed the league top four that season – were going toe to toe with Europe's elite. Sure some lasted more than others, but, all played European games that the Redmen avoided.
That paints a picture we all see – that we did indeed benefit from this lighter load. However, it's worth remembering other forces were at work through the season that bolstered the side's league performance.
This wasn't the only cup competition which featured little of Liverpool. A fifth round FA cup exit to Arsenal and a third round League cup defeat to Man Utd left the lads with just 43 games to play through the season all-in. Man City played 14 more, while Arsenal and Chelsea took part in 13 more games, the latter making the CL semi-final.
That's around a quarter more time spent running around on matchday each than the Reds, or in other words, loads. I've not run (m)any marathons, but if I finished one and someone said to me 'right, now do another 10km on top of that', I'd kick them really hard in the shins and say no.
On top of that, we had Suarez in 13/14, and no one in the team really got injured that season.
That in mind, let's take a look at the actual impact of playing in Europe. It's about to get complex, but stick with me.
In 13/14, Liverpool averaged 2.2 points per game (ppg) (83 points in 38 games). In league games played immediately after there was mid-week European football, the points average was 2.1 ppg (25 in 12). Little difference, which shows the average ppg was fairly consistent that season.
In 14/15, Liverpool averaged just 1.63 ppg (62 in 38). This average was brought down remarkably, however, by averaging just 1.38 ppg (18 in 13) in games played the weekend after mid-week European competitions. Discount those 13 games, the points average shoots up from 1.63 to 1.76. Average that over a season, and Liverpool would have been 3 points off the top 4. Without Suarez.
There's more as well. During Christmas, English teams ridiculously battle through the elements and climb a mountainous peak of fixtures to settle among a kinder Spring on the other side. Between December 10th 2014 and February 19th 2015 – Liverpool's significant mid-season European break – the lads won 21 points in 10 league games, losing just once. That defeat immediately after their final CL group game. And guess what? That loss came away to a Manchester United team relishing in a European embargo.
You don't need to be a genius to work out that ppg average – 2.1 – works out roughly the same as Liverpool's league campaign the season before when they weren't playing Europe. In spite of a fixture-full festive season, Liverpool performed as well as they had through the 13/14 season as there was no European football to drag the players down. It's not just that it adds fixtures, but I'd wager other factors like travelling further and playing less familiar opposition might be more of a factor.
In the 15/16 season, Liverpool's average ppg was 1.58. In games after playing in Europe, that drops again to a paltry 1.27. Discount those games after Europe, the average climbs to 1.7 ppg. Over 38 games, that average would have scraped us a top four place. It's not only the league where we felt the jet-lag, but the lads also followed up a mid-week match against Augsburg with a narrow defeat by penalties to Manchester City.
Seems we benefit domestically from not playing in Europe after all.
But, even if it is a burden on Liverpool's league performances, just think – how excited were you before the Europa League final last season? Which competition provided our most memorable performances, and gave you the most belief this team could have done something special?
I think it bodes well that we're not in Europe this season. The football looks sensational and the team are gelling really quickly. But I can't wait for us to finish in the top four this season and return to the big time in 12 months.