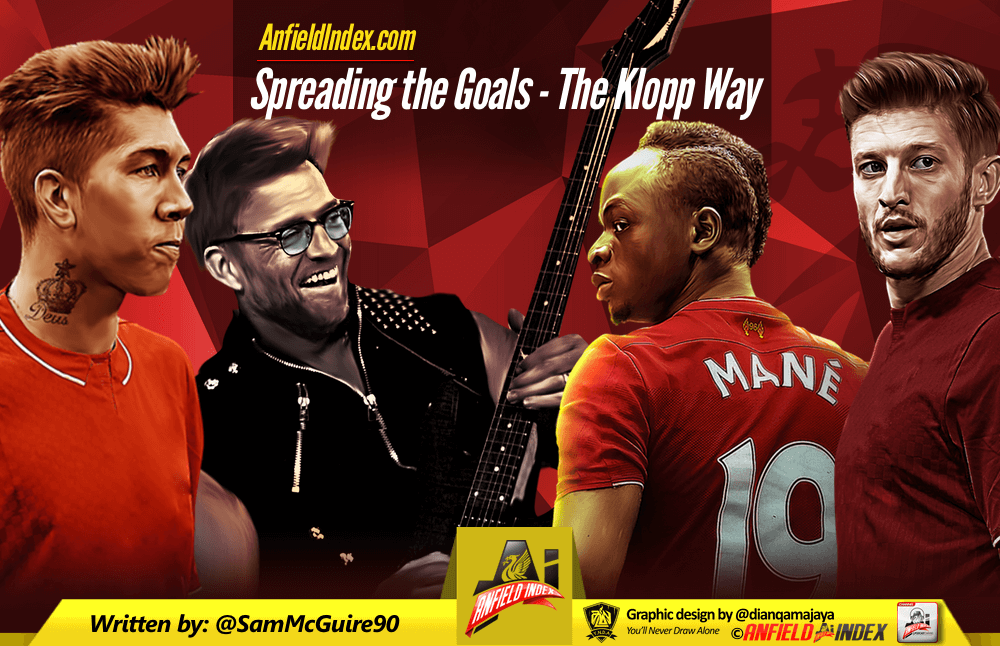 Spreading the Goals - The Klopp Way

If you want to be successful in the Premier League you need one of two things; a world class striker of the Luis Suarez/Sergio Aguero ilk or you need a midfield filled with goals so there isn't an over reliance on a striker. If you manage to strike a balance between the two then you're onto a winning formula. It's rare that teams manage to do the latter because clinical strikers aren't often prepared to put in the leg work which creates opportunities for the midfielders.
However, Jurgen Klopp likes to put together teams who do just that. His Dortmund side were littered with goals throughout and Liverpool are embracing that tactic under the German manager. In the opening five Premier League games the Reds have scored 11 goals with seven different players getting on the score sheet. Liverpool are no longer blunt and they're no longer reliant on just the one striker to net for them. If Klopp and his team are to crack the top 4 this season then this will have to carry on for the entirety of the league campaign. He managed to do it with Dortmund so there's no reason to think he couldn't do the same with Liverpool.
2010/2011 BVB Dortmund
Robert Lewandowski 8 goals
Nuri Sahin 6 goals
Mats Hummels 5 goals
Lucas Barrios 16 goals
Kevin Grosskreutz 8 goals
Mario Gotze 6 goals
Shinji Kagawa 8 goals
2011/2012 BVB Dortmund 
Robert Lewandowski 22 goals
Mario Gotze 5 goals
Ivan Perisic 5 goals
Kevin Grosskreutz 7 goals
Shinji Kagawa 12 goals
2012/2013 BVB Dortmund 
Robert Lewandowski 24
Mario Gotze 10
Marco Reus 14
Kuba 11
2013/2014 BVB Dortmund
Robert Lewandowski 20
Henrikh Mkhitaryan 9
Marco Reus 16
Pierre Emerick Aubameyang 13
2014/2015 BVB Dortmund
Pierre Emerick Aubameyang 16
Marco Reus 7
Shinji Kagawa 5
In the 2010/2011 season Dortmund had seven players score 5 or more Bundesliga goals. Talk about spreading the goals. For context here, In Liverpool's best season for a number of years, the 2013/2014 season, only five players scored five or more (as shown below). Then in the 2012/2013 season Dortmund had four of their players hit double figures in the league, quite the feat if you think about it and not one you're likely to see repeated in the Premier League by a team outside of the top 4. Do that and you're more than likely going to fire you're way into a Champions League position.
2013/2014 Liverpool
Luis Suarez 31
Daniel Sturridge 21
Steven Gerrard 13
Raheem Sterling 9
Martin Skrtel 7
With Klopp's signings in the summer, it's clear he wants more of a goal threat from midfield. Gini Wijnaldum and Marko Grujic add goals and with Adam Lallana playing in a more withdrawn role he seems to be flourishing with two goals to his name already this season. These additions, coupled with the signing of Sadio Mane, in theory gives Liverpool more goals in the team. Klopp identified this area as being one to improve as Liverpool's goals from midfield over the past four seasons has averaged out at 31. This pales in comparison to the likes of Arsenal (38), Manchester City (34) and Chelsea (40) all of whom score more from midfield and have at least one reliable striker netting on a regular basis.
Liverpool for the past few seasons haven't had the luxury of a reliable striker with Sturridge being riddled by injuries, Origi having a stop start debut campaign and Benteke simply not fitting the style. It left the team short in attack and meant there was even more pressure on the midfield to perform.
To make that deficit up Liverpool need to up their return from midfield and he's went about doing just that. Klopp isn't reliant on one striker but seems to change depending on what's required in that match. It means in theory the likes of Sturridge, Origi and Firmino should all be getting double figures in the league with the game time they'll be seeing. That, coupled with the likes of Wijnaldum, Lallana, Mane and Coutinho should mean Liverpool have goals all over the team and it makes them harder to defend against. Exactly what Klopp would have wanted when putting together this squad. There's no reason Liverpool shouldn't be scoring 70 or more league goals with the players they have at their disposal and that's without being overly reliant on one striker. They could even rival Manchester City once again for the most goals scored in the year.