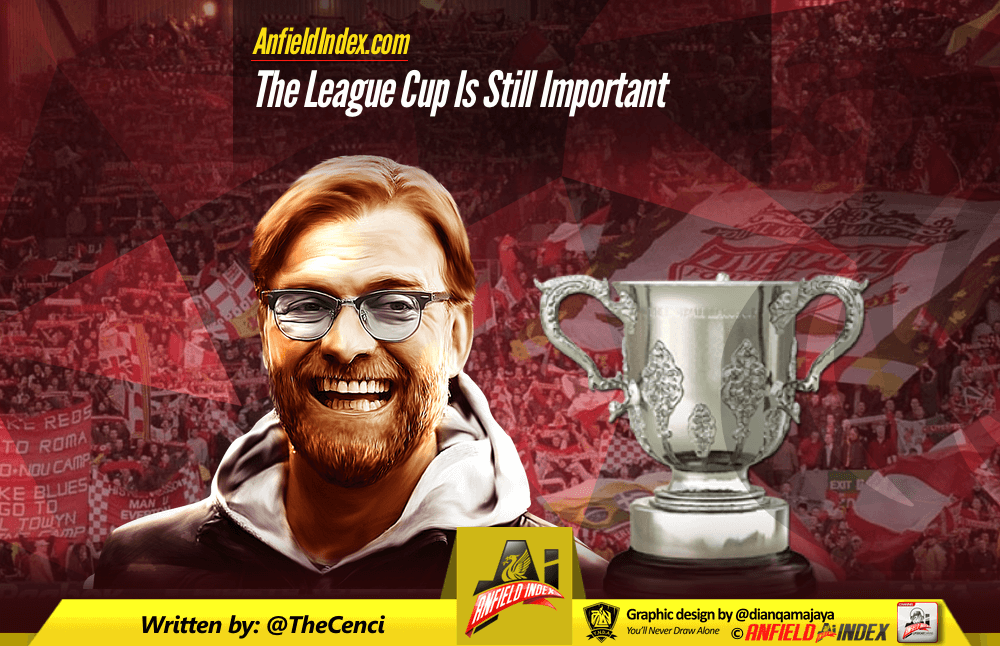 The League Cup Is Still Important
The League Cup is irrelevant. The Champions League, despite bearing little resemblance to its previous incarnation, is the main pot to win and while the F.A Cup will always be the main domestic cup competition, the – God help us – EFL Trophy has been relegated to the lowest of tournaments. It's an embarrassment to the footballing calendar. No one is remotely arsed about it. Jesus, even Birmingham City won it a few years back. League Cup Schmeague Cup.
However, I challenge anyone to travel back to March 1978 and tell the snotty-nosed nine year sitting in the playground that the League Cup doesn't matter. I can still picture him now, shouting obscenities to no one about referee Pat Partridge. The night before, Partridge – a farmer by trade – had given Nottingham Forest a penalty in the League Cup Final replay at Old Trafford when Phil Thompson brought down Forest's John O'Hare three or four miles outside the box. The Reds went mad and Tommy Smith told the press that Partridge 'should be shot' but it was all over. Incidentally, that was the first time the phrase 'professional foul' was used. Free history lesson for you there.
Partridge would later compound his error by denying Terry McDermott a perfectly sound equaliser. He should have stuck to growing carrots and peas.

In 1978 the League Cup had become a bit of an embarrassment for Liverpool. The more aloof fans had christened it 'the Mickey Mouse Cup' as we had never won it whereas more, shall we say, prosaic clubs such as Swindon, Stoke and Wolves had. We may have been the European Champions and never out of the top two in the League, but the lack of that trophy with its three handles bothered a few of us.
Not that the other big teams had won it either. United would wait another 14 years to break their duck while Arsenal and Everton didn't seem overly arsed either (though it was funny when the latter lost it in 1977), but that season – 1978 – was a bit different. That season was about Forest. And we hated Forest.
Brian Clough's side were about to win the League followed by our European Cup a year later and this was the start of that rivalry. Younger fans still turn their noses up at the 'We hate Nottingham Forest' song and wonder why we have such enmity to a club so far down the league, but some – people of my age – still sing it lustily.
Something in that game lit a fire under the Reds. Forest won it again the following season and an Andy Gray goal secured it for Wolves in 1980 (that was okay though as Emlyn Hughes played for them) but Liverpool finally scratched that Partridge itch in 1981 when we beat West Ham in a replay to put the bloody thing in the cabinet. As if to emphasise that we did it the next season too (Spurs). Oh, and the next (United). Oh, and the one after (Everton).
Four in a row. Tell me then that the League Cup didn't matter.
Of course, we've won it eight times now – more than any other club – but it's been since devalued so much that even some Liverpool fans and columnists don't count our 2012 League Cup as a proper trophy.
Why?
The F.A Cup still holds some romance despite having more cosmetic surgery than Michael Jackson. Different kick-off times, clubs opting out altogether and a myriad of rule changes but still more worthwhile than the League Cup. How exactly?
I've always been fond of it. Firstly, the travelling Red gets to go to lower league grounds. I loved the Burton match with its homely atmosphere and standing sections and I'll be at Derby County on Tuesday. Fans of a certain age like to tick off stadia around the country and Pride Park is a new one for me so I'm looking forward to it. Another ground off the list though, for me and my mates, Southend United will always be the dream.
Then there's the odd gem of a game. The 2004 game at White Hart Lane will live long in the memory as our kids beat their first team on penalties. If you were there you're probably mumbling the Rafa Benitez La Bamba song at that thought as we must have done half an hour of it that night. It became the song of that winter at away games.
Then there's the 2012 cup run. How many clubs can sneer at a trophy when we overcame Stoke (away), Chelsea (away) and Man City on the way to Wembley? The only thing that annoyed me was that I missed out on two new grounds – Exeter and Brighton – in that run. In fact, the second leg semi against City was the only time we played at Anfield during that campaign so it was hardly the walk in the park many imagined it to be regardless of needing penalties to beat Cardiff.
But, of course, nowadays the competition is about giving players game time. Lazar Markovic, Danny Ings and Marko Grujic all have a chance of getting onto the pitch for once and it may be the only time we get to see them for a while. Klopp's team selection in Burton surprised many – myself included – as even James Milner wasn't given a night off despite looking permanently knackered so it's hardly a done deal but it might be a chance to rest a few.
That said, I wonder if Daniel Sturridge will get a game given his family connections. His uncle Dean is the Rams' record goal scorer in the Premier League era.
Maybe there'll be a change in goalkeeper too. Will Pride Park be the dawning of the age of a Karius?
(I'm so sorry)
With Liverpool firing on all cylinders, Jurgen Klopp will be keen to build on the momentum of the last two wins and, if the anomaly that was the Burnley game concerns him, he'd like to see how his side gets on with unlocking a defence that will probably be content to sit back and hope they can get something on the break.
If we go on another run and end up at Wembley again there shouldn't be any complaints. After all, all great sides have to get used to winning trophies before they build dynasties. During his first season at Chelsea, Jose Mourinho did all he could to take a jammy League Cup off Liverpool as he wanted to hone that mentality in his side. Liverpool went close last season and medals for the most entertaining side in the division (well, okay. City too) could be a start to bigger and more respected silverware to come.
I will never, ever forgive Pat Partridge though.
Up the Reds!