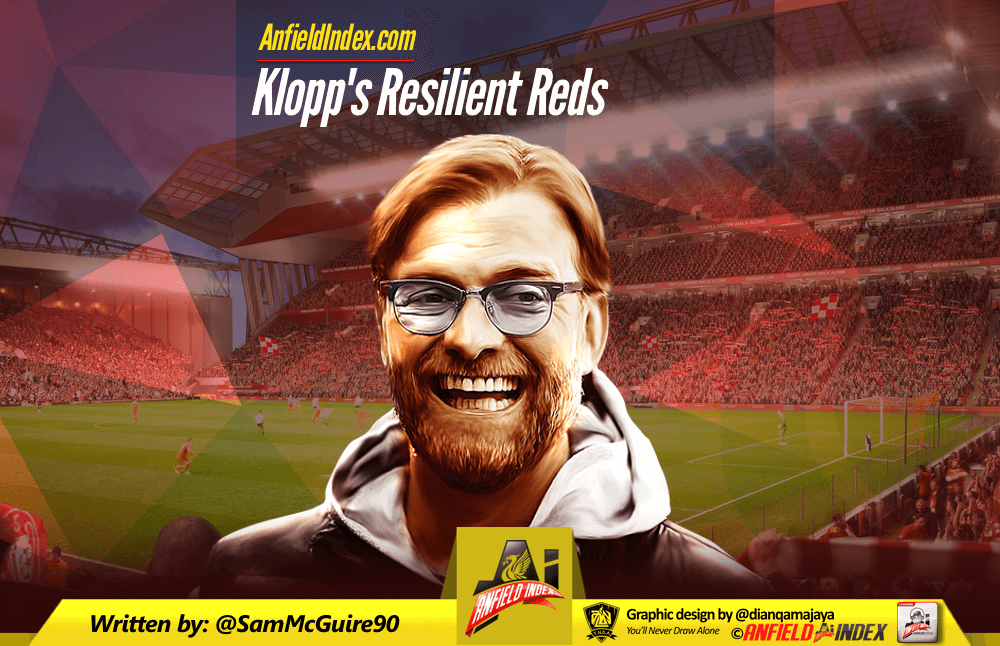 Klopp's Resilient Reds?
Brittle, frail, delicate, on the brink of collapse and similar to a Creme Brulee with that soft centre are just a few of the creative ways the Liverpool defence has been described over the years. They're not wrong either, not since the days of Rafa Benitez and Kenny Dalglish's second stint as Liverpool manager have the Reds shown any sort of resiliency when it comes to defending.
You can quote the number of clean sheets the team have had all you like and how Simon Mignolet was in contention for the Golden Glove but when the average number of goals conceded for the past four seasons works out at around the 47 per year mark then it appears you're sitting quite comfortably on a throne of lies.
When teams attack Liverpool heads go and arses empty, and that's not even mentioning how the fans feel.

 It's no surprise to hear that last season Liverpool dropped an absurd amount of points from leading positions. We all witnessed it and at one stage it almost felt like a weekly occurrence. The figures rather oddly vary depending on which site you look at but basically the Reds dropped around 20 points from winning positions last season. Whilst football isn't played on paper had the team managed to covert these leads into victories they would've finished comfortably in second position. Obviously fans of other teams could use the same argument but what can't be debated is no other team dropped as points from leading positions.
There are quite a few haunting and harrowing memories from the 2015/2016 season when looking at the matches Liverpool dropped points in. Newcastle, Sunderland and Southampton all recovered from going 2-0 down to take something off a defence that was perpetually on the edge of imploding. When you're 2-0 to the good a team like Liverpool, with genuine aspirations of Champions League football, should be able to manage the game well enough against the likes of Newcastle and Sunderland to see out the game comfortably. Granted, both teams were facing relegation when they arrived at Anfield but 2-0 leads shouldn't be thrown away so easily.
As soon as the Liverpool concede the first the whole team starts to sway. Like a boxer with jelly legs, it's a question of when and not if they're going to go down. They get deeper and deeper and the opposition start creating more and more chances. Fans, players and probably the manager know what's coming. This wasn't just fans being negative and cynical this was genuine fear because we'd become so accustomed to it. There's a reason the Liverpool side were labelled as bottlers for so long.
I know we're only five games into the new Premier League season but Liverpool appear to be a little more resilient this season. The sample size makes it really difficult to judge thoroughly but in games against Champions League hopefuls Arsenal and Chelsea and up against last season's Champions Leicester City Liverpool have held their own admirably.
Without Martin Skrtel to drag the defence back deeper than is necessary and defensive midfielders vacating their position to chase the ball the defence appears to be organised and well structured. At times it's organised chaos, with near misses and lapses in concentration from certain individuals, but on the whole the defence looks a lore more compact in terms of shape and as a unit than it has for years now.
The team aren't giving away many clear cut chances despite conceding possession to the opposition, whether that's through choice or not is another another debate entirely. At 4-3 against Arsenal and 2-1 against Chelsea neither of the home sides had any chances of note. Liverpool actually defended well as a team. There was a shaky moment against Leicester at 2-1 but instead of capitulating the team pushed on and romped to a 4-1 victory. In years gone by Liverpool don't walk away from those matches with 9 points. They're the sort of matches we're used to looking back on at the end of the season and saying 'what if'. Yet here we are having taken maximum points. It's an odd feeling, isn't it?
In all of the aforementioned games Liverpool have been able to take the lead and take the foot off the gas a little, setting up to counter the opposition which plays right into the hands of the likes of Sadio Mane and Roberto Firmino who both can do some damage if given time and space. We have a team made to counter attack so to really utilise them we need to get into the lead and Liverpool, with the exception of the Burnley match, have been managing the games superbly so far this season. A lot of that is down to this new found resilience that Klopp has instilled into the players.
There are still individual errors in the Liverpool team but on the whole they're don't appear to be as fragile and crumbly as they once were.