With the exception of the 2013/14 season Liverpool have made a habit of slipping up when they're clear favourites for a match. There are no easy matches in football but there are those that if you play to your full capability then victory should be a formality. The big teams, those who regularly finish in Champions League places, seem to be able to dispatch of the teams in the bottom half of the table with fairly relative ease.
Not only is it a way to pick up points it's always in these matches you can really help build your goal difference, and in the much more competitive Premier League goal difference is becoming more and more crucial. In the 2015/16 season City pipped United to 4th place courtesy of their superior goal difference. It was literally the difference between Champions League and Europa League.
As Simon Brundish so eloquently puts it on the Anfield Index pod "beat the dross and win the league". While it's near impossible to win 20/20 against these teams, the more points you can accumulate against these sides then the easier it is to finish in the top 4.

Liverpool have had a problem with these types of matches for a good five/six years now and it's why they've struggled to challenge for that all important Champions League place. Opposition teams know they can sit deep and allow us all the possession in the world and we don't know what to do with it. It's almost like we psyche ourselves out and overthink the entire situation. Instead of playing good football and stretching them, like we're capable of, we insist on shooting from 30+ yards. They then wait for the inevitable defensive mistake, pounce on it and walk away with 3 points. If it wasn't so tragic it would be funny.
This weekend's upcoming match against Hull City will give us an idea as to whether the Reds are over this lower table hoodoo or whether it's going to be yet another year of being consistently inconsistent. If Liverpool aren't able to take all three points then it means the team would have yet again failed to capitalise on the previous result. It's early on in the season but we can't afford another Arsenal/Burnley situation.
You can't build a title challenge on victories against top half teams and losses against relegation threatened sides.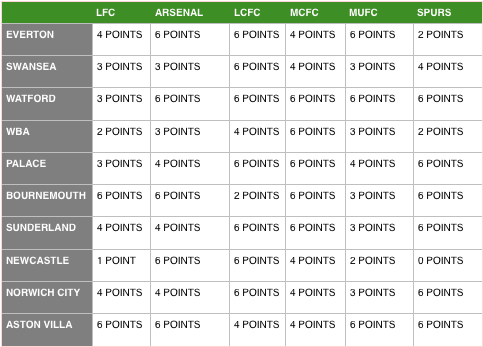 Above is a table of how Liverpool and the top 5 teams of last season fared when facing those teams that finished in the bottom half of the table.
A glaring issue in Liverpool's column is how the team only managed to do the double over two of the clubs in the bottom 10 last season as well as only picking up a point against a relegated Newcastle side. Bear in mind Liverpool only finished six points off a Champions League place despite such an underwhelming league performance and it highlights just how important victories against these 'lesser' sides are.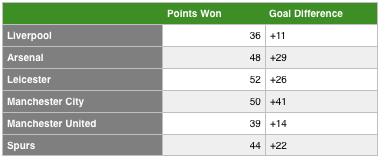 The table above shows the points won against the bottom half of the table teams as well as the goal difference from the 20 matches having faced them.
It's no surprise to see that Liverpool finished bottom of this little table having taken 36 points from a possible 60, or to put it even more bluntly – they won 12 of the 20 matches.
Leicester finished the season with 81 points meaning they took 29 points from teams in the top half of the table. Likewise, Manchester City finished in 4th despite only taking 16 points from the games against the top 10 sides. Liverpool earned 8 more points than City and just five points fewer than Leicester against the 'better' teams in the league but in the grand scheme of things it counted for nothing because Liverpool's performances against the inferior teams was so disappointing.
A surprise here is Manchester United taking 27 points from teams in the top half. Had they performed a little better in games against mid-table sides they would've comfortably finished 4th. Scary when you remember just how awful they were.
As you can see, the more points won against the bottom half of the table sides the easier it is to get in and around the Champions League places. Ultimately this is Liverpool's goal and anything beyond that is a bonus but they need to start positively and after defeat to Burnley the team can't afford to drop yet another three points. Will it be the same shit different year? Or will be see the emergence of Jurgen Klopp's ruthless Reds?
I'm hoping for the latter.