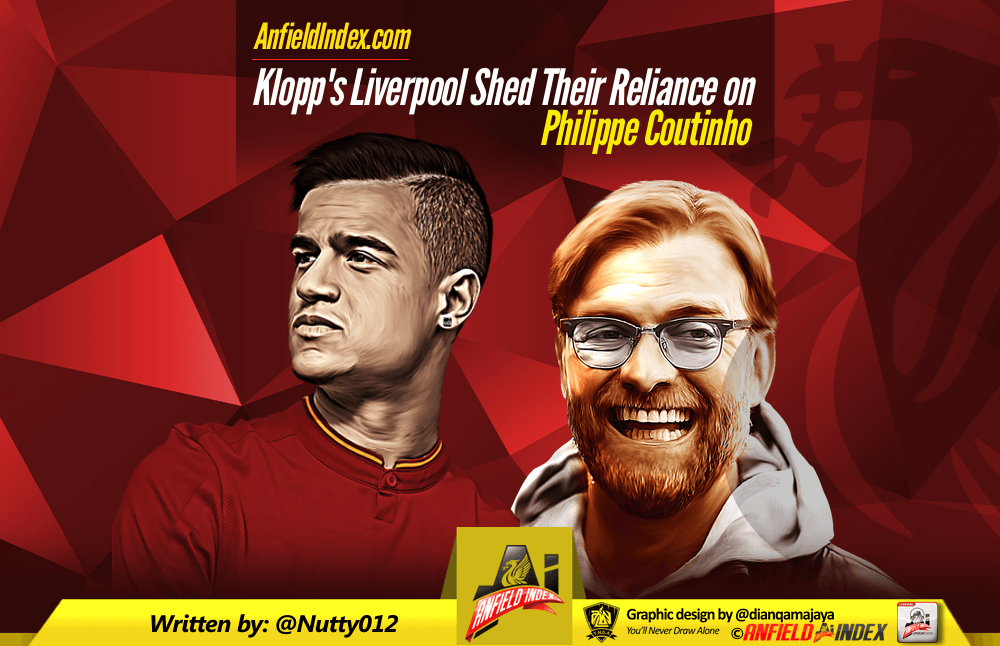 Klopp's Liverpool Shed Their Reliance on Coutinho
Last weekend, a Coutinho-less Liverpool pulled the pants down of the Premier League Champions Leicester, bagging four goals (and missing buckets of chances) against a defence that hadn't conceded more than 2 goals away from home even once last season. Coutinho had been afforded a rest given his intensive travel commitments over the international break with Brazil, but the main concern for Liverpool fans before the game was that the Senegalese Sadio Mane was fit enough to start, rather than the player voted Player of the Season for the last two campaigns.
Coutinho is still undoubtedly Liverpool's most skilful and talented attacker, and he has a penchant for performing in big games, as the Europa League run last season showed. However, for the first time since the departure of Suarez, Liverpool no longer need Phillipe Coutinho.
With a few seasons of sensible acquisitions in the transfer market, coupled with sufficient patience, Liverpool have assembled an offensive group of players with great depth and variety. As well as Coutinho, there are Roberto Firmino, Adam Lallana, Sadio Mane (not to mention the injured Sheyi Ojo who established himself last season as of first team quality) who could all be picked behind Daniel Sturridge, Divock Origi, and Danny Ings (who doesn't even make match-day squads). That is eight players in the first team squad who will likely contest four spots in the first team.

There has been so much said over the past couple of weeks about the importance of Firmino, Lallana and Mane to Liverpool's chances this coming season – so much so that one almost feels obliged every time to politely remind people of Coutinho's quality, like he has been put on a pedestal that must not be challenged; but, no one can argue that Liverpool have a wealth of attacking talent, each of whom will probably produce similar levels of output (circa 20 goals + assists a season). Coutinho may turn it on for big games and be easiest on the eye, but in the era of Messi and Ronaldo, where every goal or assist is counted to measure how much attacking players effect results, Coutinho looks inconsistent for what his talent levels suggest he is capable of.
Beyond just individual output, the real reason why Firmino, Lallana and Mane are spoken of as vital is because all of them are fantastically suited to Klopp's gegenpress tactic. It is credit to Liverpool's recruitment over the past 3 or 4 seasons that, barring interventions from Brendan Rodgers, they have acquired players of consistent qualities for each position. In the attacking midfield department that has meant getting players who enjoy their defensive duties, who are enthusiastic to win the ball high up the pitch. Firmino, Mane and Lallana have always been workhorses regardless of their manager, but in a system like Klopp's, where their pressing skills are fully maximised, they suddenly bring so much more value to the team than they might have otherwise. Coutinho is certainly no passenger when it comes to pressing, but there is no one in football who thinks he is as effective in Liverpool's pressing game as any of Klopp's other attacking midfielders.
The result of Liverpool finally possessing an attacking style that maximises the talents of so many players is that the team is incredibly effective as an attacking unit, particularly in big games against teams who fancy themselves in possession of the ball. Liverpool have scored the most goals of any English side in 2016, and the only competition for that trend comes from the best team in the league, Manchester City. The point is, Liverpool will no longer rely on moments of magic from individuals to win matches, as perhaps they have over the previous two-and-a-bit seasons. Rather, Liverpool's star is now the team, and as such the importance of individuals has been relegated – at least, all individuals minus Jurgen Klopp!
Coutinho has never been as consistent as he should have been for his quality, in terms of simply winning and effecting matches. He has often been guilty of being wasteful in possession in a way that reminds me of Steven Gerrard in poorer Liverpool teams (taking high-risk low-reward long shots, being tackled, attempting hollywood passes or flicks that rarely come off). He clearly had the most attacking talent in a Liverpool team struggling for goals, and so the responsibility lay with him to try and make the goals himself. Passing to team-mates who might squander possession in the middle of the pitch suddenly seems a worse option when you know you have a 40-yard screamer in your locker, even if you only hit the target 1 in 5 times. It is a mindset that has come to frustrate a lot of Liverpool players.
However, Coutinho will never, and should never, be dropped.
Now that the star of Liverpool is the team, I believe we can actually start Coutinho more often. As we win the ball higher up the pitch, we transition into attacking positions more easily and more frequently. We can expect players like Coutinho to have the ball in dangerous areas behind their midfield. We also have greater quality around Coutinho, which means his Gerrard-esque attitude of feeling the need to do it all himself has started to fade – he can pass the ball to Firmino or Mane or Lallana or Wijnaldum or Sturridge because he knows they are all good players who are intelligent enough to receive the ball in the right places. As such, I believe we can expect a less wasteful and more effective Coutinho, who more often makes the right decisions, who more often will effect the outcome of matches with his quality.
It is unhealthy for a team to have a reliance on just one player, as Liverpool had with Coutinho for almost 18 months after Luis Suarez left. Especially when a player is reasonably inconsistent or suffers the odd injury, it can lead a side down a dangerous cul-de-sac of blunt attacking threat. But under Jurgen Klopp, an attacking system has emerged in which there are higher quality individuals, but simultaneously they are made more effective by the system, which is itself the star of Liverpool's attack. In this system Liverpool don't need Coutinho like they used to, but because of that, because they have such an effective attack across the board, they may find they get even more out of Coutinho. It is exciting times for those who are fans of Liverpool, and fans of goals.