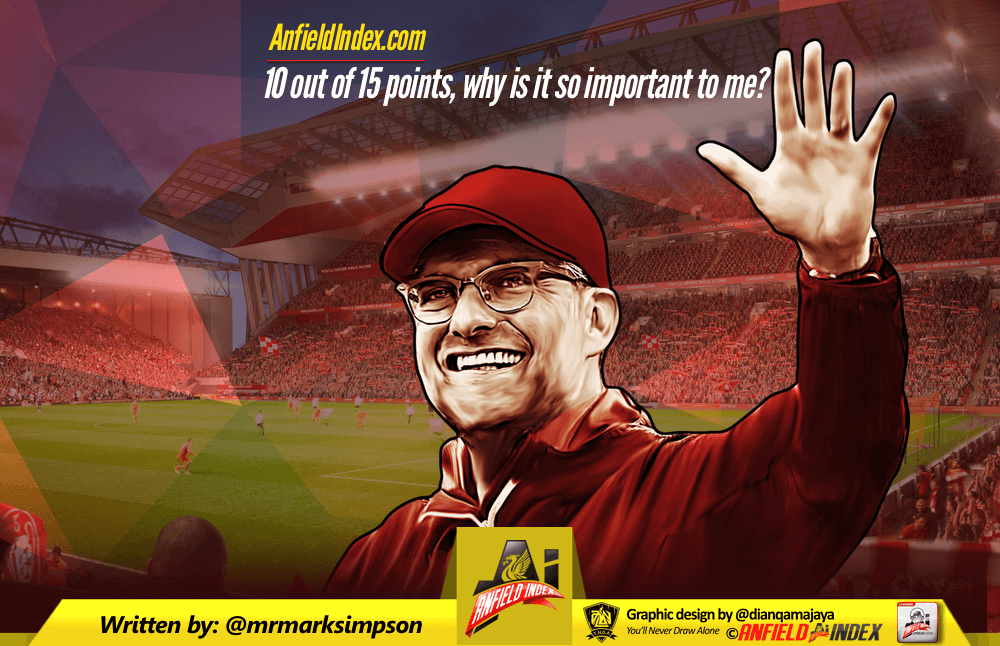 10 out of 15 points, why is it so important to me?
For anyone who follows my Twitter account, (@mrmarksimpson) or coming across me on the EPL podcast, you will have heard me banging on about how important it is for Liverpool to break the season down into 5-game blocks, aiming for 10 points every block. A lot of the time, replies I get are, "Why? What's the point?" Well, I think it is time to put it down in writing and explain the methodology behind this.
Firstly, the math:
10 points earned in every 5-game block (out of every 15 available)

38 games to play in a season, which I'll round down to 35 for the purpose of this blog. That's 7 blocks of 5 games.
10 points per block x 7 blocks = 70 points
Let's take a look at the league table last season:

70 points would have been Champions League Football!
That's not even taking into the account the 3 games that my math doesn't account for in this blog. Theoretically, that could be 79 points – two points off of being champions.
What if we go over 10 points? In 2013-14, the table looked like this:

Liverpool and Luis Suarez bossed the league and were consistently out-performing the 10 points per 5-game block average. Going over the target of 10 is a blessing, and it means that in the next block of 5 games, your team is given a bit of a respite. It can achieve an 8-point, or even 7-point, return and remain on track. That's only 2 wins, a draw, and 2 losses!
Of course, this formula isn't always perfect. As you can see above, Everton managed to achieve above the average of 10 points per every block of 5 games but still finished in 5th.
Let's take a look at the 2013-14 season in a bit more detail: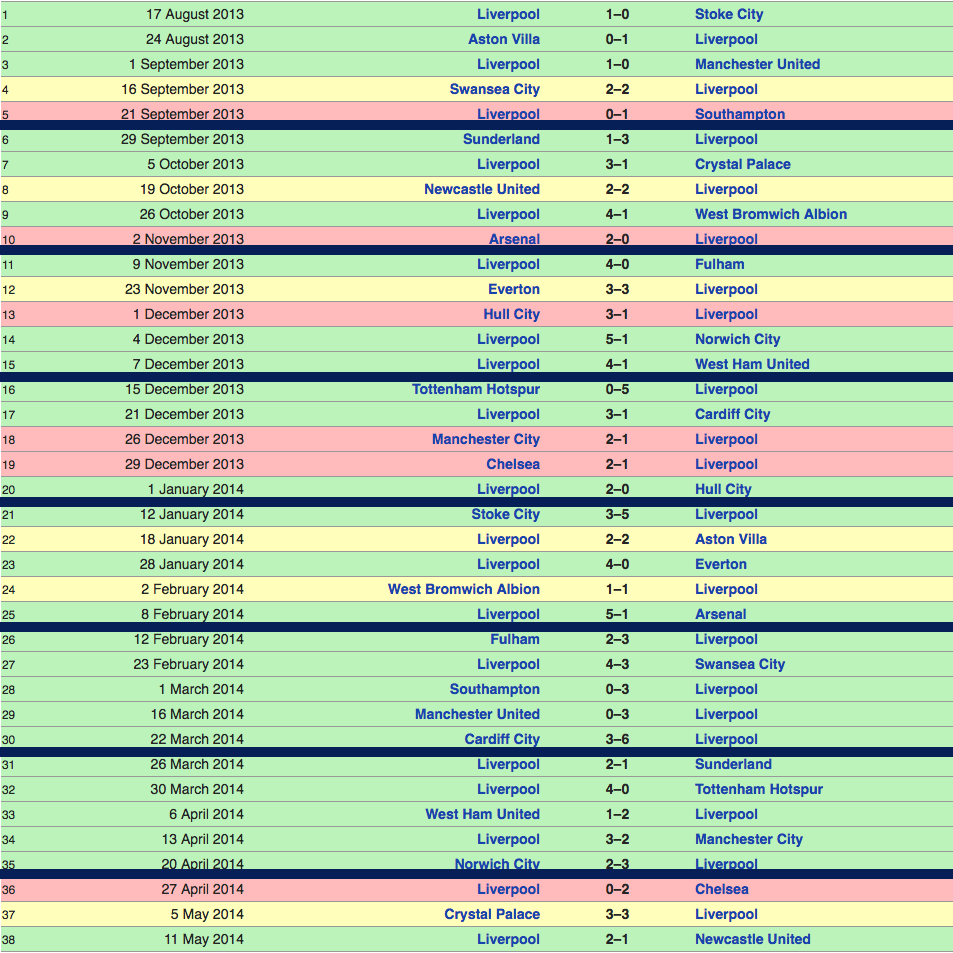 How many points did Liverpool achieve in their first 5-game block? 10.
How many did they get in their second block? 10.
How many in their third? 10. 
I'm in no way, shape, or form ITK; however, I'm reliably told that in that season, Brendan and his staff did in fact break the start of the season into blocks of 5 games. They adopted this method to get the Mighty Reds back into the Champions League. Then, what happened after the Chelsea defeat on the 29th of December surpassed their and our expectations.
Take a look at 25th March to the 20th of April – that's 5 wins out of 5. That's 15 out of 15 points!
Up the Mighty Unbeaten Reds!!
Yes, the three bonus games at the end didn't go according to plan, but that's how it goes. Sometimes they go your way, and sometimes they don't.
What followed the next two seasons was ultimately the downfall of Brendan Rodgers and his time at Liverpool F.C. Now, we have Jurgen Klopp in charge (he's BOSS), and I haven't a clue if he will adopt this methodology this season (though I would like to think he will. Hi, Jurgen.).
Finally, let's take a look at the first block of 5 games from THIS season.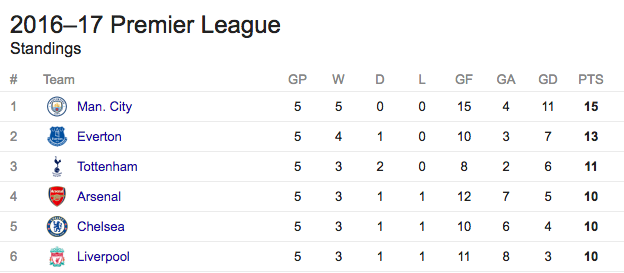 The teams above have all hit the target of 10 points out of the first 15 available (Man. City is taking the piss, to be fair, and Everton, has been mostly playing relegation fodder.). Troy Deeney doesn't agree, but Liverpool has had the hardest start to a Premiership campaign in as long as I can remember. In the space of 5 games, we have travelled to the Emirates, Stamford Bridge, White Hart Lane, and Burnley (where I don't anticipate many teams to be collecting points this season). We have also had the league champions come to New Anfield. So, sitting on 10 points at this point is a massive over-achievement.
Before we finish and you go back to your day, let's take a look at the upcoming 4 games, (3 points from smashing Hull at the weekend)

Comment below and let me know how many points you expect us to get from the next 4 games…