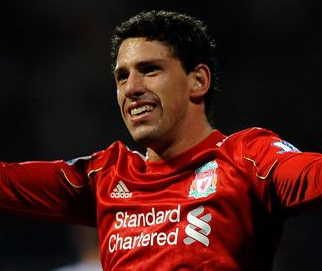 Fulham Vs Liverpool - Basic Match Stats
Despite being at the risk of repeating ourselves from the article "Where the game was won" we just wanted to post some match stats from the Fulham Vs Liverpool game. These stats are normally available to our subscribers but we have used them in match reports before so we thought we'd share them even though we've already done our match report in the article mentioned above.
Liverpool dominated the game in the first thirty five minutes with possession percentages being at 60-40 in favour of the reds but a little bit of keep ball from Fulham in the latter stages of the first half and then some pressure from them early in the second ensure that the possession statistics shown below were almost level even though Liverpool were so dominant in the first third of the game.
Basic Match Stats

Player Pass Completion Stats
The top passer for this game was Maxi Rodriguez. He's regularly near the top of the list but his pass completion in this game was the best. I remember tweeting at around 40 minutes through the match that he'd completed all of his 15 passes up to that point in time. Seven goals in three games and scoring in 3 consecutive games really shows how inform this player is. If that's not enough Dirk Kuyt has scored in five consecutive games and Luis Suarez now in two consecutive games.
Possession Duels (50-50 ground challenges)
The same four players are at the top of the list for 50-50 challenges. Lucas Leiva, Dirk Kuyt, Luis Suarez and Glen Johnson (Liverpool's Twitter crew) are all getting stuck in every single time they get out on that pitch. Jay Spearing comes in at number five. I've included these players regardless of their win percentage because at least these players are getting stuck in regardless of winning or losing. Jay Spearing's 9 out of 11 was the most effective however attempting 25 duels and winning 17 is pretty impressive form Lucas Leiva.
Aerial Duels
Lucas again the leader in this pack for all those attempting more than one duel. A super effort once again from Lucas. Kuyt attempted nine aerial duels but only two which means I shouldn't be really mentioning them!
Obviously Maxi Rodriguez deserves to be praised for his performance even with earlier in the game. 75% of his shots went in. Dirk Kuyt got 100% of his shots on target whilst Luis Suarez only & forty on target.
Glen Johnson and Luis Suarez were the top players for Liverpool in this category. Glen Johnson achieved his first two assists of the season  whilst Suarez was at his creative best also. The impact of Suarez can be seen in our Five Star Strikers article which was updated last night (11.05.2011). He's the most creative player of those bought in January and is now starting to score goals which is what strikers are measured by. His game to goal ratio at the moment is hovering at around 1:2.5 games so he's not doing too bad at all. He can only improve and a brace against Tottenham would be brilliant for his statistics.
A special mention to Jonjo Shelvey who was very impressive when he came on as a replacement for the injured Raul Meireles. Composed on the ball, has good passing range, takes the set pieces and got an assist to his name in his 40 minutes of action. The future looks really bright for the likes of Kelly, Spearing, Flanagan, Robinson and Shelvey. Five young players that are going to get plenty of playing time next season.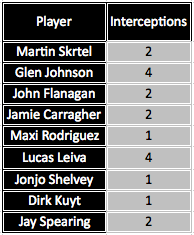 The interceptions stats are always interesting to see. Lucas Leiva usually dominates this area and Raul Meireles, Dirk Kuyt and Jay Spearing have also been hard working since Kenny took over and making important interceptions throughout the games.
The new addition in the last few games has been Glen Johnson. He's had a great couple of games. He's back at right back, after Flanagan had a tough time there against Newcastle at home, and you can see how comfortable he is in his natural position. His bursts forward were excellent and he deserved his two assists. He was excellent. His work rate is what has improved. He's consistently one of the highest players with attempted possession duels and interceptions showing he's getting himself involved and reading the game well also. A great job from Glen Johnson, who's an asset to this club.
Whilst we're on the subject of full backs we can have a special mention for John Flanagan who was excellent against Fulham too. He's not on his natural side anymore but his runs forward were excellent again. He had a part to play in the 3rd Maxi goal where he's burst forward and is actually trying a one-two with Maxi but the ball is blocked and Maxi took control and did the rest. So even though Flano is not on his favoured side it didn't curb his enthusiasm to get forward and get involved and with an 82% pass completion it just shows how relaxed he's feeling in the first team, it's just brilliant to see after Martin Kelly did so well. Liverpool have an embarrassment of riches at the back with Kelly, Robinson and Flanagan all coming through at the same time.
All in all a great team performance with quite a few players catching the eye. We'll see you with stats after the Tottenham game on Sunday night. Make sure you join us for Live match stats on Sunday afternoon.