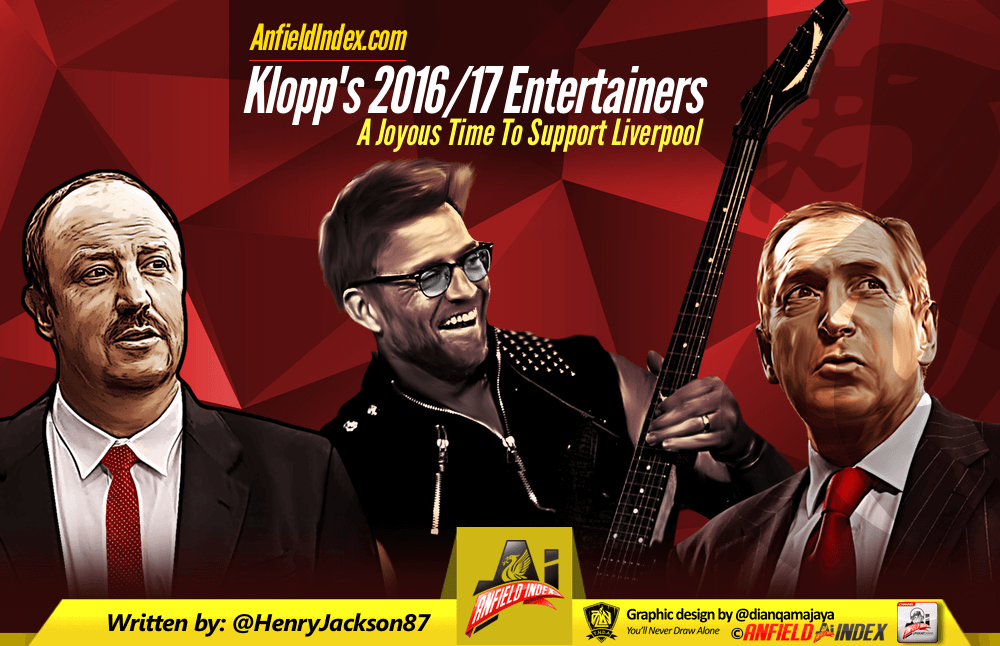 Klopp's 2016/17 Entertainers: A Joyous Time To Support Liverpool
There was a point during Tuesday's routine 3-0 win over Derby County when I realised I was enjoying watching Liverpool more than I can almost ever remember.
Some of the football was breathtaking at times, with the speed, movement and imagination in the Reds' play something to behold. Whether it be Philippe Coutinho's quick feet, Roberto Firmino's effortless elegance or simply the slick efficiency of Nathaniel Clyne, I was riveted.
I was going to bang on about Loris Karius' handsomeness as well, but that's gone a bit too mainstream now for my liking.

Following the team you love should always feel special, but unfortunately, it hasn't always been that way with Liverpool over the last 25 years.
We have had to put up with the embarrassment of Roy Hodgson's tenure, Graeme Souness bringing the glory days to a crashing halt in the early 1990s and the reigns of Gerard Houllier, Rafa Benitez and Kenny Dalglish ending in disappointing fashion.
This isn't to say supporting Liverpool has been one long slog for a quarter of a decade. Far from it.
There were memorable trophy-winning spells under both Houllier and Benitez, when the Reds were primarily famed for having a wonderful fighting spirit, but the quality of football and entertainment levels weren't always great.
The success of those respective teams was built on organisation and being difficult to beat, and while the trophies that came with that approach were hugely enjoyable, there were plenty of bad days in between.
The 2013/14 season under Brendan Rodgers was wonderful for the short time that it lasted, but it always felt a little like a one-off freak campaign. Roy Evans' Reds of the mid 1990s also thrilled us at times, but they lacked a killer edge and were never quite as gung-ho as the two 4-3 wins over Newcastle would suggest.
Things aren't yet perfect under Klopp, by any means, but it feels like something magical is on the horizon. We are witnessing the entertainment levels of Rodgers and Evans' sides, coupled slowly but surely with the ruthlessness of Houllier and Benitez's.
Like any manager, Klopp was always going to take time to work his magic and get his ideas across – improvements will continue to be made, as certain deficiencies are slowly ironed out – but in 11 months, the Reds have gone from being a spineless laughing stock to second-favourites to win the Premier League.
And they are doing it all with such attacking brilliance, winning neutral admirers up and down the country by the week. This really matters to me.
The "I don't care how we play as long as we win" mindset that so many supporters live by frustrates the life out of me.
Winning is clearly an enormous part of football – Liverpool getting three points makes me giddy with happiness – but it should never be someone's sole reason for watching the Reds.
That 2013/14 team will be remembered for many years to come, despite them not winning a single thing. That's because they blew teams away in a fearless, attack-minded manner, wowing the masses on a weekly basis. Great goals, great moves, great games.
Will Chelsea's 2014/15 title-winners be similarly remembered? Or the tedious Manchester United side that prevailed in 2012/13? Absolutely not. Who can remember many of their games?
Holland's "Total Football" team of the 1970s won nothing, but they are heralded as one of the greatest sides in the history of the game. So are Brazil's 1982 crop, who were sensational but literally had one bad game against Italy.
On the flip side, Portugal and Greece won Euro 2016 and Euro 2004 with mediocre teams playing horrible football. Nobody will speak about their respective achievement in years to come.
Any team that wins a major trophy deserves a certain degree of credit, without question, but winning is far from the be all and end all.
I know I've gone off on a tangent, but back to my main point about being incredibly excited by Klopp's Liverpool.
I can feel the envy of other supporters when they speak to me about the Reds, and that makes me proud. They are threatened by Liverpool now, which often hasn't been the case since 1990, and they are complementary about the way they go about their business.
This is all down to Klopp.
The 49-year-old is not a manager who plays expansive football but can't back it up with results – he is a born winner who knows how to win matches.
10 points from games against Arsenal, Tottenham, Leicester City and Chelsea is a superb start to the season. To be the more superior, eye-catching team for the vast majority of those 360 minutes, against very good sides, makes it even more impressive.
Those four games have been a pleasure to watch, barring a couple of shaky spells on the opening weekend at the Emirates, and it has left you desperate for more as soon as the final whistle has blown. That post-match adrenalin rush is occurring more regularly than ever now.
There are goals flowing from all over the pitch, the work-rate is exceptional, the passing is inventive and Liverpool are winning far more games than not. There really isn't much to feel pessimistic about. And that's coming from someone who has spent their life often being pessimistic about the Reds.
Some supporters will still take some winning round, claiming they won't be convinced by Klopp until he wins something at Anfield, but the positives are outweighing the negatives enormously.
What a shame that some can't just enjoy what is one of the most exciting times to be a Liverpool fans in many years.
Have a little trip down memory lane and think about those dark days under Hodgson. Some of the goalless draws under Benitez and Houllier. The distinctly average starting line-ups under Dalglish. Rodgers losing the plot. Charlie Adam. Christian Poulsen. Paul Konchesky. David N'Gog. Wolves at home. Stoke away.
Now look at what Klopp's Liverpool are attempting to achieve and realise how exciting it all is.
This team is still some way from being the complete package, so to be in the title mix and playing this well is even more pleasing. There will some miserable results along the way, as is the case with any team, but Klopp has already made giant strides in less than a year.
Trophies will be won under him, great Champions League nights will return to Anfield and we will witness the Reds' best football since the late 1980s.
The entertainment being provided is utterly fantastic, and if Liverpool can slowly become a winning machine as well, it will be some ride.
Imagine having Jose Mourinho instead!