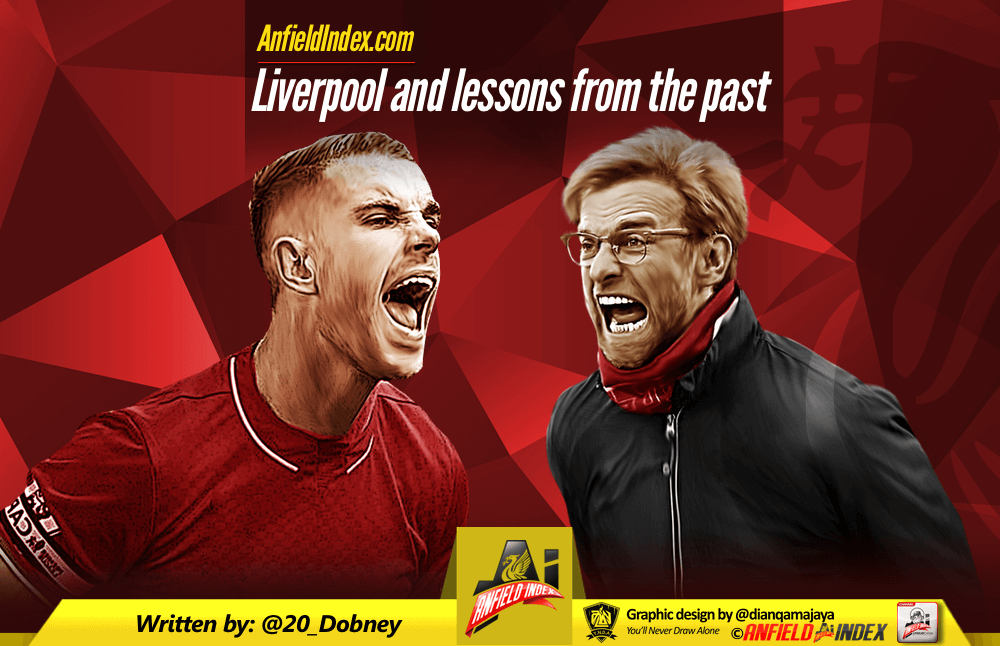 Liverpool and lessons from the past
BOOM, BOOM! Was the sound we repeatedly heard from the mouth of Jurgen Klopp at Stamford Bridge following Jordan Henderson's golazo this past weekend, and this has become a sound identifiable with that of Liverpool fans which signifies optimism one might say.
Fans are excited (rightly so) by the start of the new Premier League season, as the Reds lie in 6th after a start that involved four away games, three trips to London and a game against the current champions. Additionally, cup results on the road as well have only added to this new found optimism, especially the 0-3 humiliation of Derby County on Tuesday.
However, when regarding Liverpool, we must always look at the past to hopefully learn from previous experiences, and this is what I shall base this article on.

Big Scalps doesn't necessarily mean a good season
'Consistently inconsistent' is the term coined for Liverpool, and it is this inconsistency that has ultimately cost the club big rewards in previous seasons.
Beating the likes of Chelsea in their back yard (which I am now labelling as the new Anfield South), has become quite the norm in recent times, and with now Klopp equalling Arsene Wenger's record of back to back premier league wins at the Bridge in his first two visits, undoubtedly this trend will continue. Tough games were also engineered successfully at the Emirates and White Hart Lane, as Liverpool managed 4 points, which in all fairness should have been maximum, due to our dominance against Spurs.
But the similar experience that cost the Reds the title in 2008/09, the title in 2013/14 and a top four spot in 2014/15 was the losses such as was seen a month ago at Burnley, where Liverpool crashed to a 2-0 defeat.
This is not a recent trend either, as this was also apparent in the Dalglish era of management from 2011-2012, where victories picked up against Manchester United in which Dirk Kuyt scored a hat-trick, and away victories at Chelsea, were then matched with home draws to Wigan and away losses to West Brom and West Ham. Truly costly as in a mixed season, Liverpool finished 4 points from Tottenham who achieved European football, despite us winning more games than that of our North London rivals. The trend did not halt for the following season as Swansea, relegated Blackburn and Wigan all proved difficult obstacles at home, in comparison to the likes of Chelsea and Arsenal away.
The Xabi confession
I could write a list full of the examples Liverpool have slipped up at home, with this dating back even further than the Dalglish era and into the Benitez period and beyond, but the frustrating feeling can only be truly summarised by one who has experienced it first hand when playing.
Xabi Alonso, the pass master, was involved in arguably the best Liverpool side of modern times, and his synopsis perfectly summarises the feeling of frustration with regards to lesser opposition;
"Pepe (Reina) to (Daniel) Agger, Agger to me, me to Stevie and Stevie to (Fernando) Torres. Sometimes it would take less than 10 seconds. The spine in that team was the best I've played in. You also have Carra and (Javier) Mascherano in the side – top-class players." (Source: The Guardian)
He was quoted as saying in a Guardian interview, highlighting the quality the team possessed, yet in the same interview Xabi goes on to confess that;
"This side did not win anything together but we felt we could win everything. We had a few stupid draws at home and in the end that's why we did not win the league … We went to the Bernabéu and won. We went to Old Trafford and won. We went to Stamford Bridge and won: big games, big occasions that define seasons. It frustrates me so, so much." (Source: The Guardian)
And that is the true reality of football, it was always something that famed rivals Manchester United and Chelsea were supreme in doing- winning ugly when it mattered. Especially the former who essentially won titles in the so-called 'Fergie Time' moment of a game, against the lesser opposition, always managing to breach a defence when it mattered, a certain Federico Macheda goal springs to mind.
Lesson Learnt?
Not quite, as people seem to be forgetting the Burnley defeat. Yet this could really be truly altered as bar Manchester United, Liverpool's next five fixtures contain mid to lower table opposition such as the likes of Hull, Swansea, West Brom, Crystal Palace and Watford.
This is the big worry now as fans and it is where Liverpool's title credentials will ultimately be judged on. We must remember the 'few stupid draws' Xabi referred to, did in fact include a 2-2 draw at home to a resilient Hull City side in 2008.
Nevertheless, with the attacking fluidity we now possess, opposition teams will be more susceptible to our attacking options. Let us just hope, that as a side Liverpool are more cut throat in our style, yet with golazo's produced such as the one by Jordan Henderson, it is fair to say difficult opposition are now facing a new Liverpool, a confident Liverpool – and ultimately Jurgen Klopp's Liverpool.